Live / Work Studios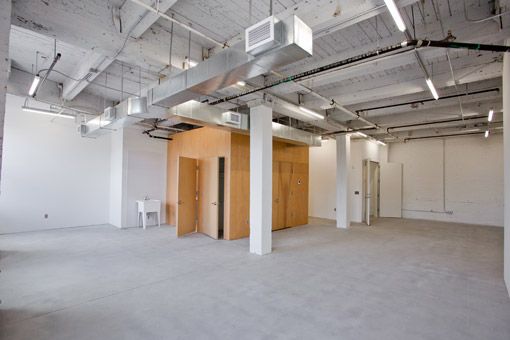 Bemis Center for Contemporary Arts has twelve live/work studios on two floors in which the artists-in-residence reside. Spaces range from 820–2,200 square feet. Each studio has its own kitchen and private bathroom and has been equipped with basic items you will need while here (linens, bedding, dishes, basic set of tools, etc.) Each floor has complementary laundry facilities. Utilities are paid by Bemis Center and each studio is connected to the internet. Contact Holly Kranker, Residency Program Manager, for more information at 402.341.7130 x 12 or hollyk@bemiscenter.org.
---
Installation Room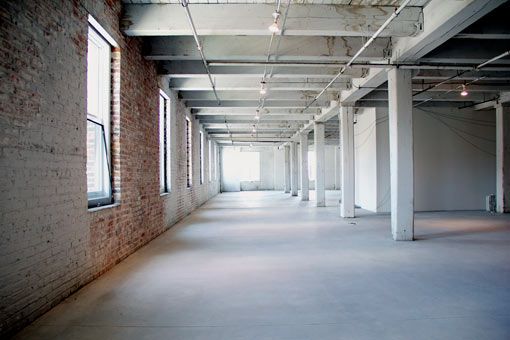 Bemis Center has approximately 6,500 square feet of project space on the third floor. These spaces are available to all artists-in-residence. As such, artists need to coordinate shared usage with the Residency Program Team and the other artists-in-residence. The installation space is not open to the public unless coordinated through the administrative offices.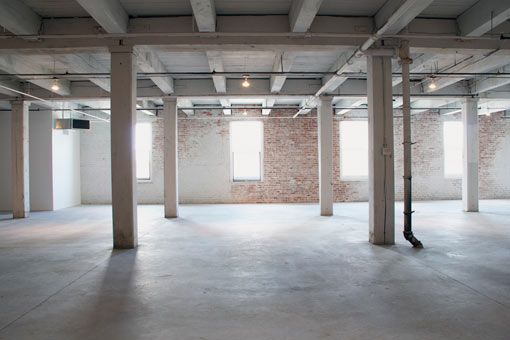 ---
Okada Sculpture & Ceramics Facility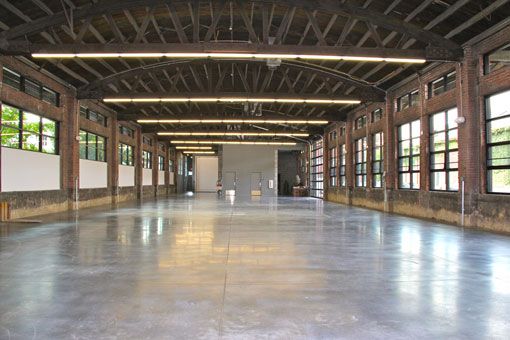 The Okada Sculpture & Ceramics Facility is the Bemis Center's stand alone fabrication space. The 9,000 square ft building is equipped with a variety of hand tools, measuring instruments, clamps, vices, utility carts, and work tables for our artists-in-residence. Below is a complete list of available power tools and equipment.
Ceramics
Bailey, BX4227D Electric Kiln (Oval)
North Star, 36" Slab Roller
Shimpo, VL Whisper Potter's Wheel
Power Tools
Bosch, 1617EVS & 618EVS, 2.5 HP Router (plunge & fixed base)
Bosch, PR20EVS, 1 HP Palm Router
Bosch, GSS20-40, Finishing Sander (2)
Bosch, JS470EB Barrel Grip Jig Saw
Bostitch, BTFP12233, 18 Gauge Brad Nailer
Bostitch, SX1838, 18 Gauge Narrow Crown Stapler
DeWalt, DW411, Palm Sander
DeWalt, DCS381, 20v Cordless Reciprocating Saw
DeWalt, DCF885, 20v Impact Driver (2)
DeWalt, DCD780, 20v Cordless Drill (2)
DeWalt, DCD985, 20v Cordless Hammer Drill
DeWalt, DCD985, 3/8" Keyless Chuck Drill
DeWalt, DWD2106,1/2" Keyed Chuck Drill
Dremel, 200 Series, Rotary Tool
Dremel, 2050 Stylo+, Rotary Tool
Ingersoll Rand, SS-3, Portable Air Compressor
Makita, 9404, 4" x 24" Belt Sander
Makita, 9557PB, 4 ½" Angle Grinder
Makita, JR3050T, 11-amp Reciprocating Saw
Milwaukee, 5376-20, 1/2" Hammer Drill
Porter Cable, 543, Jig Saw
Porter Cable, BN200C, 18 Gauge Brad Nailer
Rolair, AB5 "Air Buddy", ½ HP Portable Air Compressor
Ryobi, R163G, Router (mounted on router table)
Ryobi, HJP001, 12v Cordless Drill
Skil, SPT77W, Worm Drive Circular Saw
Skil, 5400, Circular Saw
Skil, 7510, 3" x 18" Belt Sander
Welding + Metal Working
Anvil
Hypertherm, PowerMax 30, Plasma Cutter
Jet, J-2500, 15" Standing Drill Press
Jet, IBG-8, Industrial 8" Bench Grinder
Miller, Millermatic 185 MIG Welder
Milwaukee, 6177-20 Abrasive Cut Off Saw
Smith / Harris, Oxy-Acetylene Hoses and Regulators
Victor, 0-135, Cutting Torch
Victor, 6 Rosebud Heating Tip
Victor, 00, 2, & 4 Welding Tips
Woodworking
Bosch, RA 1171, Router Table
Delta, 28-203, 14" Vertical Band Saw
DeWalt, DW705, 12" Compound Miter Saw
DeWalt, DW734, 12 ½" Thickness Planer
Festool, CT MIDI HEPA 575267 Dust Extractor
Jet, JDP-17DX, Standing Drill Press
Jet, DC-1100VX, Portable Dust Collector (3)
Jet, AFS-1000B Air Filtration System
Rexon, RM-311, Scroll Saw
Rikon, 80-805, 8" Low Speed Bench Grinder (tool sharpening)
SawStop, ICS53230, 10" Industrial Table Saw
Please contact the Residency Program Team before arriving to inquire about additional resources.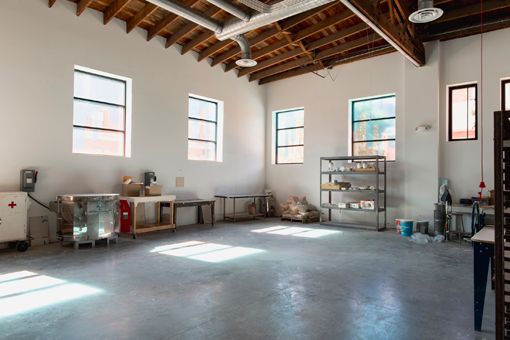 ---
Recording and Rehearsal Studio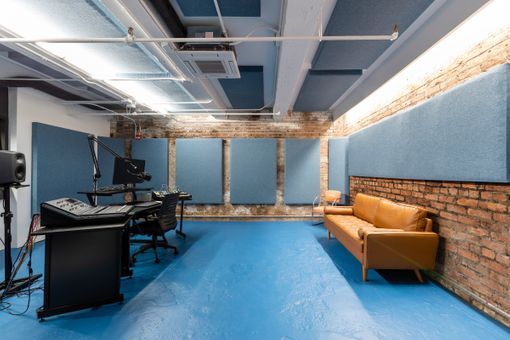 Computer + Accessories
1 – 15" Macbook Pro
External Mac Keyboard Bluetooth
Sony LG HDMI compatible Monitor
Apple Magic Mouse 3
LaCie 8TB d2 Thunderbolt 3+ USB-C Desktop Hard Drive
Recording Interface + Software
Native Instruments Complete Audio 6
Avid Pro Tools 2018
Ableton Live: Ableton Live 10 Suite + Max/MSP
Logic X

Microphones
Shure SM57 Microphone
EV RE20
Lewitt LCT 440 Pure
Telefunken M81
Gravity microphone stands
Rode NTG5 Shotgun Microphone Kit

Additional
1 RNC stereo compressor
Audio-Technica ATH-M50xWH Headphones
Studio Monitors – 2 – Genelec 8040B
Nord Stage 3 Keyboard 88 Red
Midas M32R Mixer
Zoom recorder H6
Moog Grandmother
Electric Guitar
LiveWire Power Conditioner
Mogami Gold Studio Microphone Cable 25' XLR-XLR
Mogami Gold TRSXLRM-10 Balanced 1/4" XLR Male Patch Cable 10'
QSC KW181 1000W 18" Powered Subwoofer
Ludwig 4 Piece Drum Set
20 – Crank Sturgeon Contact Microphones
Radial ProD2-passive direct box
Pro Co S12-25 TS-TS Speaker Cable – 25'
Pro Co S12-25 TS-TS Speaker Cable – 10'
Mackie ProFX12v3 12-channel Mixer with USB and Effects
On-Stage Stands SMS6000-P Studio Monitor Stands
Vater Classics Drumsticks 3-pack – 8D Jazz – Wood Tip
Vic Firth American Custom Timpani Mallets – General
Vic Firth American Classic Drumsticks – 5A – Wood Tip – Black Finish
Timber Drum Company Soft Rubber Mallets
ErisE5 5.25" Eris Series Monitor (ea)
Vox AC15C1 15-watt 1x12" Tube Combo Amp
Roland GO:MIXER PRO Audio Mixer for Smartphones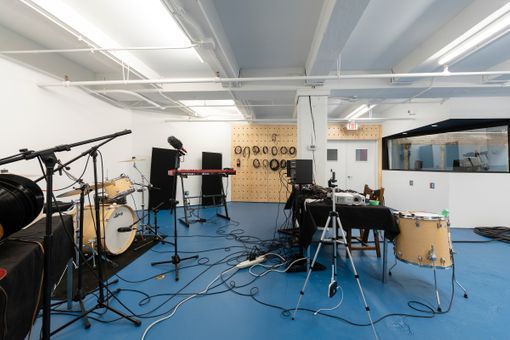 ---
Clare Haas Howard Research Library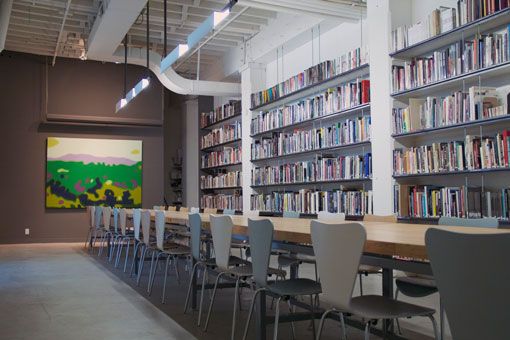 The Clare Haas Howard Research Library is located on the main floor of the Bemis Center, near the administrative offices. The library contains over 2,500 art-related books, organized by artist and medium. These also include numerous volumes on art history, design and museum catalogs. The library is open to the public during staff hours (11:00 a.m.– 5:00 p.m., Monday–Saturday) as a research facility. Current artists-in-residence are permitted to check out books. The Clare Haas Howard Research Library is searchable online at librarything.com/catalog/BemisCenter.