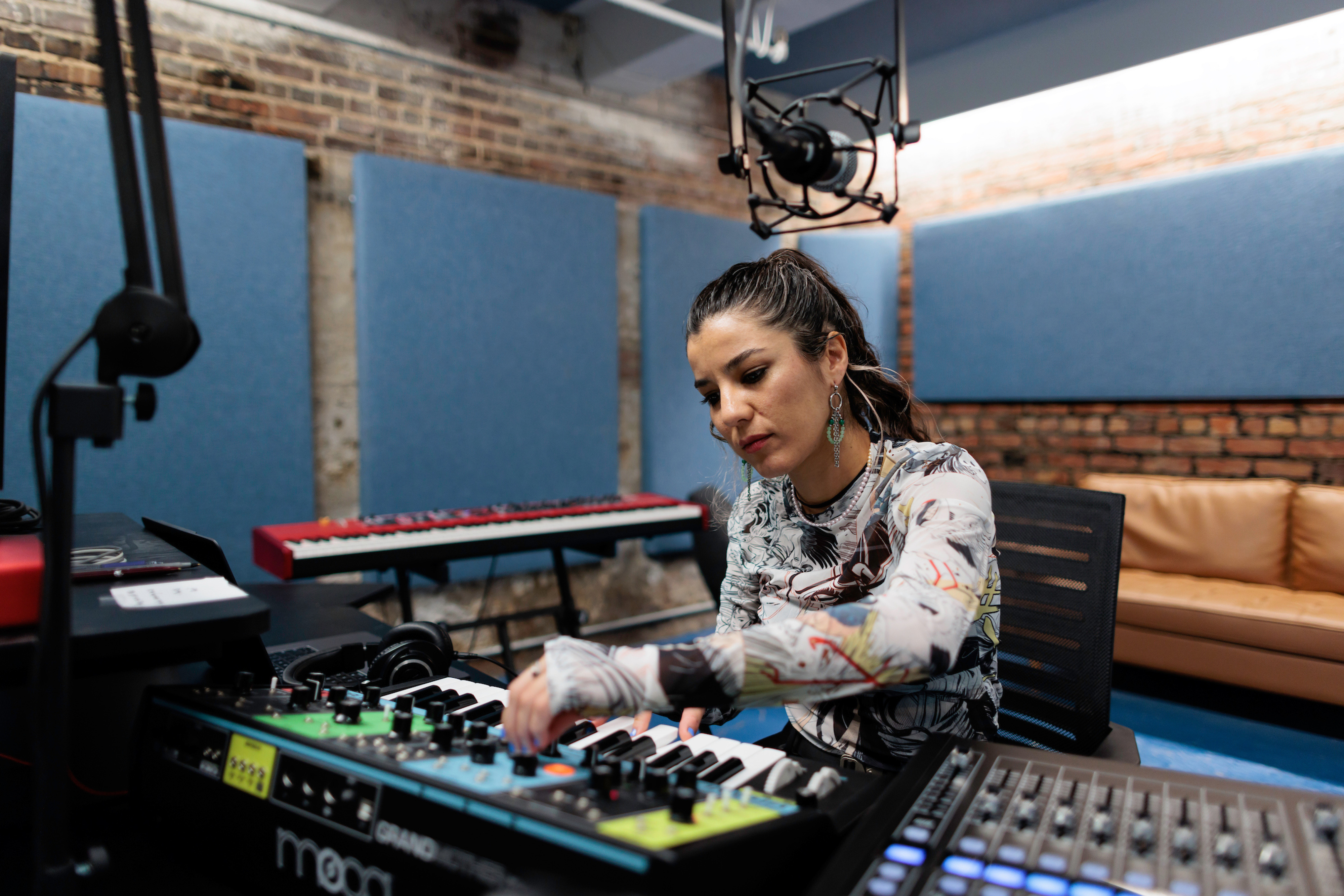 As an extension of Bemis Center's Sound Art + Experimental Music Program, Community Tracks is Bemis's latest initiative to advance the creation of new work by artists working in experimental forms of sound and music. Offered three times per year (Spring, Summer, Fall), Community Tracks provides artists and musicians currently living in the Omaha Metro area—within an 80-mile radius of Bemis—free access to Bemis's rehearsal space, recording studio, audio equipment and instruments, and a full-time audio engineer to assist in the recording of new tracks. Participants will receive a $1,000 stipend to assist with related expenses, such as gear rental, mastering, collaborator fees, etc., that may be necessary to complete their projects.
To participate, eligible artists and musicians may apply through an open call application process, which is now open. All applications will be reviewed and selected by Bemis's Chief Curator and Director of Programs Rachel Adams and Keith Rodger, Bemis's Sound Program Technician. Applications for Summer 2023 are due by 11:59 PM (CST) on July 28 for the first session, which will take place in late August or early September, depending on the successful applicant's availability. Applicants will be notified no later than August 4, 2023.
Community Tracks is designed to facilitate the creation of new work by experimental musicians and sound artists, providing access to tools, expertise, and facilities that otherwise might be unattainable because of financial, social, geographic, or other barriers. The program aims to spark collaboration between artists and musicians passionate about creating and sharing their work, and to build a greater awareness and appreciation for sound art and experimental music in Omaha and the region. As part of Bemis's Sound Art + Experimental Music Program, which will celebrate its 5-year anniversary in 2024, Community Tracks is generously supported by the Mellon Foundation.

APPLY
Application Open: June 30, 2023

Application DUE: Midnight - July 28, 2023
Notifications: August 4, 2023
Frequently Asked Questions
+ Expand All
What is the Community Tracks Stipend and what can I use the funds for?
+
$1,000 is given directly to the artist/group. This can be used for anything related to their proposal–mastering, pressing, digital assets, equipment rental, etc.
I plan to move outside of the 80 mile radius of Omaha after the application deadline. Can I still apply?
+
No, applicants must reside within 80 miles of Omaha to be eligible for Community Tracks.
Can I apply for funds for projects that have already happened?
+
Who reviews the applications?
+
All applications are reviewed by Bemis Center's Chief Curator and Director of Programs and Sound Program Technician.
Why are only musicians and/or sound artists allowed to apply for this funding?
+
This program is part of Bemis Center's Sound Art + Experimental Music Program and aims to support artists and musicians working in experimental forms of sound, composition, voice, and music of all genres.
I am currently a Bemis Alumni. Am I eligible to apply?
+
Yes, as long as you have an established history of working in sound art or experimental music and reside within an 80-mile radius of Bemis Center.
I'm having trouble with the online application form. Can I receive assistance with my application?
+
Absolutely. Please email Keith Rodger at keith@bemiscenter.org.
When will I be notified if I am accepted into Community Tracks?
+
Notifications will be sent by August 4, 2023.
Will the artists be announced publicly?
+
Yes. Bemis Center's communications department will work with the selected artist/musician for announcements.
What do you require to issue my stipend?
+
Bemis Center will need a W9 or Individual Taxpayer Identification Number (ITIN) with current address
Is this stipend taxable?
+
If I am applying as part of a group, how will the stipend be distributed?
+
Payment will be distributed to one person in the group, unless the group acts as an LLC, then distributed to the LLC.
Will Bemis Center give me the opportunity to share or perform my project at LOW END?
+
No, participating in Community Tracks does not obligate or permit participants to perform in LOW END.
GET MORE ART IN YOUR INBOX

Bemis Center for
Contemporary Arts
724 S. 12th Street
Omaha, NE 68102

402.341.7130
info@bemiscenter.org