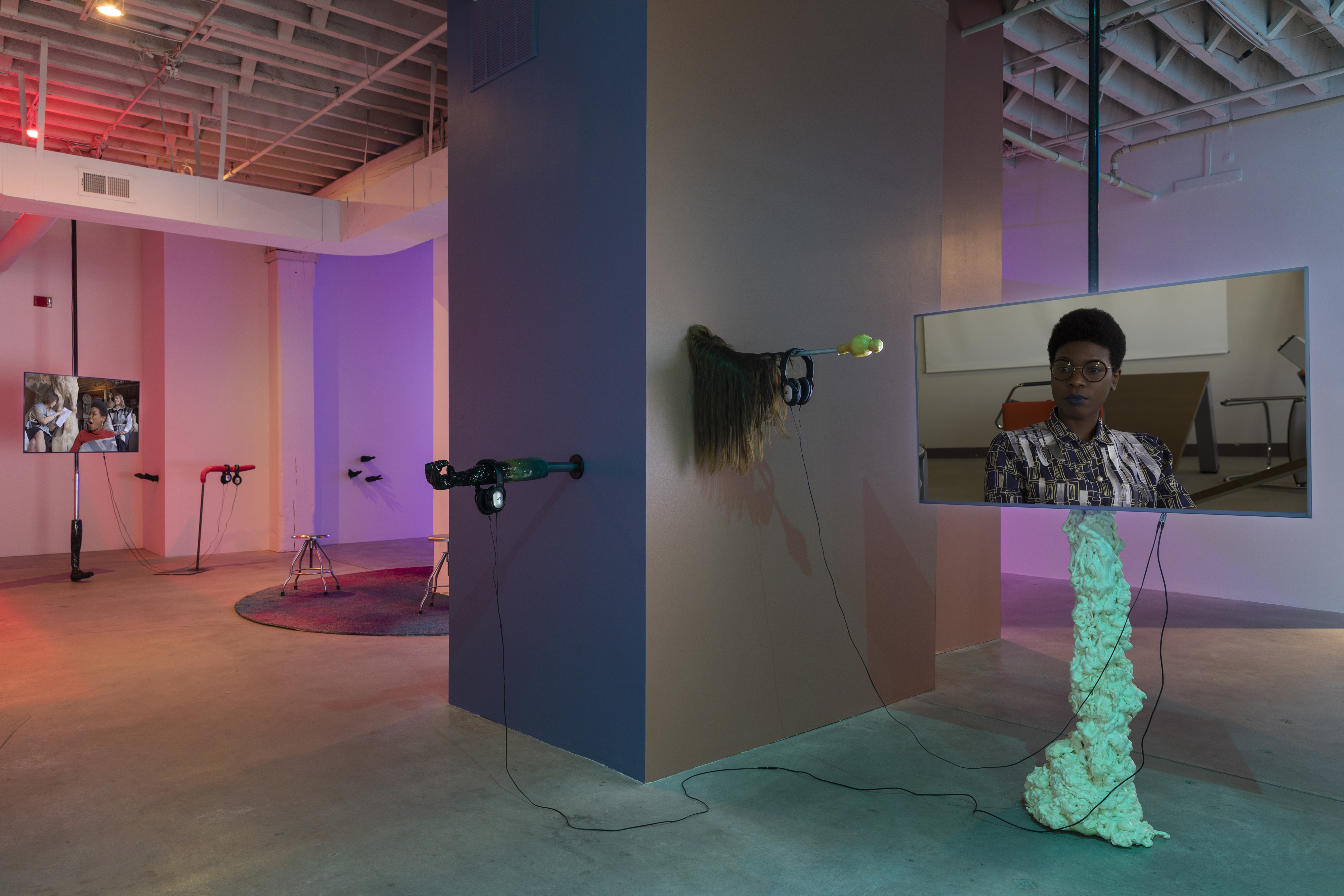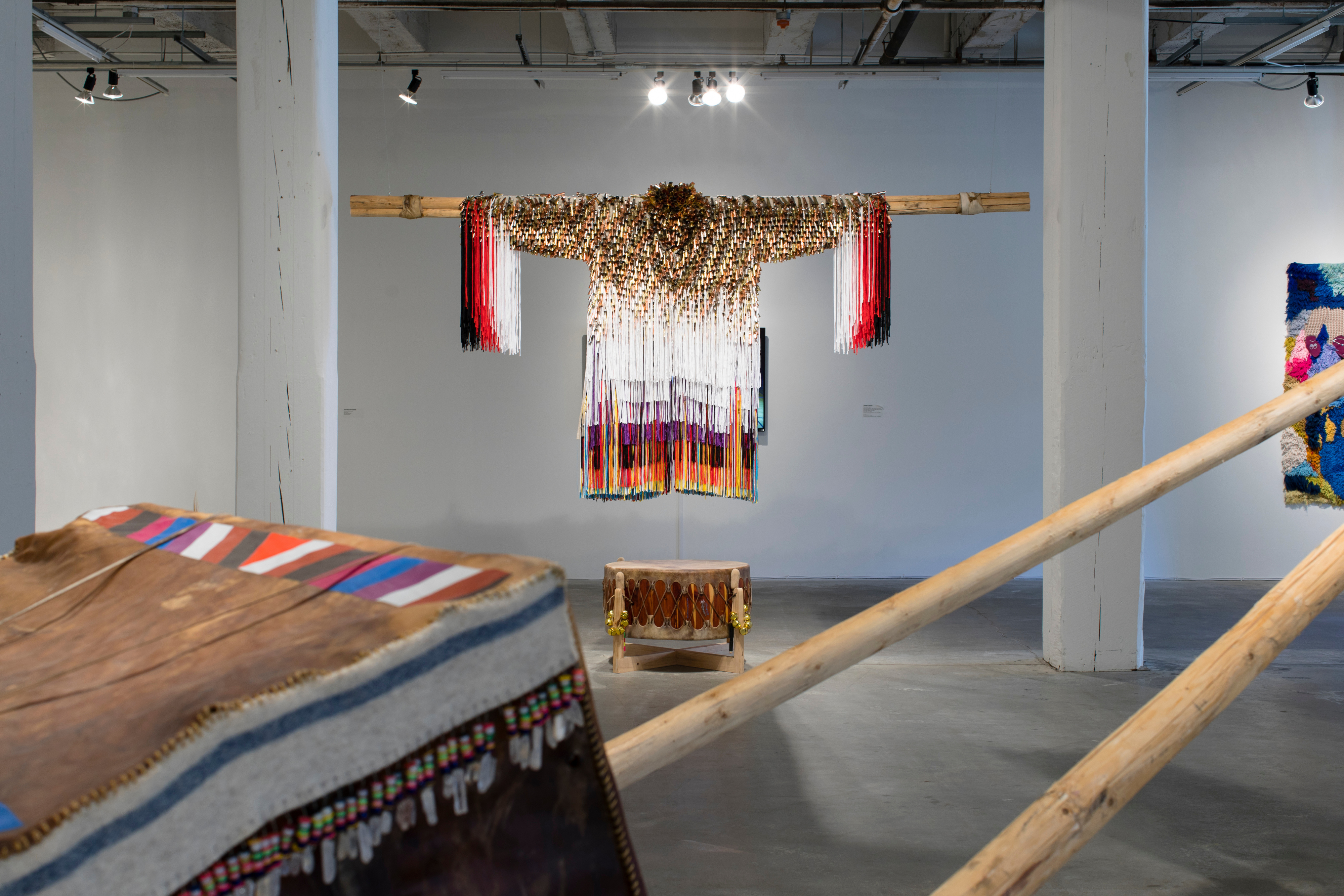 Established in 2017 as the first of its kind in Nebraska, Bemis Center's Curator-in-Residence Program provides national curators the opportunity to participate in the Bemis Residency Program, serve as a professional resource to Bemis artists-in-residence and the Greater Omaha arts community, and organize exhibitions and public programs at Bemis Center.
Time + Space
The Curator-in-Residence receives a generous-sized, private live/work studio at Bemis and has 24-hour access to extensive installation and production spaces. Time is independent and self-driven and can be used for scholarly research, developing projects outside of Bemis, and establishing professional relationships with local and regional artists and arts professionals. During the residency, curators will work closely with Bemis's exhibitions, marketing, and development teams to organize an exhibition and related public programs to occur after the residency period ends.
Community
Professional collaborations and personal friendships are often formed among the multidisciplinary mix of residents from around the world. Presentations and open studios among the residents are optional and spontaneous, providing opportunities to share work with fellow cohort members. Bemis also offers opportunities to meet local and regional artists, arts professionals, and others that may specifically help advance the curator's practice and further their curatorial research.

Financial Support
The selected Curator-in-Residence will receive $40,750, which includes a monthly residency stipend for 18 months ($1250 per month), a studio visit honorarium, a travel/research allowance, a curatorial honorarium, and a $750 travel stipend.
Technical + Administrative Support
In addition to financial support, the Curator-in-Residence receives technical and administrative support from a dedicated team of Bemis staff members.
Facilities + Resources
+ Expand All
Live / Work Studios + Amenities
+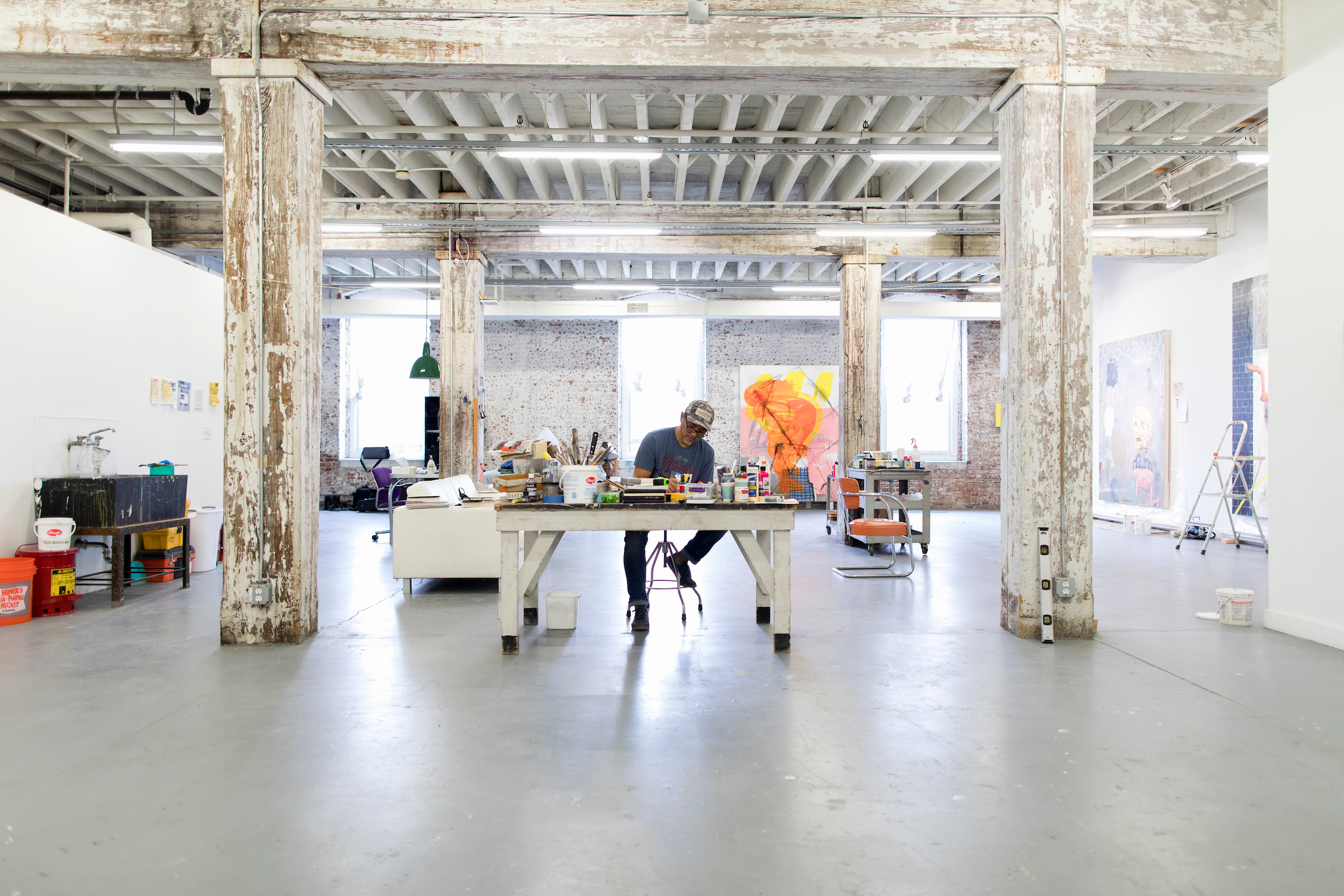 The Curator-in-Residence is provided a generous sized, private live/work studio including a kitchen and private bathroom and is equipped with basic items (linens, bedding, dishes, a basic set of tools, etc.) and furniture (bed, table, chairs, desk). Bemis residents have access to a variety of additional furniture that can be placed in the studio. Studios are also equipped with a paint sink, plywood-backed sheetrocked walls, accessible windows, concrete floors, and 12' ceilings. Additional amenities include complimentary utilities, laundry, WiFi, and free parking.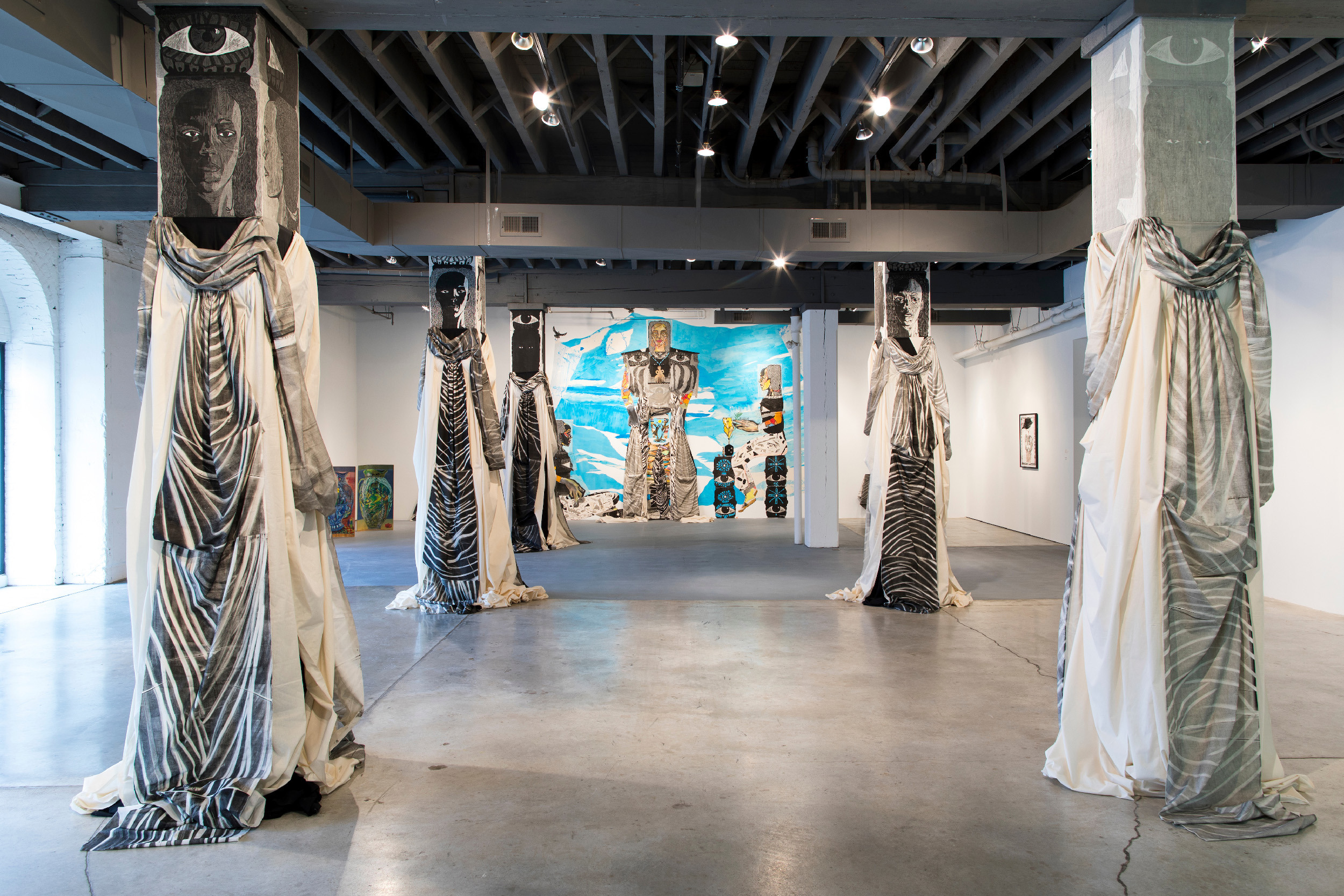 Bemis Center has three exhibition galleries, a dedicated video room for single and multi-channel works, and a flexible presentation space for talks, screenings, performances, and other types of public programs. These spaces are on the first floor of Bemis's historic 1880s former industrial warehouse, creating a unique atmosphere with concrete floors, old timber wood columns, and twelve-foot ceilings. The raw utilitarian style of the galleries encourages curatorial experimentation and large-scale installations of diverse media. The Curator-in-Residence will organize an exhibition and related public programs to occur after the residency period ends.
Project + Installation Spaces
+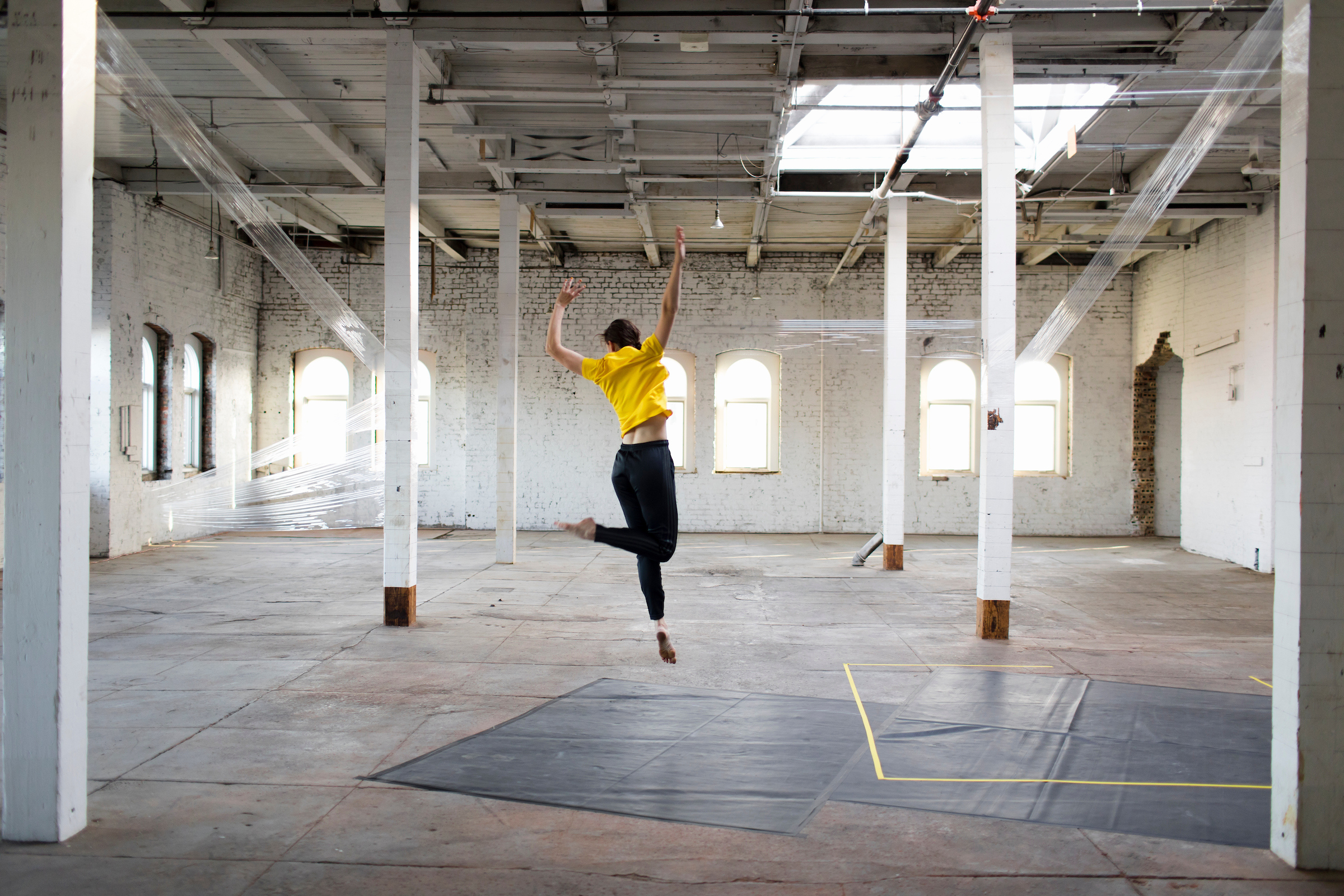 Bemis residents have 24-hour access to project and installation space on Bemis Center's 3rd (6,500 square feet) and 5th (7,550 square feet) floors. These floors offer an abundance of natural light and both finished and unfinished spaces for building, documenting, rehearsing, collaborating, and experimenting.
Okada Sculpture & Ceramics Facility
+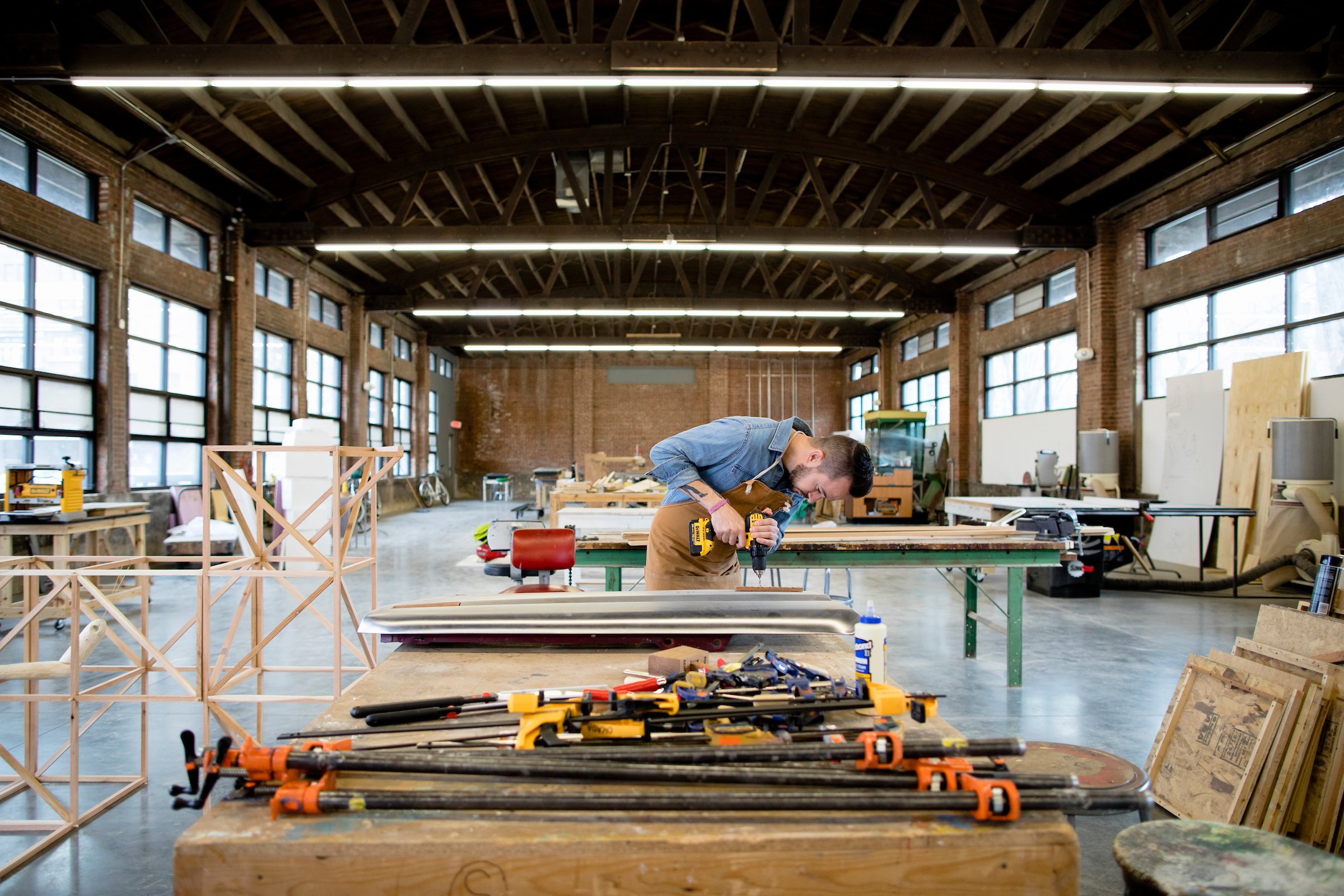 Bemis residents have 24-hour access to the Okada Sculpture & Ceramics Facility, the organization's stand-alone fabrication space located across the street from its main building. The 9,000 square ft historic bow truss building was renovated in 2011 and includes a woodworking area, metal shop, ceramics studio, and a vast amount of space for building and documenting large-scale work.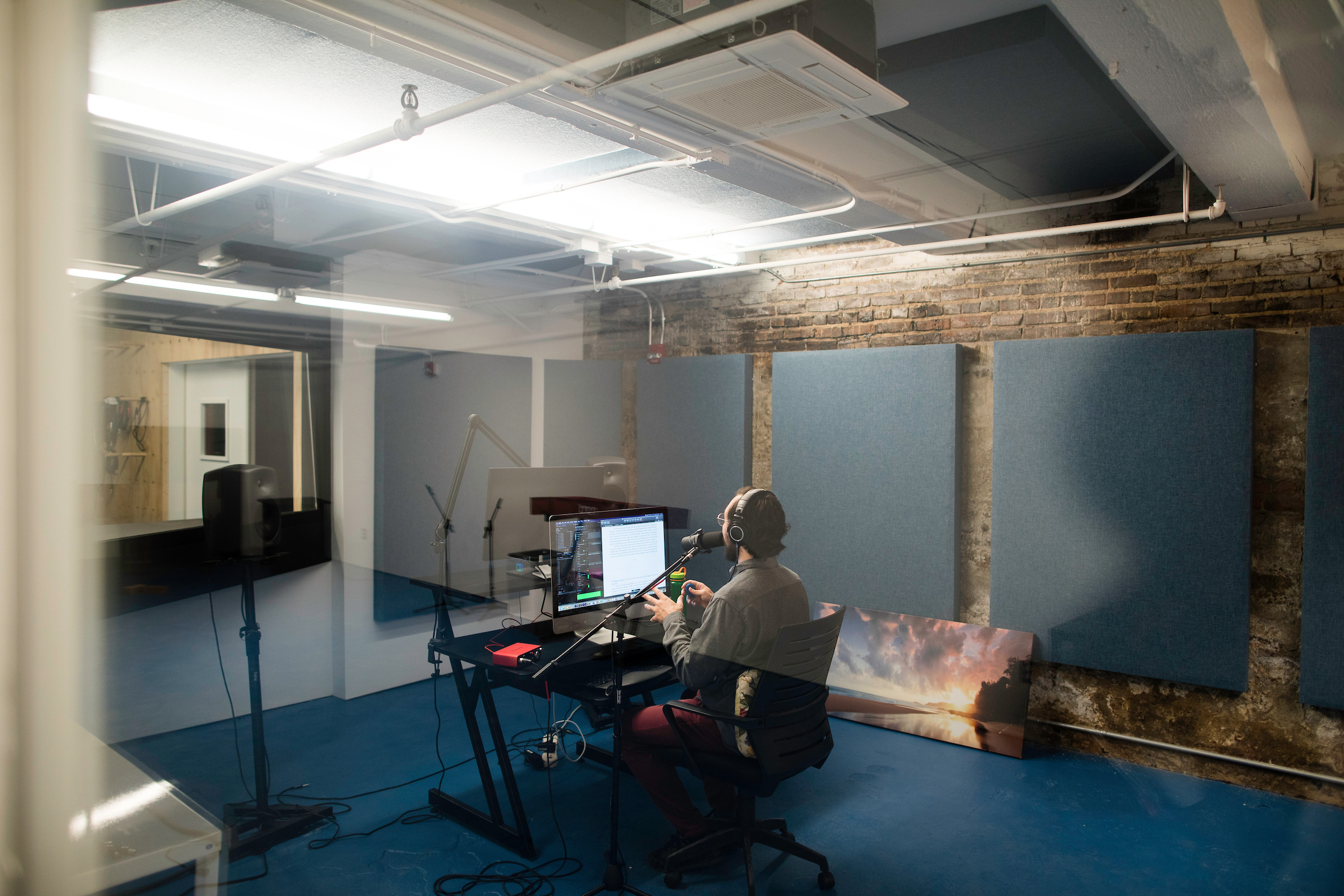 Located in Bemis Center's lower level, the Sound Studio is a 1,000 square foot shared workspace for artists-in-residence. The workspace includes a Studio Room for mixing and recording and a Live Room where artists can rehearse, experiment, and mic up instruments to be tracked into the Studio Room. The Live Room also serves as a rehearsal space where artists can set up multiple instruments to experiment or practice. The Sound Studio is equipped with a variety of instruments, amps, microphones, and digital hardware and software for recording and mixing.
Clare Haas Howard Research Library
+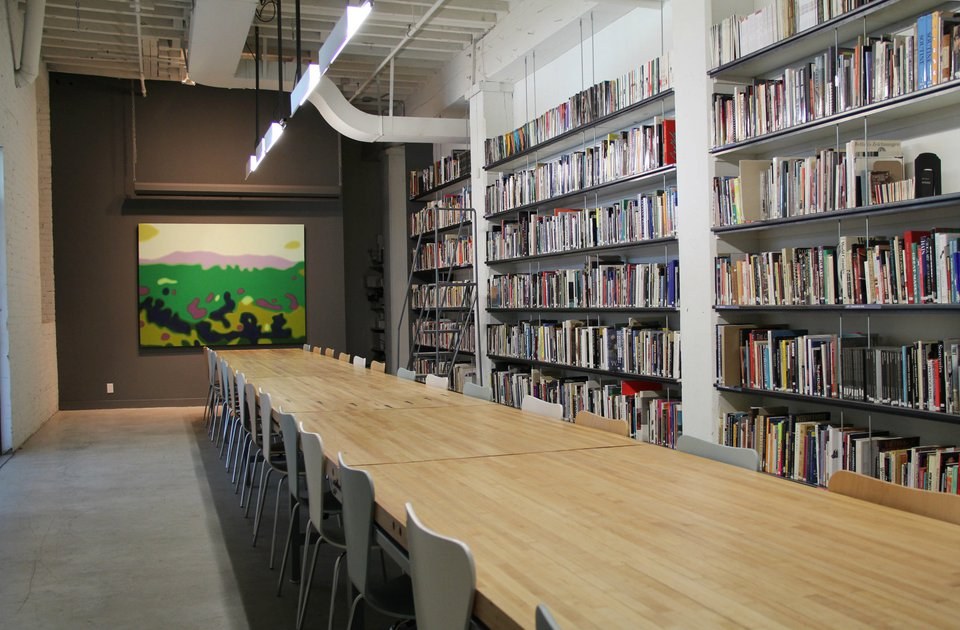 The Clare Haas Howard Research Library is located on Bemis Center's main floor within the administrative offices and contains more than 3,000 art-related books, exhibition catalogues, artist monographs, journals, magazines, and a growing audio library and listening station. Current artists-in-residence are permitted to check out books during administrative hours.

The library is named in honor of Clare Haas Howard, an artist and patron of the arts, for her strong spirit and many contributions to the Omaha creative community.

Bemis Center's Internship Program offers students and recent graduates who are interested in working as a professional artist or within the arts or nonprofit sector the opportunity to work directly with a Bemis resident. Bemis recruits and matches interns with residents based on their mutual skills and goals. Interns assist with projects such as studio production and fabrication, research, documentation, and sourcing local resources while receiving mentorship from a Bemis resident.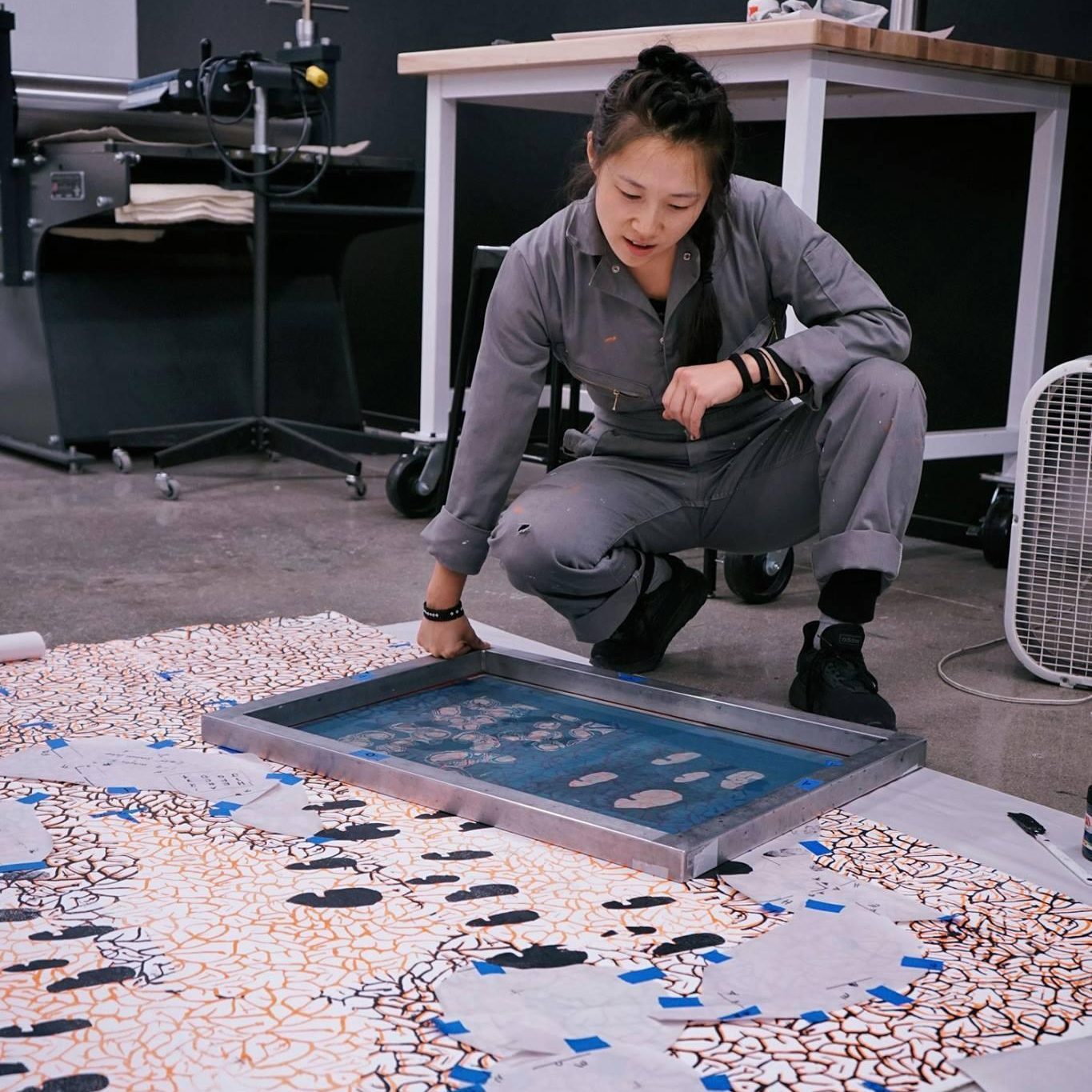 Partnerships with local organizations such as The Union for Contemporary Art, Hot Shops, and Metro Community College Prototype Design Lab offer Bemis residents access to additional tools, equipment, technical support, and opportunities to create networks and collaborations.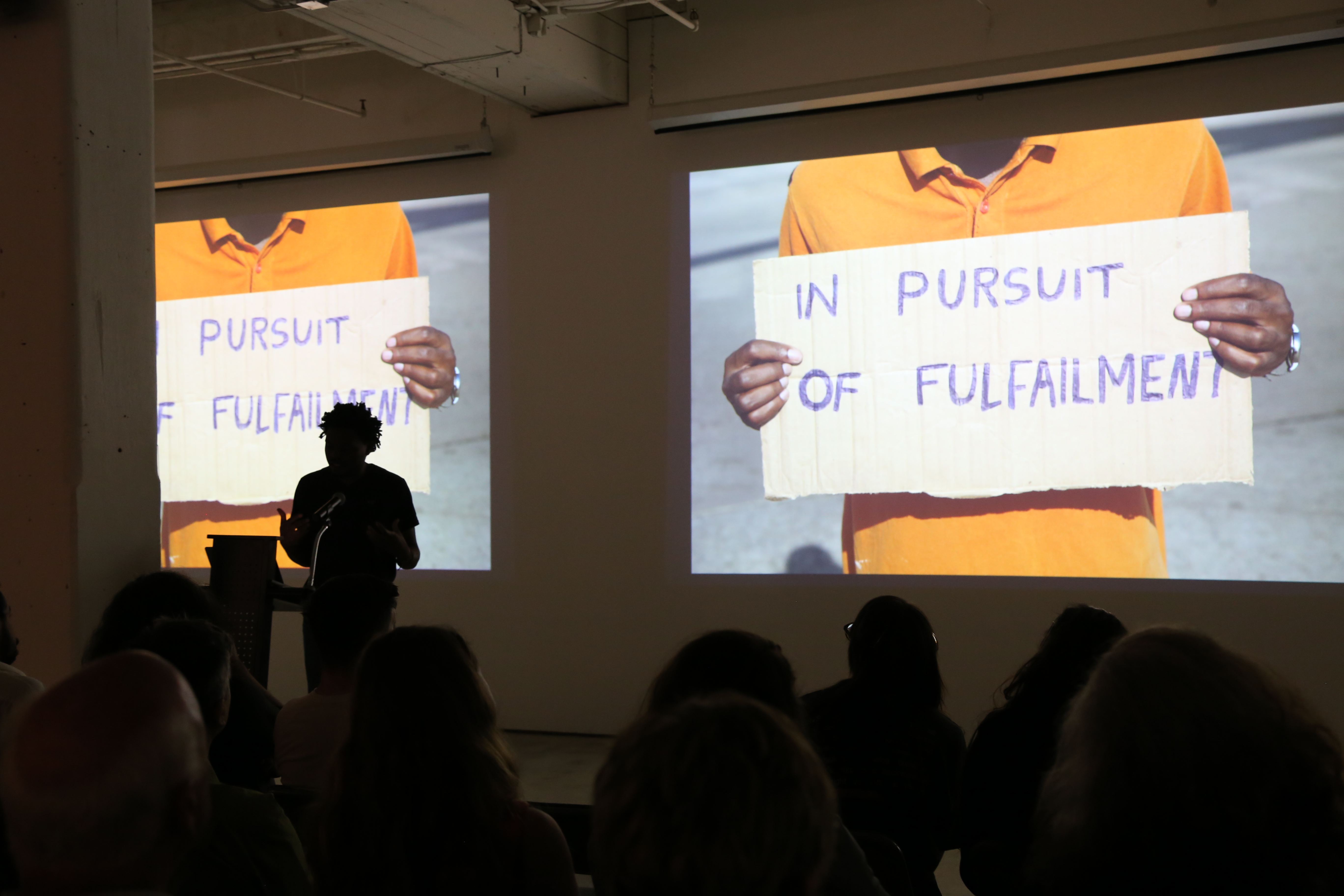 Curators-in-Residence are invited to participate in opportunities to engage our community such as our public Open House / Open Studios or by providing guided tours of their curatorial projects.

Five years equivalent professional work experience in the field with a minimum of 2–3 years of curatorial experience in an academic, nonprofit, alternative space, contemporary performing arts and/or commercial gallery setting

Strong knowledge of national and international contemporary art and a keen interest in understanding and working with Omaha's cultural landscape

Excellent verbal and written communications skills

Creative and strategic thinker with the capacity to take initiative and to work independently as well as a team player in a fun, yet demanding, arts organization
The ideal candidate will understand and promote Bemis Center's mission as an ambassador of the organization and perform all Bemis-related duties in a professional, responsible manner.
Residency opportunities are open to national and international arts professionals 21+ years of age, showing a strong professional working history.

Students enrolled in an academic program during the time of requested residency are not eligible to apply.

Bemis Center welcomes internationally based arts professionals to apply. Proficiency in English is required for international curators. Upon notification of acceptance to the residency, the selected individual will be responsible for preparing and submitting the required personal employment visa materials by November 2023. A J-1 visa is recommended. For more information on the J-1 visa, please visit: https://www.artsandartists.org/cultural-exchange-programs/j-1-visa/. Please note that the Bemis Center cannot provide visas, nor can it sponsor international applicants. All international artists in the residency program must secure their own visas prior to their arrival. Please visit the USCIS website for more information: www.uscis.gov. Bemis Center will provide appropriate documentation and materials to supplement the visa application process. Due to the current state of temporary, immigrant travel policies to the United States, we are unable to guarantee approval. A visa does not guarantee entry into the United States. As an international call, Bemis Center strives to support applicants from any country.

Bemis Center for Contemporary Arts is an Equal Opportunity Employer and is committed to creating a diverse environment. All qualified applicants will receive consideration for employment without regard to race, color, religion, gender, gender identity or expression, sexual orientation, national origin, genetics, disability, age, or veteran status. We encourage applicants from a wide range of demographics to apply. If you have questions about accessibility, please contact the Residency Program Coordinator, Carlie Waganer, at 402.341.7130 x 12 or carlie@bemiscenter.org.

OPPORTUNITIES AND EXPECTATIONS
+
Working closely with the curatorial team, the Curator-in-Residence will be involved in all curatorial and administrative aspects of organizing one exhibition over the 18-month residency. The exhibition will be original, conceptually rigorous, and exemplify the true breadth and experimentation currently defining contemporary art. The exhibition dates are tentatively scheduled for December 2024 to March 2025. The residency will conclude at the end of the exhibition.

The Curator-in-Residence will be responsible for research, artist relations, exhibition design and installation, writing/editing of scholarly texts and didactics, budgeting, conceptualizing and leading exhibition-related public programs, and tours.

DIVERSITY, EQUITY, AND INCLUSION
+
Bemis Center for Contemporary Arts is committed to a policy of nondiscrimination and equal opportunity for all persons regardless of race, sex, color, religion, creed, national origin or ancestry, age, marital status, sexual orientation, gender identity, gender expression, and disability. For special accommodations or questions about accessibility, contact Carlie Waganer, Residency Program Coordinator, at 402.341.7130 x 12 or carlie@bemiscenter.org.
The Bemis Center campus includes two buildings that are ADA compliant with barrier-free access. The main building spans six levels and houses twelve, private live/work studios between the second and third floors, each ranging in size and configuration. There are five live/work studios on the third floor with roll-in shower stalls. Communal installation workspaces are barrier-free. The private residency entrance to the first floor consists of six steps. There are seven stairs and an ADA-approved ramp to the main entrance, which also accesses the first floor. A passenger elevator operates between the first floor and fifth floor.
The Okada Sculpture & Ceramics Facility is a single-story, ground-level building located directly across the street from the main building. A cobblestone and brick city street separates the two facilities and conjoins the parking lot, which includes accessible parking spaces at the front entrance for visitors and residents. Okada includes two gender-neutral and accessible bathrooms with handrails. Workspaces can be arranged and organized to accommodate a variety of practices and needs.
The lower level, which includes the Sound Studio and LOW END, can be accessed from the east-facing public entrance by 18 steps, the first floor by 18 stairs, or via freight elevator. Located inside the Live Room, the Recording Studio is accessible through a double-door entryway. The doorway dimensions are 83" wide x 79.25" tall and it has an elevated, sloping threshold that is 2" tall. The Live Room is barrier-free.
In striving to create accessibility for all, Bemis welcomes inquiries from applicants with specific questions to ensure we are prepared to meet the needs of any resident. Please direct residency accessibility questions to Carlie Waganer, Residency Program Coordinator, at 402.341.7130 x 12 or carlie@bemiscenter.org.

A $40 USD non-refundable application fee is due at the time of submitting an application through SlideRoom paid via credit card. To pay via PayPal, contact Carlie Waganer, Residency Program Coordinator, at 402.341.7130 x 12 or carlie@bemiscenter.org.. Submission of completed applications is only accepted online through bemis.slideroom.com. Fees related to visa processes or passport acquisition are the responsibility of the awarded artist.
APPLICATION REVIEW PROCESS
+
SlideRoom will confirm receipt of your submitted application. Applications are reviewed by a rotating panel represented by national and regional arts professionals such as artists, curators, academics, and/or critics. The review process will take 6–8 weeks from the application deadline. Notifications to all applicants will be sent via email after the selection panel has made its final decision.
For More Information
Contact residency@bemiscenter.org
Frequently Asked Questions
+ Expand All
Who is eligible to apply?
+
Residency opportunities are open to national and international arts professionals 21+ years of age, showing a strong professional working history. Students enrolled in an academic program during the time of requested residency are not eligible to apply.
I'm currently enrolled in an academic program, can I still attend the residency during semesters off?
+
The residency program encourages a focused time to experiment, explore, and expand your practice and to be immersed with the other artists in residence. Being committed to other outside obligations often make for difficult distractions and time well-balanced. Curators applying to Bemis Center should not be enrolled in an academic program or currently teaching, adjunct or otherwise, during the residency timeline.

What items are provided in my live/work studio?
+
Each studio is equipped with its own private kitchen and bathroom. Basic kitchen utensils, dishes, cutlery, stove/oven, microwave, refrigerator, coffeemaker, and toaster are provided. Extra furniture is available for artists to arrange and organize their studios by personal preference. A set of bath towels, kitchen linens, and bedding are also provided, as well as on-site laundry facilities. Studios also equipped with a paint sink, plywood-backed sheet-rocked walls, accessible windows, concrete floors, and 12' ceilings. WiFi is available throughout the campus and there are two communal iMac computers and printers.

There are several communal workspaces including installation rooms; a sculpture and ceramics facility complete with a wood shop, metal shop, and flex workspace; and a sound studio with recording equipment. Please contact Carlie Waganer, Residency Program Coordinator, at 402.341.7130 x 12 or carlie@bemiscenter.org. if you have specific questions regarding equipment or software.

Is smoking allowed in my personal studio?
+
Bemis Center is a completely non-smoking campus.
Bemis Center does not allow pets to live on-site. Service dogs are permitted to stay with an artist with appropriate documentation.
Can my family stay with me?
+
The Curator-in-Residence studio is for single occupancy only. Visitors or family members may stay on-site for short term visits with an artist with prior approval from the Residency Program Manager. Bemis Center cannot accommodate spoues, children, or guests for an extended stay.
If I am selected for the residency invitation and am unable to attend, may I defer?
+
Selected artists must attend a minimum of eight consecutive weeks within a residency session to be accepted. Deferring or rescheduling a residency is not permitted at this time. Late arrivals, early departures, or extended absences may result in prorated stipends.
What recreational or extracurricular activities are available?
+
Omaha is a community that combines urban and rural lifestyles with a population of more than 400,000. Bemis Center is located in the heart of the historic Old Market, Omaha's arts and culture district, which offers shops, restaurants, pubs, bookstores, a public library, hardware store, and post office all within walking distance.

Omaha Eppley Airport is located less than five miles from Bemis Center. If artists are arriving by car, Bemis provides on-site parking for the duration of the residency located directly across the street from Bemis.

There are several parks, trails, waterways, and natural resources located in and around the city. Bemis offers communal bikes to use to explore highlights such as the Bob Kerrey Pedestrian Bridge, which crosses the Missouri River into neighboring Council Bluffs, Iowa. Lauritzen Gardens, Fontenelle Forest, and Omaha's Henry Doorly Zoo are also national favorites. A vehicle for local use is available to resident artists. Bemis does not direct or structure social activities for residents.

Omaha is home to creative assets including El Museo Latino, Film Streams, Joslyn Art Museum, KANEKO, Omaha Performing Arts, Omaha Symphony, Opera Omaha, and The Union for Contemporary Art. Bemis Center has several local partnerships with organizations that offer resources and benefits to artists-in-residence.

I don't see my question, how do I get more information?
+
GET MORE ART IN YOUR INBOX

Bemis Center for
Contemporary Arts
724 S. 12th Street
Omaha, NE 68102

402.341.7130
info@bemiscenter.org