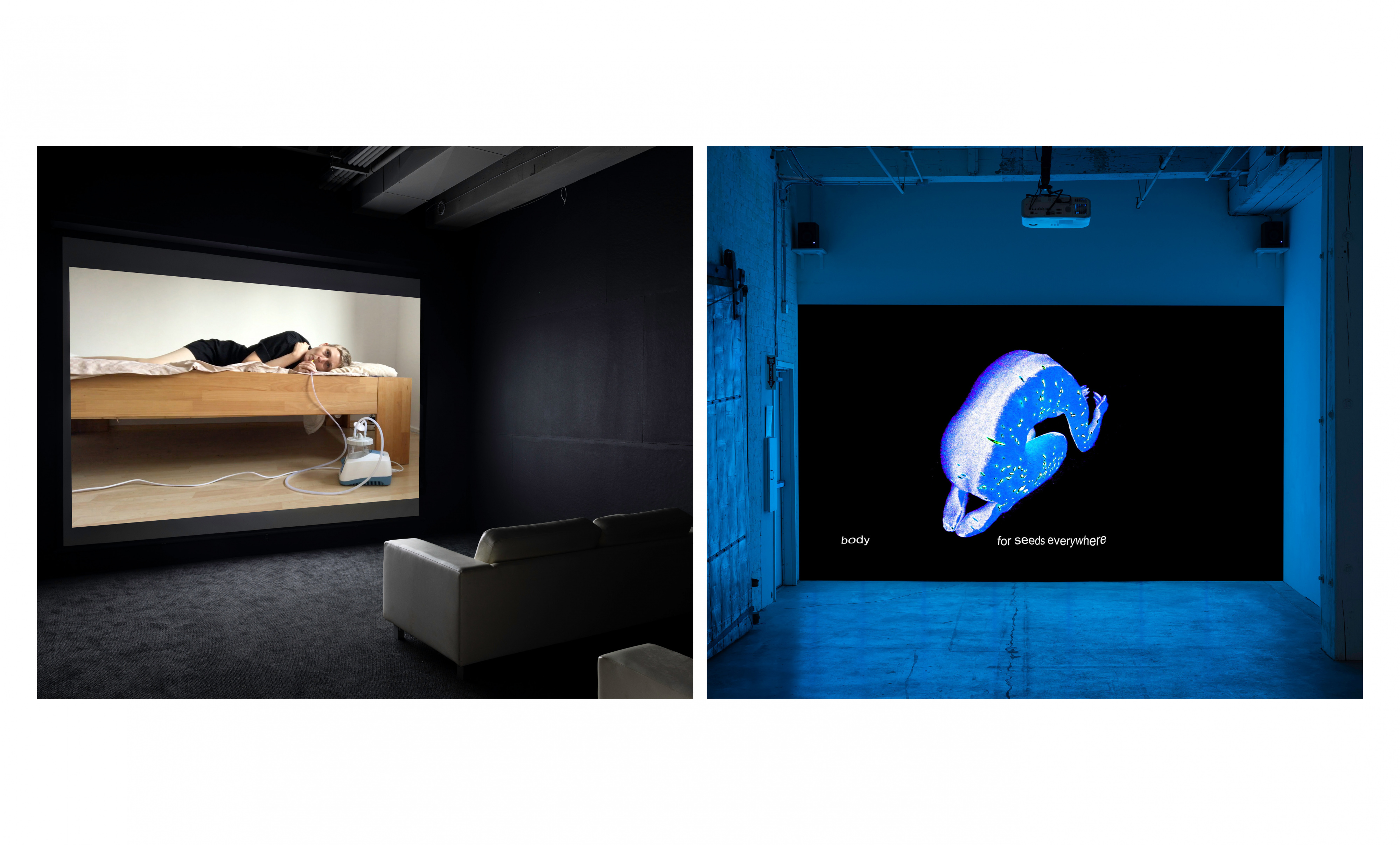 Artist Talk: Heather Dewey-Hagborg and Jenna Sutela
Date
Tue, Feb 22, 2022
Time
10:00–11:00 AM CT
Location
FREE
RSVP
Join us for the third of a series of online artist talks accompanying I don't know you like that: a unique opportunity to meet some of the exhibiting artists, learn more about their work, and ask your questions. This talk will center on the relationship between biotechnology, artistic research, and storytelling as Heather Dewey-Hagborg and Jenna Sutela discuss their imaginative moving-image works on view while taking us into their broader research-based practice. Enlisting specific narrative genres–respectively, the epistolary and the essay–these works weave theory and matter to ponder the intersection between hospitality and biopolitics, critically examining the ways in which biotechnology is reconfiguring the contemporary body, kinship, and society.

RSVP: This event is virtual only. RSVP for Zoom details.

Image: (left) Jenna Sutela, Holobiont, 2018, single-channel video installation with sound, installation dimensions variable; video: 10:27 minutes, courtesy of the artist; Installation view in I don't know you like that: The Bodywork of Hospitality at Bemis Center for Contemporary Arts, 2021. Photo: Colin Conces. (right) Heather Dewey-Hagborg, T3511, 2018, video, 9 minutes, courtesy of the artist and Fridman Gallery, New York; video room, Bemis Center for Contemporary Arts, 2021. Photo: Colin Conces.
​​Heather Dewey-Hagborg is an artist and biohacker who is interested in art as research and technological critique. Her work has been shown internationally at events and venues including the World Economic Forum; Daejeon Biennale; Guangzhou Triennial; Shenzhen Urbanism and Architecture Biennale; Transmediale Berlin; Walker Art Center, Minneapolis; Philadelphia Museum of Art; and PS1 MOMA, New York. Dr. Dewey-Hagborg is a Visiting Assistant Professor of Interactive Media at NYU Abu Dhabi, a Sundance Institute Interdisciplinary Program Art of Practice Fellow, and an affiliate of Data & Society. She is also a founding board member of Digital DNA, a European Research Council funded project investigating the changing relationships between digital technologies, DNA and evidence as well as a co-founder/co-curator of REFRESH, an inclusive and politically engaged collaborative platform at the intersection of art, science, and technology. ​​
Jenna Sutela is a Finnish artist based in Berlin who works with words, sounds, and other living media. She engages with both futuristic and ancient materials in audiovisual pieces, sculptures, and performances. Sutela's work seeks to override aspects of culture based on a survival-of-the-fittest narrative in favor of symbiotic relationships between all life forms, both organic and synthetic. Her microbial collaborators include Physarum polycephalum, the "many-headed" slime mold with a decentralized nervous system, and the extremophilic Bacillus subtilis nattō bacterium. Recently, she has also collaborated with artificial neural networks. Sutela's work has been presented internationally at Guggenheim Museum Bilbao; Museum of Contemporary Art, Tokyo; Serpentine Galleries, London; Shanghai Biennale, and other locations.


I don't know you like that: The Bodywork of Hospitality and its related public programs are generously supported, in part, by:
GET MORE ART IN YOUR INBOX

Bemis Center for
Contemporary Arts
724 S. 12th Street
Omaha, NE 68102

402.341.7130
info@bemiscenter.org