Bemis Center's exhibition program features solo and group exhibitions of artwork in all media by local, national, and international artists. Exhibitions are always free, open to the public, and frequently introduce the community of Omaha to the most experimental and provocative art forms today.
---
INTIMATE ACTIONS
DECEMBER 10, 2020–FEBRUARY 27, 2021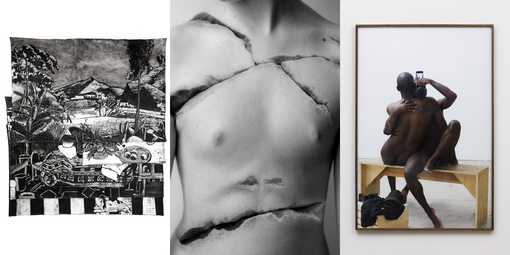 Maria Antelman: Soft Interface
Joey Fauerso: Inside the Spider's Body
Paul Mpagi Sepuya: Drop Scene

Curated by Rachel Adams, Bemis Chief Curator and Director of Programs
Curated together under the rubric of Intimate Actions, these three solo exhibitions are centered on the theme of intimacy and how it enters into representations of the body, one's connection to space and surroundings, and our relationships. Joey Fauerso interweaves personal experiences in relation to our own humanity through concepts related to gender, family, and contemporary culture. Paul Mpagi Sepuya's work is rooted in an atypical type of studio portraiture, combining elements of storytelling through the use of camera placement, mirrors, curtains, studio workprints, and person to person contact. Maria Antelman's practice focuses on the human experience, with this exhibition focusing on our relationship to the past and our connection to the natural environment. Together, the three artists call to mind the expansiveness that is humanity, and through a variety of lenses, offer intimate views of strength and fragility.
VIRTUAL Exhibition Opening + Performance
December 10 | 8–9 PM CT
STREAM: twitch.tv/bemiscenter and facebook.com/bemiscenter
DETAILS + RSVP
A Visitor Code of Conduct has been implemented to keep staff and visitors as safe as possible and to avoid the spread of COVID-19.

BOOK YOUR VISIT
---
ALL TOGETHER, AMONGST MANY: REFLECTIONS ON EMPATHY
MARCH 25–JUNE 5, 2021
Curated by Rachel Adams, Bemis Chief Curator and Director of Programs
​​​
All Together, Amongst Many: Reflections on Empathy is a group exhibition of artists exploring social and political issues that are presently defining the United States in 2020. In this polarized time, opening several months after the 2020 U.S. elections, the exhibition focuses on empathy, presenting works that aim to awaken shared beliefs in humanity and spark an immediate sense of connection between the viewer and the subjects of the artwork. Engaging with ideas centered on land rights and indigenous rights, climate change and environmental issues, food justice, accessibility and healthcare, immigration and border issues, racism, LGBTQAI+ rights, police brutality, and violence on all accounts, the artists in this exhibition are based across the United States and represent various cultural backgrounds and identities. This exhibition is a snapshot survey of America today through the lens of contemporary art. In this exhibition, Bemis welcomes voices from across the country while engaging locally with organizations in the Omaha area that confront these issues daily. These partnerships will result in a variety of programs. Artists include Lee Cannarozzo, Lizania Cruz, Cassandra Davis, Brendan Fernandes, Marcus Fischer, Cameron Granger, Hock E Aye Vi Edgar Heap of Birds, Ekene Ijeoma, Seitu Jones, Christine Sun Kim, Glenn Ligon, Kambui Olujimi, Juane Quick-to-see Smith, Julia Rose Sutherland, Stephanie Syjuco, Jordan Weber, Carmen Winant, and Jody Wood.