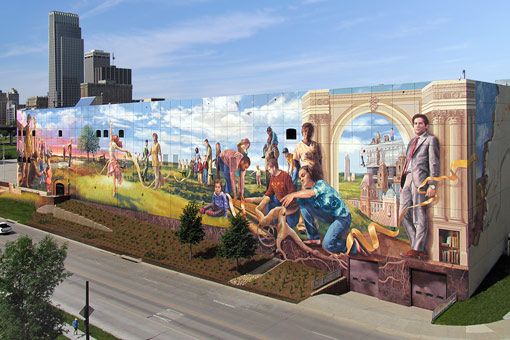 The Omaha Mural Project: Fertile Ground was a creation of internationally renowned mural artist Meg Saligman. Saligman's work tells the story of Omaha's past, present, and future by featuring historical references, present-day communities, and portraying the passage of time with a unique "back to front" rather than "left to right" composition. At 32,500 sq ft, the mural is the largest public art project in the history of the city of Omaha as well as the largest singly funded mural in the nation. The Peter Kiewit Foundation initiated the project in 2006. The Foundation partnered with the Bemis Center for Contemporary Arts for consulting and project management. After conducting a nationwide artist search, Meg Saligman, renowned Philadelphia muralist, was commissioned to design and execute a world-class mural in downtown Omaha and the NRG Energy building was selected for its canvas. Located on the east and north walls of the NRG Energy building at 13th and Mike Fahey Street, creation of Omaha's newest cultural monument began in early June of 2008 and was completed in June 2009. The project was funded entirely by the Peter Kiewit Foundation as a gift to the people of Nebraska and the city of Omaha. 
Meg Saligman and assisting artists returned to Omaha in 2017 to restore the mural, bringing this iconic public art project back to its original vibrancy. The Peter Kiewit Foundation funded the restoration of the cultural monument. The Bemis Center for Contemporary Arts continues to maintain responsibility for the maintenance of the completed mural. 
Fertile Ground Education Project
In 2009, the Bemis Center for Contemporary Arts partnered with the University Of Nebraska at Omaha's Center for Innovation in Arts Education to develop an arts-integrated education curriculum including a poster, lesson plans, activities, and videos that address topics of art and art history, language arts, history, civic engagement, philanthropy, research, archiving, geography, biology, architecture, chemistry, math, ecology, and stewardship.