In 2019, Bemis Center for Contemporary Arts will officially launch its new Sound Art + Experimental Music Program. Embedded within Bemis Center's renowned international Residency Program, this new opportunity will offer a unique experience for artists working in sound, composition, voice, and music of all genres. National and international artists participating in the program will receive financial, technical, and administrative support, along with dedicated facilities for rehearsing, recording, and performing new works that expand the field of sound art and music.

These architectural renderings were generated by students participating in the University of Nebraska-Lincoln's design-build program, FACT (Fabrication and Construction Team), and illustrate the sound program's custom facilities, including a recording and rehearsal studio, performance space, performers' green room, and a pre-event atrium with bar and lounge areas. Under the guidance of architect and UNL professor Jeff Day, the students worked in close collaboration with artist and carpenter Sean Ward, musicians, sound engineers, mechanical experts, and Bemis staff to envision the program's dedicated space, which will be located in Bemis Center's 25,000 square foot basement level.

The fully-equipped performance space will offer free live shows by local, national, and international sound artists and experimental musicians. Access to these performances aims to not only build greater appreciation and new audiences for experimental forms of music but also to liberate the artists on stage to take risks and present truly avant-garde work.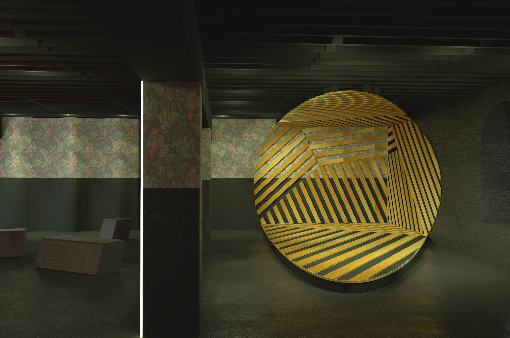 2019 Sound Art + Experimental Music Artists-in-Residence
Raven Chacon
Based in Albuquerque, New Mexico, Raven Chacon (b. 1977) is a composer, performer and installation artist from Fort Defiance, Navajo Nation. As a solo artist, collaborator, or a member of the artist-group Postcommodity, Chacon has exhibited or performed in the Whitney Biennial, documenta 14, REDCAT, Musée d'art Contemporain de Montréal, San Francisco Electronic Music Festival, Chaco Canyon, Ende Tymes Festival, 18th Biennale of Sydney, and The Kennedy Center. Every year he teaches 20 students to write string quartets for the Native American Composer Apprenticeship Project (NACAP). He is the recipient of the United States Artists fellowship in Music, The Creative Capital award in Visual Arts, The Native Arts and Cultures Foundation artist fellowship, and the American Academy's Berlin Prize for Music Composition.
As the inaugural artist in Bemis Center's Sound Art + Experimental Music Program, Chacon will produce a new sound installation, along with musical scores and recordings during his fully-subsidized three-month live/work residency. The sound installation will be comprised of field recordings Chacon took at the 2016 Standing Rock gathering and texts exploring the role of sound at Standing Rock and other recent protest demonstrations. In addition, Chacon will complete a book of 15 musical scores based on Zitkála-Šá (1876–1938; a.k.a. Red Bird or Gertrude Simmons Bonnin), a Yankton Dakota who in the early 20th Century became known as a composer, writer, editor, teacher, and political activist.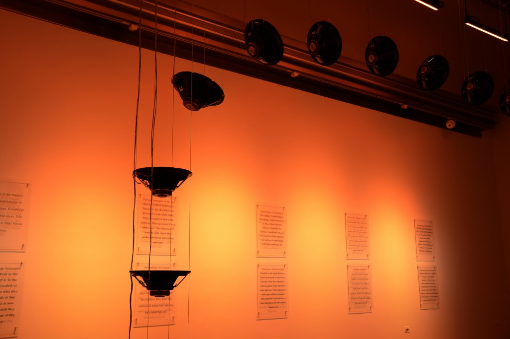 Guy Goldstein
Guy Goldstein (b. 1974) is a visual artist and musician based in Tel-Aviv, Israel. Goldstein's interrogation of sound frequently takes the shape of sculpture, compositions, sound and video installations, and as a member of the Israeli post-punk band Reines Girls. He holds an MFA from the Bezalel Academy of Art and Design in Jerusalem and studied visual communication at the Wizo Haifa Academy of Art and Design. His work has been exhibited in galleries, museums, and art fairs throughout Europe and the USA. Major exhibitions include O.R.B at the Petach Tikva Museum of Art, Israel (2014); Transcription of Blue at the AU Museum in Kazen Art Centre in Washington, DC (2015); Yes/No Questions at Hertzliya Museum, Israel (2013); Pavilion 0, 55th Venice Biennale, 2013; Propagation in KW, Berlin (2014); and Absolute Pitch at Školská 28 Gallery, Prague (2015). In 2012, Goldstein received the prestigious Israeli Minister of Culture Award and The Israeli Ministry of Culture Award for Young Artist in 2007. Currently, he is the director of the Visual Communication Department at Musrara School of Art, Jerusalem.
Goldstein will be in residence at Bemis Center during fall 2019 to participate in the new Sound Art + Experimental Music Program. His residency is a continuation of Bemis Center's partnership with the Joslyn Art Museum, in which an artist is invited to engage Omaha and the region through a long-term, two-part project. The first part comprises a two-month live/work residency at Bemis Center for the artist to conduct research and to make new work. The work is then organized into a solo exhibition in the Joslyn's Riley Cap Gallery.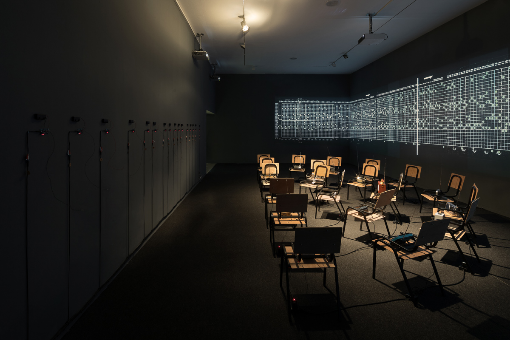 An international advisory committee comprised of artists, curators, and other leading experts in the field will assist with the curation of the Sound Art + Experimental Music Program for 2019 and 2020. Beginning in 2020, Sound Art + Experimental Music residencies for 2021 and beyond will transition to Bemis Center's regular annual open call for applications.
SPECIAL THANKS TO OUR PROGRAM PARTNERS
Actual Architecture Company
AO*
Eyman Plumbing, Heating & Air
FACT (Fabrication And Construction Team), University of Nebraska-Lincoln
Harpo Foundation
Lund-Ross Constructors
National Endowment for the Arts
Nebraska Arts Council / Nebraska Cultural Endowment
Lisa and Tyler Owen
Robert Peters Company
Sean Ward
Robert Webber
Anonymous*
Lead support provided by The Andrew W. Mellon Foundation
In 2018, the Andrew W. Mellon Foundation awarded Bemis Center a $500,000 grant to establish the Sound Art + Experimental Music Program. This funding will support the first three years of the specialized track within Bemis Center's international Residency Program for artists pushing the boundaries of sound, composition, voice, and music of all genres. In addition to underwriting residencies for nine international artists working in this groundbreaking field, the grant also funds new audio equipment and the production and presentation of free live performances, open to the community.