Bemis Center for Contemporary Arts launched its new Sound Art + Experimental Music Program in May 2019. Embedded within Bemis Center's renowned international Residency Program, this new opportunity offers a unique experience for artists working in sound, composition, voice, and music of all genres. National and international artists participating in the program receive financial, technical, and administrative support, along with dedicated facilities for rehearsing, recording, and performing new works that expand the field of sound art and music.

These architectural renderings were generated by students participating in the University of Nebraska-Lincoln's design-build program, FACT (Fabrication and Construction Team), and illustrate the sound program's custom facilities, including a recording and rehearsal studio, performance space, performers' green room, and a pre-event atrium with bar and lounge areas. Under the guidance of UNL professor and architect Jeff Day of Actual Architecture Company, the students worked in close collaboration with artist and carpenter Sean Ward, musicians, sound engineers, mechanical experts, and Bemis staff to envision the program's dedicated space, which is located in Bemis Center's 25,000 square foot basement level.

The fully-equipped performance space, LOW END, offers free live shows by local, national, and international sound artists and experimental musicians. Access to these performances aims to not only build greater appreciation and new audiences for experimental forms of music but also to liberate the artists on stage to take risks and present truly avant-garde work.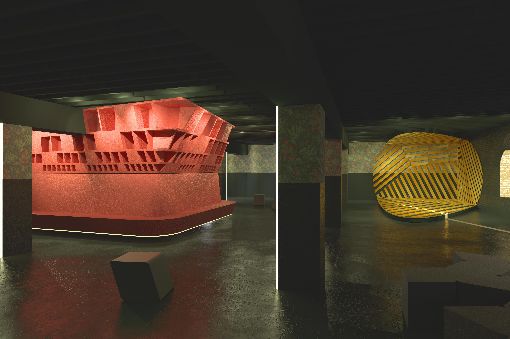 An international advisory committee comprised of artists, curators, and other leading experts in the field will assist with the curation of the Sound Art + Experimental Music Program for 2019–2021. Beginning in 2021, Sound Art + Experimental Music residencies for 2022 and beyond will transition to Bemis Center's regular annual open call for applications.
SPECIAL THANKS TO OUR PROGRAM PARTNERS
Actual Architecture Company
AO*
Douglas County, Nebraska 
Eyman Plumbing, Heating & Air
FACT (Fabrication And Construction Team), University of Nebraska-Lincoln
Harpo Foundation
Lund-Ross Constructors
National Endowment for the Arts
Nebraska Arts Council / Nebraska Cultural Endowment
Lisa and Tyler Owen
Robert Peters Company
Security National Bank
Annette and Paul Smith
Sean Ward
Robert Webber
Anonymous*
Lead support provided by The Andrew W. Mellon Foundation
In 2018, The Andrew W. Mellon Foundation awarded Bemis Center a $500,000 grant to establish the Sound Art + Experimental Music Program. This funding will support the first three years of the specialized track within Bemis Center's international Residency Program for artists pushing the boundaries of sound, composition, voice, and music of all genres. In addition to underwriting residencies for nine international artists working in this groundbreaking field, the grant also funds new audio equipment and the production and presentation of free live performances, open to the community.