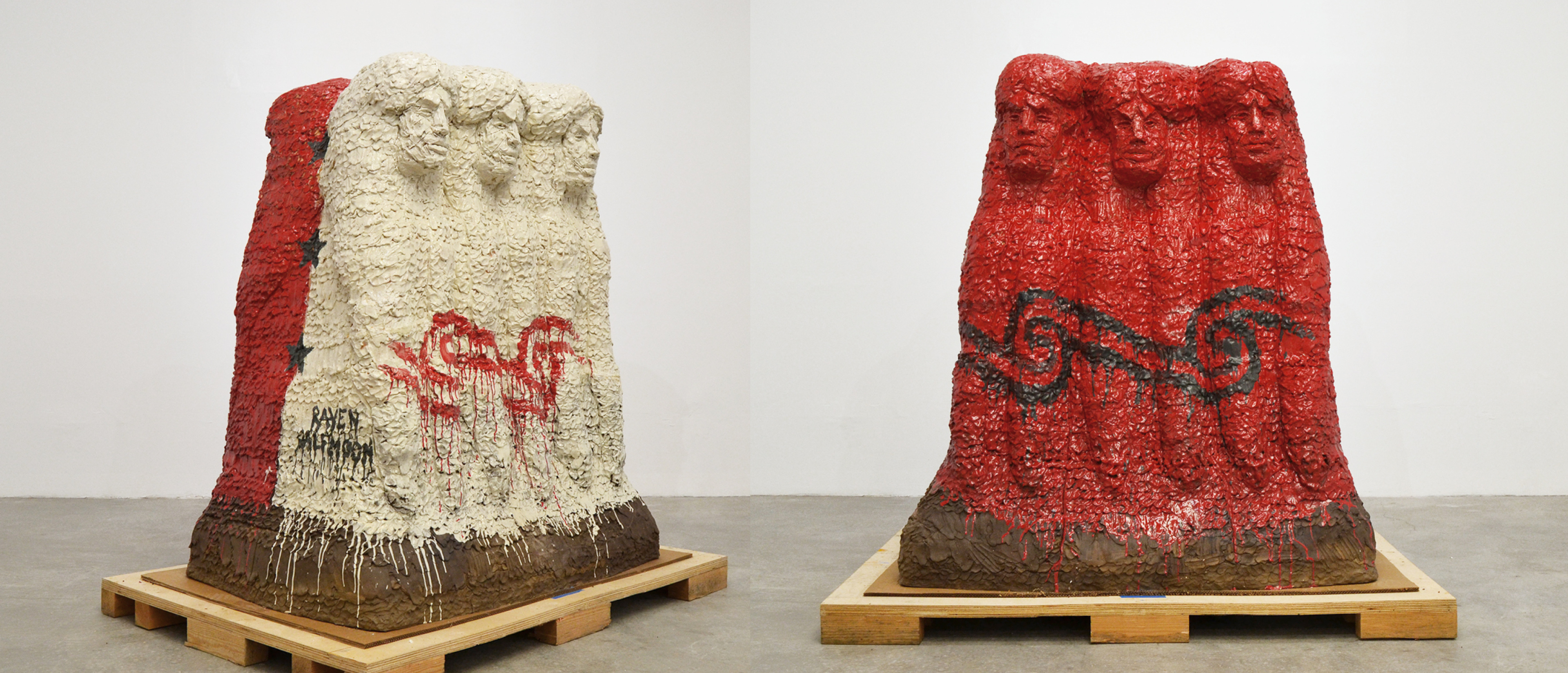 Raven Halfmoon: Flags of Our Mothers
May 18, 2024–September 14, 2024
Co-Curated by Rachel Adams, Chief Curator and Director of Programs, Bemis Center & Amy Smith-Stewart, Chief Curator, The Aldrich Contemporary Art Museum
"I create work that is large and powerful. I build sculptures that demand to be heard and experienced. My artwork exists to break the mold of the romanticized Native American stereotype and to simply say, 'We are still here and we are powerful.'" — Raven Halfmoon
Co-organized by The Aldrich Contemporary Art Museum and Bemis Center for Contemporary Arts
Raven Halfmoon's practice spans torso-scaled and colossal-sized stoneware sculptures, with some soaring up to nine feet and weighing over eight hundred pounds. With inspirations that orbit centuries from ancient Indigenous pottery to Moai statues to Land Art, Halfmoon interrogates the intersection of tradition, history, gender, and personal experience.
Born and raised in Norman, Oklahoma, she learned about ceramics as a teenager from a Caddo elder. Working mainly in portraiture, Halfmoon hand builds each work using a coil method. Her surfaces are expressive and show deep finger impressions and dramatic dripping glazes—a physicality that presences her as both maker and matter. She fuses Caddo pottery traditions (a history of making mostly done by women) with populist gestures—often tagging her work (a reference to Caddo tattooing).
Her palette is specific and matches both the clay bodies she selects and the glazes she fires with—reds (after the Oklahoma soil and the blood of murdered Indigenous women), blacks (referencing the natural clay native to the Red River), and creams. Sometimes she stacks and repeats imagery, creating totemic forms that represent herself and her maternal ancestry while also reinforcing the multiplicities that exist inside all of us. Her works reference stories of the Caddo Nation, specifically her feminist lineage and the power of its complexities.

This exhibition will include a combination of new and borrowed works that vary in size and content from over the last five years. Halfmoon will also be creating some of her largest works to date commissioned by The Aldrich and Bemis Center. The artist's first museum catalogue will accompany the exhibition.
Raven Halfmoon is curated by Amy Smith-Stewart, Chief Curator at The Aldrich Contemporary Art Museum, and Rachel Adams, Chief Curator and Director of Programming at the Bemis Center for Contemporary Art.
Raven Halfmoon. E-a'-titi (sister), 2021. Stoneware, glaze. 30 x 26 x 58 inches. Courtesy of the artist. Photography by Alan Koppel.
About the Artist

Raven Halfmoon (Caddo Nation) is from Norman, Oklahoma. She attended the University of Arkansas where she earned double bachelor's degrees in ceramics and cultural anthropology. She has garnered an impressive series of awards and accolades, including being named the 2018 Fund the Change recipient from the Activist and Social Justice Arts Organization in Oklahoma, a Burke Prize finalist at the Museum of Arts and Design, in New York, NY, the American Craft Council Emerging Voices Award, and Ceramics Monthly Emerging Artist—all in 2019. She just concluded a two-year residency at Archie Bray Foundation for Ceramic Arts in Montana.
GET MORE ART IN YOUR INBOX

Bemis Center for
Contemporary Arts
724 S. 12th Street
Omaha, NE 68102

402.341.7130
info@bemiscenter.org