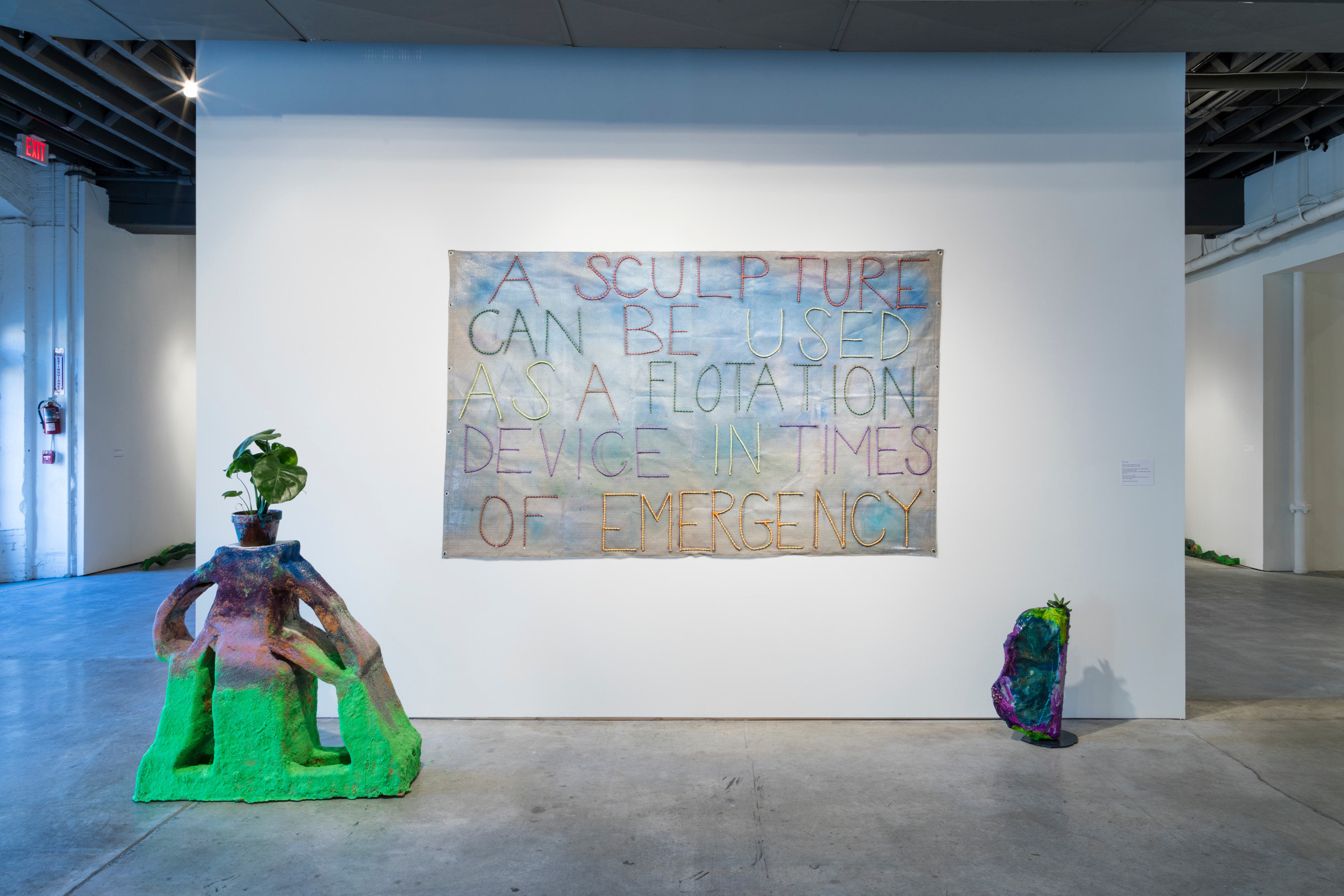 Jillian Mayer: TIMESHARE
November 20, 2019–February 15, 2020
Jillian Mayer's practice continually explores how technology affects our lives, bodies, and identities through investigating the blurred lines between our physical and online worlds in regard to dependency and value. Recent works by the artist include her prolific group of Slumpies—the artist's sculptural answer to the shape our bodies take while engaging with hand-held technology. While referencing the history of art and the live model, these playful yet critical sculptures address the way humans are physically altering their bodies due to these technologies. Often paired with humourous promo-videos, these deeply imperfect sculptures are inviting as well as entrenched with contemporary marketing techniques, allowing their reach to stretch between the art gallery and the storefront.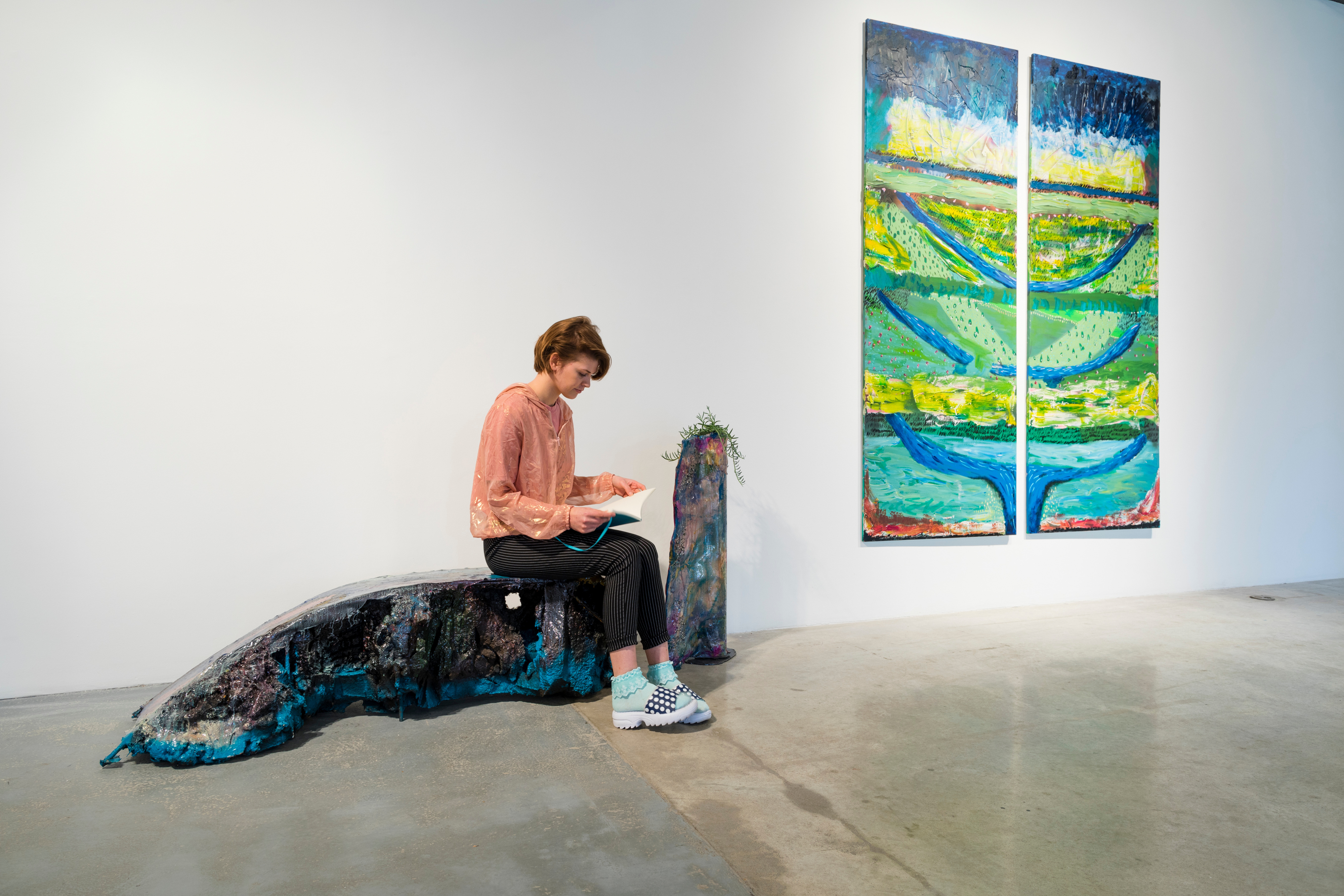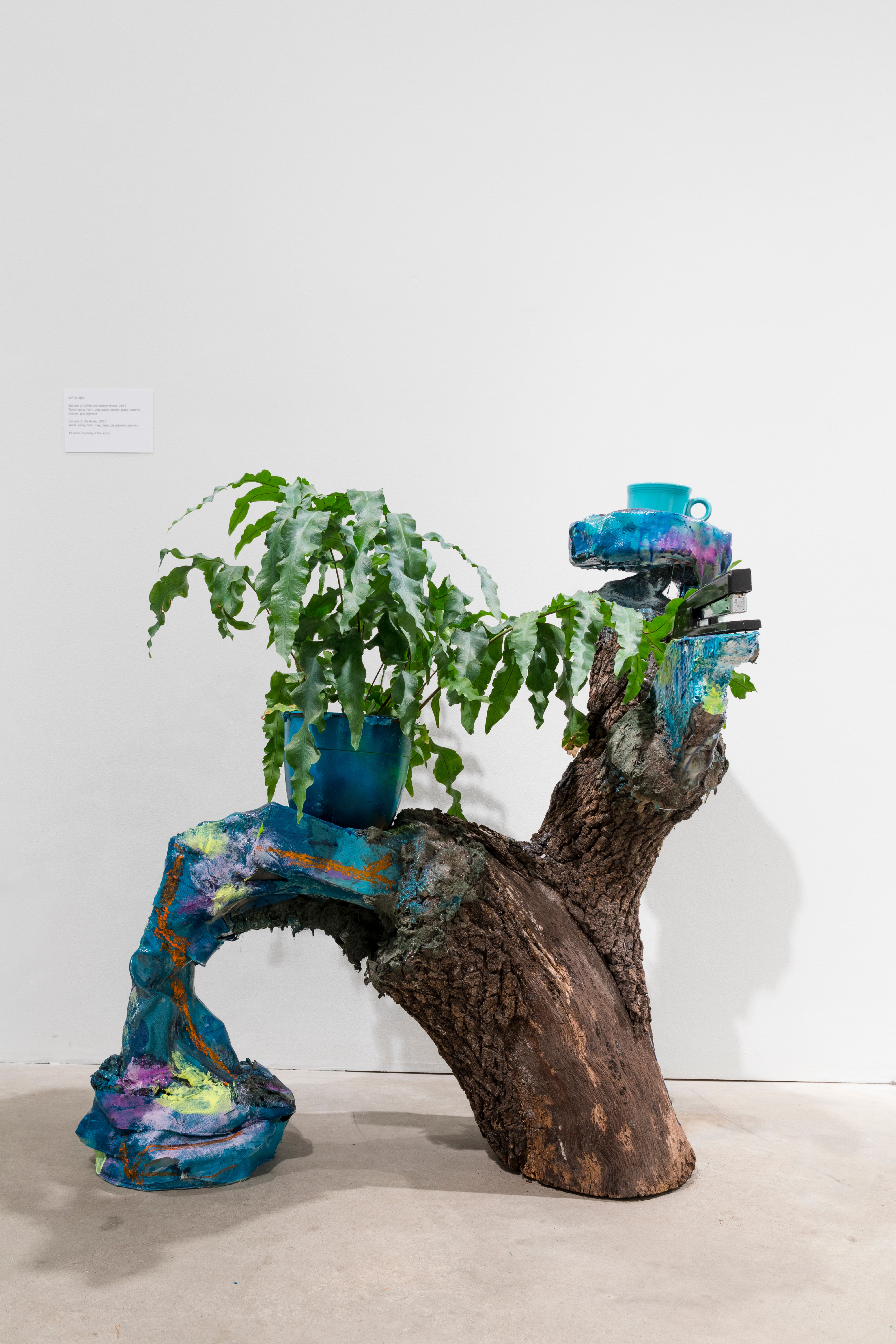 While growing up in Florida, one of the sea-level states that stands to face global warming head-on, Mayer has been continually inundated with a lifetime of hurricane seasons and alerts. Currently, the artist is continuing her exploration into survivalist and prepper subculture tendencies that stem from her personal experience as well as a more general global experience of environmental disaster and concerns of infrastructural collapse. The works in the exhibition respond to not only the emotional fallout that comes with this type of collapse but also the adaptation methods of humans during these times.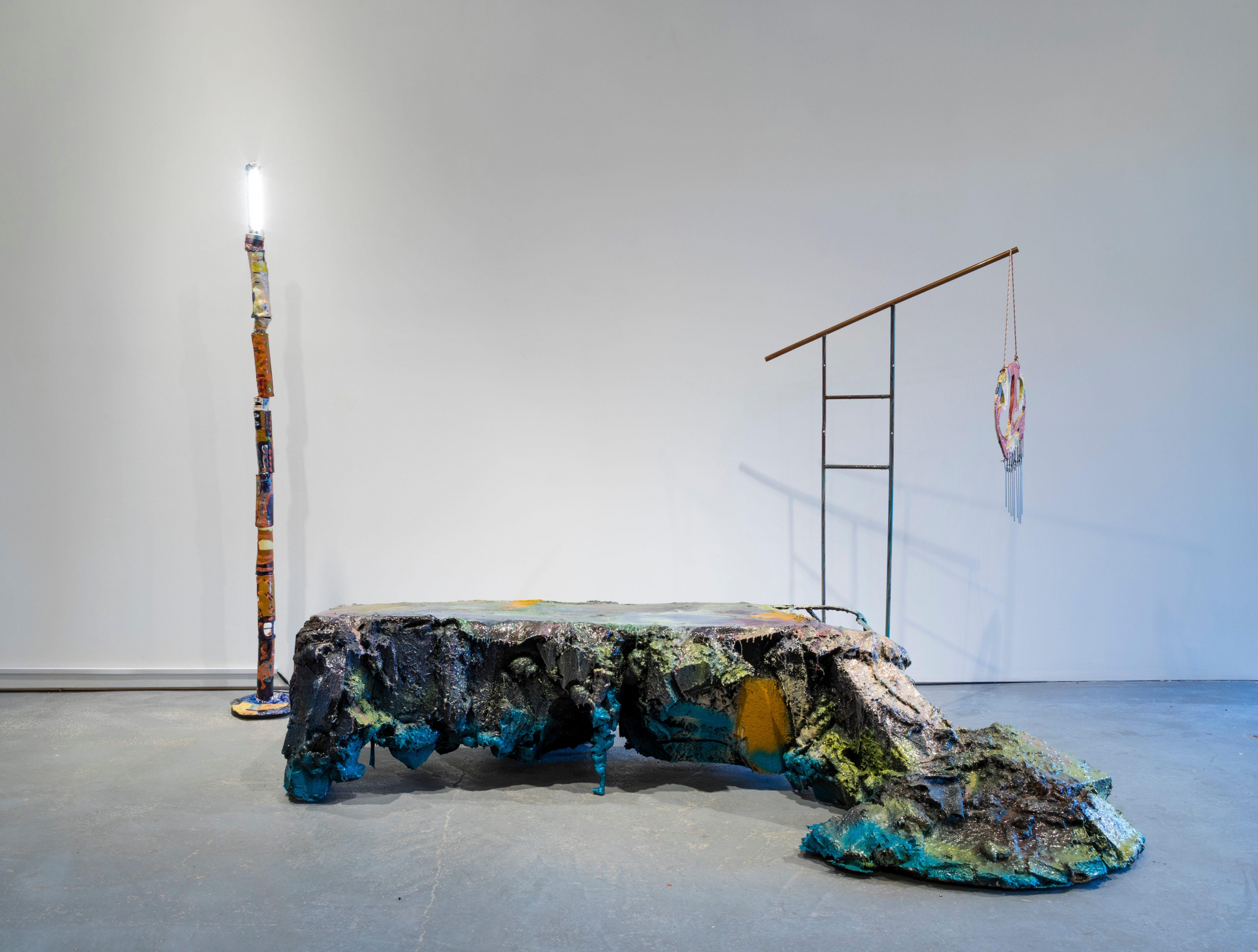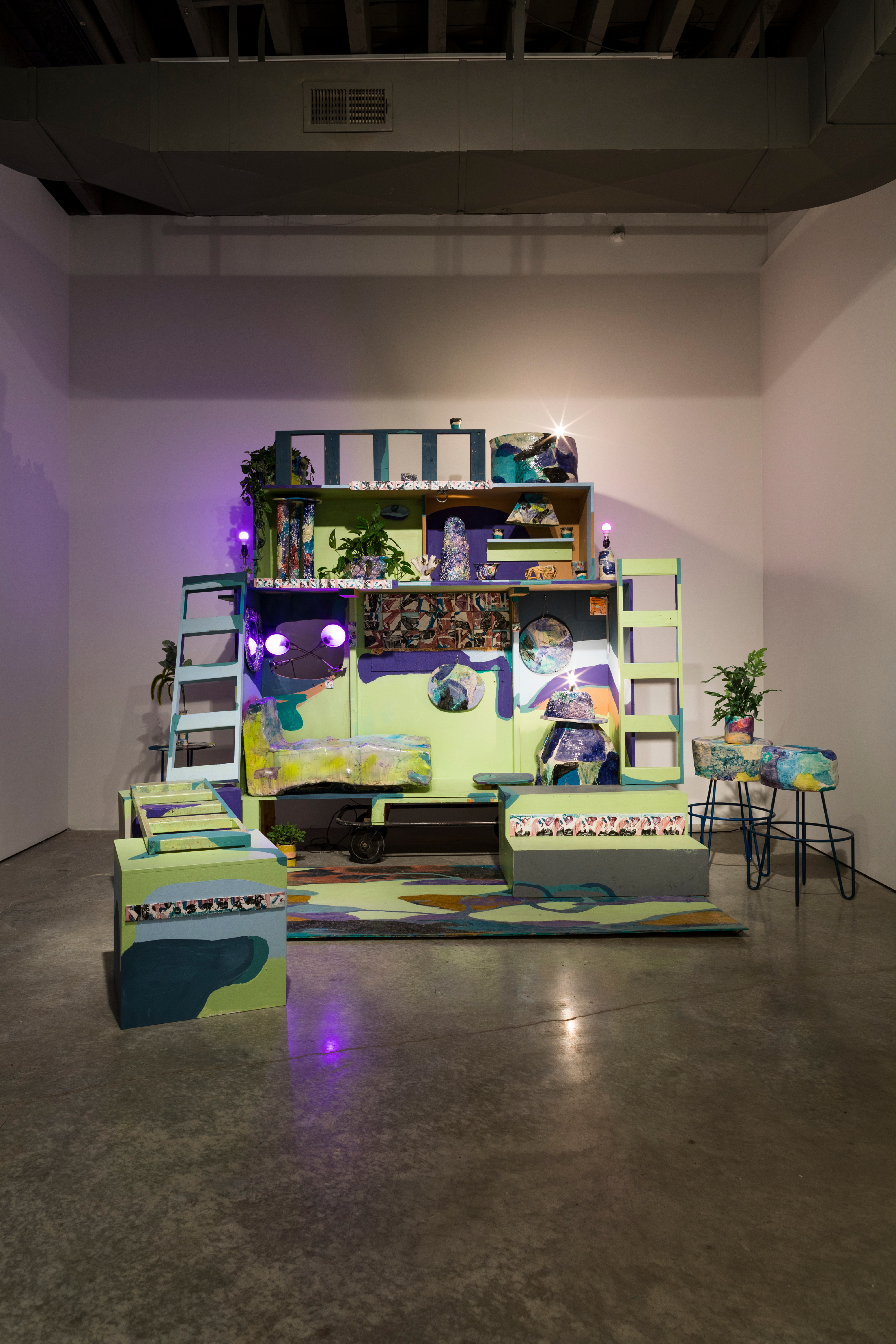 In TIMESHARE, Mayer explores how art can function and/or aid during times of disaster or even when the planet becomes uninhabitable. Her work uses the formula of part solutionism part subtle denial mixed with an "everything will be fine" attitude. While the problem might actually be too large to be addressed in any actual sense, the works in this show attempt, with humor and insight. For example, A Sculpture Can Be Used As A Flotation Device In Times Of Emergency is a text work that greets the viewers, and sets the stage for the exhibition. Upon entering further, the viewer will be transported into a contemporary conservatory, an indoor/outdoor sculpture park of sorts, complete with fountains, architectural resting zones, and greenery. Through a variety of mediums that include video, painting, and sculptural objects, Mayer's environment can act as a place that offers refuge and solace while also serving as a blueprint for garden designers of the future. TIMESHARE investigates and comments on both art's objective and the artist's responsibility.

Jillian Mayer: TIMESHARE was first presented at the University at Buffalo Art Galleries February 5–May 11, 2019.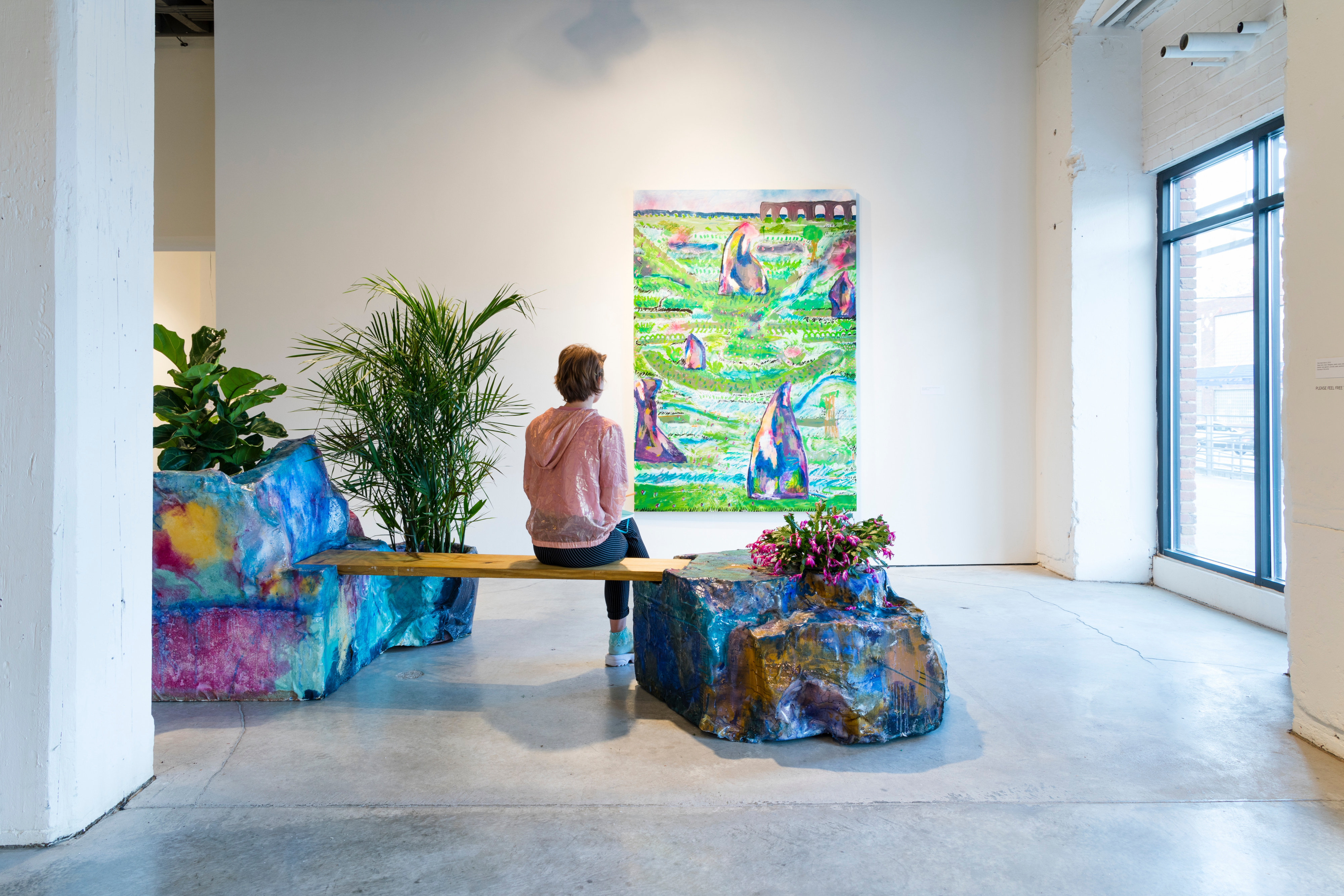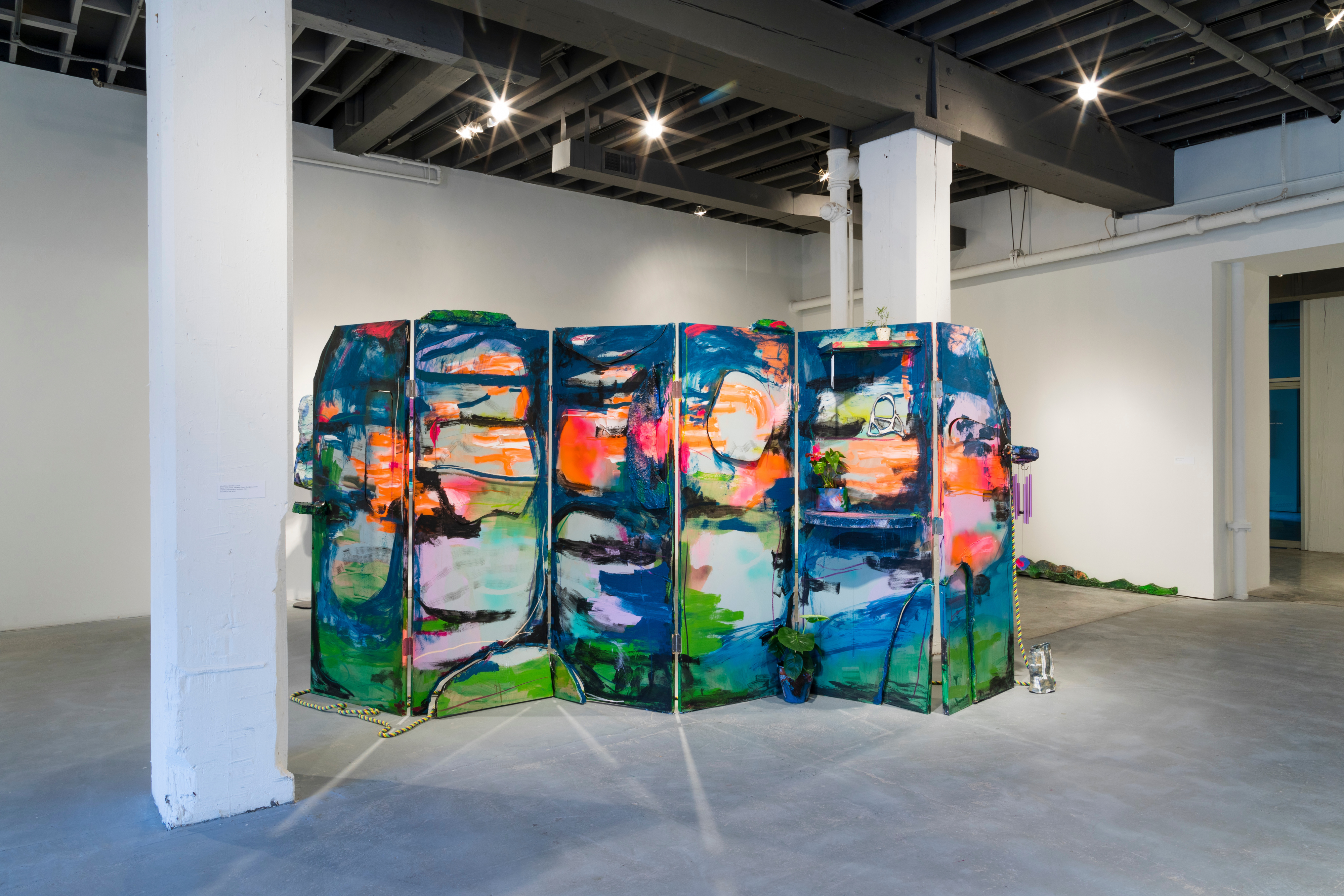 Jillian Mayer is an artist living in Miami. Her works and performances have been premiered at galleries and museums internationally such as MoMA, MoCA:NoMi, BAM, Bass Museum, MoMa PS1, the Contemporary Museum of Montreal and film festivals such as Sundance, SXSW, Rotterdam and New York Film Festival. Mayer is a recent recipient of the Creative Capital Fellowship for 2015, the South Florida Cultural Consortium's Visual/Media Artists Fellowship 2011 and 2014, Cintas Cuban Foundation Fellowship 2012, and was named one of the "25 New Faces of Independent Film" by Filmmaker Magazine. She is also a fellow of the Sundance New Frontiers Lab Program for 2014 and the Zentrum Paul Klee Fellowship in Bern, Switzerland for 2013 and was recently a Bemis Summer 2019 Artist-in-Residence.
GET MORE ART IN YOUR INBOX

Bemis Center for
Contemporary Arts
724 S. 12th Street
Omaha, NE 68102

402.341.7130
info@bemiscenter.org