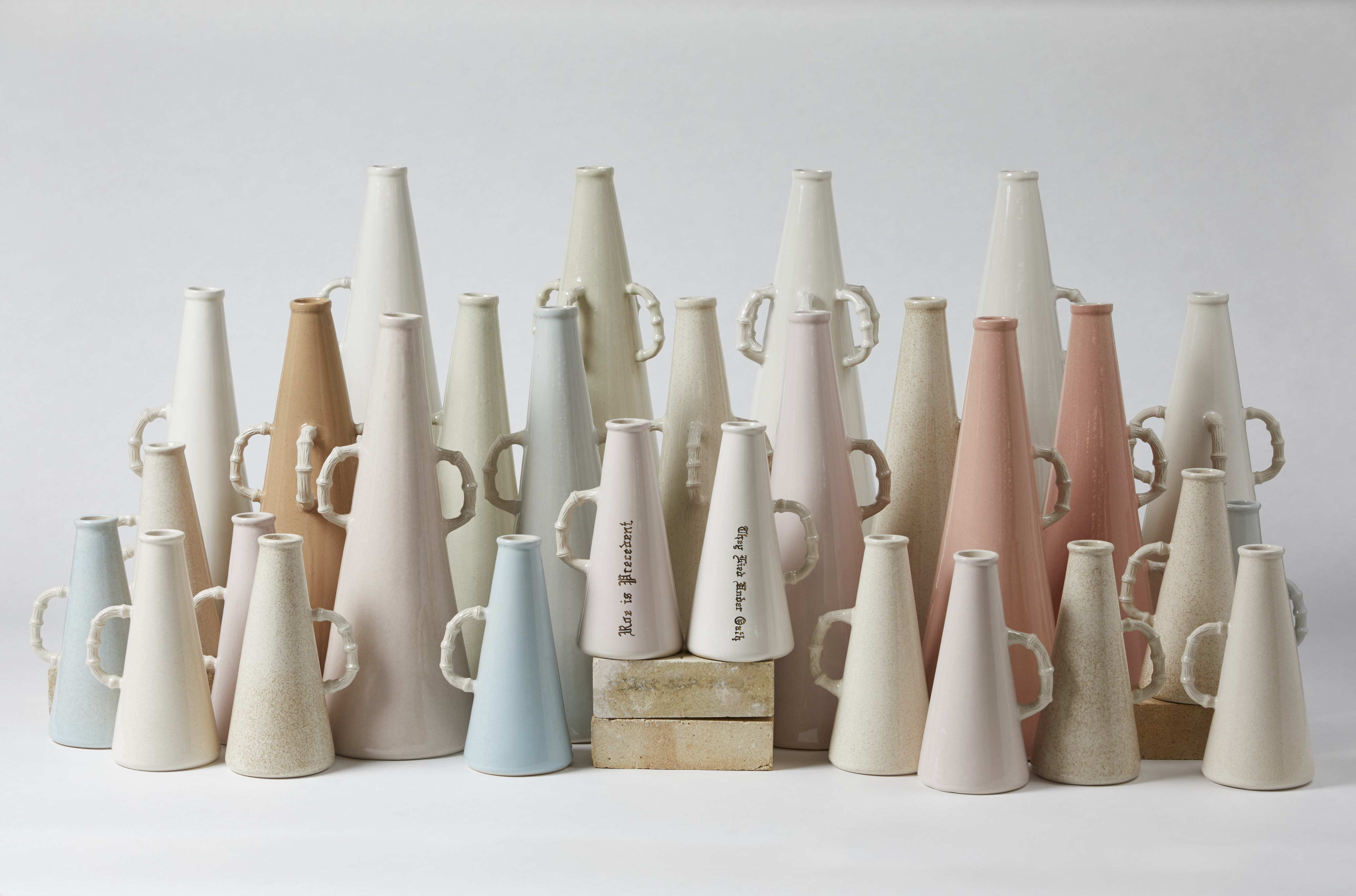 Jennifer Ling Datchuk: Eat Bitterness
May 20, 2023–September 17, 2023
Curated by Rachel Adams, Chief Curator and Director of Programs
eat (verb)
: to take in through the mouth as food: ingest, chew, and swallow in turn
: to destroy, consume, or waste by or as if by eating
bitterness (noun)
: sharpness of taste; lack of sweetness.
eat bitterness: a Chinese idiom to describe enduring hardships without complaints, or even to suffer
Jennifer Ling Datchuk's work is an exploration of her layered identity–as a woman, a Chinese woman, as an "American," as a third culture kid. Trained in ceramics and often working with porcelain and other materials often associated with traditional women's work, such as textiles and hair, her practice discusses fragility, beauty, femininity, intersectionality, identity, and her personal history. Through material culture, the history of craft, and by championing the handmade, she challenges the social, political, and cultural systems that continue to hold women back.
As the granddaughter of factory workers, her Irish American grandmother was just one of a handful of women who worked the assembly line of a car manufacturing plant, and her Chinese grandmother worked in a sewing factory, located deep within the alleys of Chinatown, for an American retailer. Their hands adapted through the constant path and rumble of the industrial sewing machine and as cars and the assembly-line work modernized with computers and automation. Her grandmothers faced poverty, political and social oppression, and personal trauma. Eat bitterness. They were both tough, independent women during a time when women weren't supposed to be either.
Datchuk works in porcelain to describe dualities, for this material can capture both fragility and resilience. She uses adornment, blue and white patterns, reflective surfaces, and synthetic and human hair via installation, objects, and video to explore the global inequalities of labor, girlhood, and protest. Much of the work focuses on how women specifically embody time: the phases of the moon and the menstrual cycle, the exaggerated weight of waiting and quarantining, the slow growth of hair, the thresholds we cross and the unknown spaces we withstand, and the many "luck" objects we create to hold and use while hoping for a better future or circumstances. Braiding pain and perfection, these objects amplify female voices, reconstruct our identities, and celebrate our truths. Refuse to eat bitterness. Deep within her DNA and the muscle memory of the assembly line, Datchuk also feels her grandmother's hope.
Jennifer Ling Datchuk holds an MFA in Artisanry from the University of Massachusetts Dartmouth and a BFA in Crafts from Kent State University. She has received grants from the Artist Foundation of San Antonio, a travel grant from Artpace, and the Linda Lighton International Artist Exchange Program to research the global migrations of porcelain and blue and white pattern decoration. She was awarded a residency through the Blue Star Contemporary Art Museum to conduct her studio practice at the Künstlerhaus Bethanien in Berlin, Germany, and has participated in residencies at the Pottery Workshop in Jingdezhen, China, Vermont Studio Center, European Ceramic Work Center in the Netherlands and Artpace in San Antonio, Texas and the Arts/Industry Residency at the John Michael Kohler Center in Sheboygan, Wisconsin In 2017, she received the Emerging Voices award from the American Craft Council and in 2020 was named a United States Artist Fellow in Craft.
She is an Assistant Professor of Studio Art at Texas State University and lives and maintains a studio practice in San Antonio, Texas.
PHOTO CREDITS:
like freckles, like eggshells, like stone, 2022. Kohler ceramics. varied dimensions. Photo: Kohler Co: Courtesy of John Michael Kohler Arts Center

my neck, my back (series), 2022. Kohler ceramics. 9 x 9 x 4 inches. Photo: Kohler Co: Courtesy of John Michael Kohler Arts Center.
GET MORE ART IN YOUR INBOX

Bemis Center for
Contemporary Arts
724 S. 12th Street
Omaha, NE 68102

402.341.7130
info@bemiscenter.org