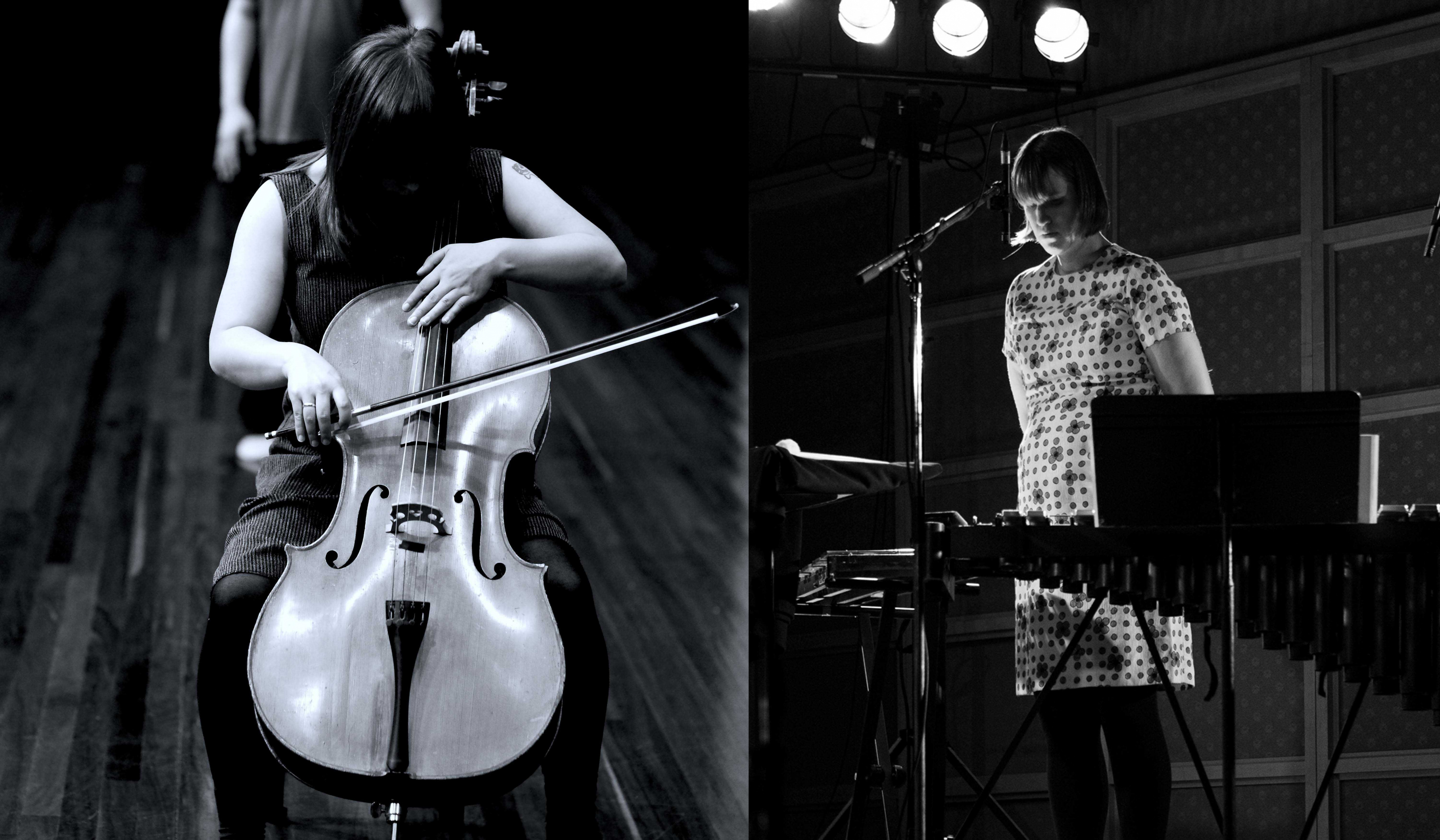 Live @ LOW END | Sarah Hennies with Judith Hamann
Date
Thu, Aug 18, 2022
Time
8:00–9:00 PM CT
Location
Bemis Center for Contemporary Arts
724 S. 12th Street
Free Admission
RSVP

The performance will also stream live at twitch.tv/bemiscenter and facebook.com/bemiscenter. Twitch account not required.

The Reinvention of Romance is a 90-minute duet for cello and percussion inspired by the care and empathy that emerges over time when two lives share space. The work consists of a series of repeating patterns that create a peculiar kind of harmony in which two musicians are rarely "playing together" but are nonetheless intimately bonded by a common center. The domestic lives of two people living together will inevitably consist of many endlessly repeating actions: sleeping, waking up, eating, going to work, coming home again, etc. Similarly, our biology is governed by repetition: breathing, blinking, heartbeat, etc. It is only through the passage of time that intimacy can evolve and increase. The Reinvention of Romance is a musical analogue that creates a startling closeness between the two performers and between the performers and audience.

Sarah Hennies (b. 1979, Louisville, KY) is a composer based in upstate New York whose work is concerned with a variety of musical, sociopolitical, and psychological issues including queer and trans identity, love, intimacy, psychoacoustics, and percussion. She is primarily a composer of acoustic chamber music, but is also active in improvisation, film, and performance art. She presents her work internationally as both a composer and percussionist with notable performances at MoMA PS1 (NYC), Monday Evening Concerts (Los Angeles), Le Guess Who (Utrecht), Festival Cable (Nantes), send + receive (Winnipeg), O' Art Space (Milan), Cafe Oto (London), ALICE (Copenhagen), and the Edition Festival (Stockholm). As a composer, she has received commissions across a wide array of performers and ensembles including Bearthoven, Bent Duo, Cristian Alvear, Claire Chase, R. Andrew Lee, Talea Ensemble, Thin Edge New Music Collective, Two-Way Street, Nate Wooley, and Yarn/Wire. Her groundbreaking audio-visual work Contralto (2017) explores transfeminine identity through the elements of "voice feminization" therapy, featuring a cast of transgender women accompanied by a dense and varied musical score for string quartet and three percussionists. The work has been in high demand since its premiere, with numerous performances taking place around North America, Europe, and Australia and was one of four finalists for the 2019 Queer|Art Prize. Hennies is the recipient of a 2019 Foundation for Contemporary Arts Grants to Artists Award, a 2016 fellowship in music/sound from the New York Foundation for the Arts, and has received additional support from New Music USA, the New York State Council on the Arts, and the Community Arts Partnership of Tompkins County. Sarah is currently a Visiting Assistant Professor of Music at Bard College.

Judith Hamann is a cellist and performer/composer from Narrm/Melbourne, currently based in Berlin. They have "long been recognised as one of Australia's foremost contemporary-music cellists" (RealTime Arts) as well as a composer who "destroys the fiction of the musician who lives and works outside conventional parameters and puts in its place a series of compositions that are fundamentally humane" (WIRE Magazine). Judith's work encompasses performance, improvisation, electro-acoustic composition, field recording, electronics, site-specific generative work, and microtonal/intonation systems in a deeply considered process-based approach to creative practice. Currently, their work is focused on an examination of expressions and manifestations of 'shaking' in solo performance practice, a collection of new works for cello and humming, as well as ongoing research surrounding 'collapse' as a generative imaginary surface. Hamann likes working with and thinking-with other artists which sometimes includes people like Marja Ahti, Oren Ambarchi, Dennis Cooper, Charles Curtis, Golden Fur, the Harmonic Space Orchestra, Sarah Hennies, Eiko Ishibashi, Yvette Janine Jackson, Alvin Lucier, Éliane Radigue, and La Monte Young. In the past, they mostly focused on performing as a process/practice, which took place in many contexts and locations. This included things like Tectonics, Sonic Acts (Amsterdam), Maerzmusik (Berlin), The Los Angeles Philharmonic Fluxus Festival (LA), Tokyo Experimental Festival (Tokyo), AURAL (Mexico City), SiDance Festival (Seoul), and No Idea Festival (Austin). Hamann's work has previously been published by labels including Blank Forms, Black Truffle, Another Timbre, and Longform Editions.

Images: Judith Hamann; Courtesy of the artist. Sarah Hennies; Photo: Claire Harvie; Courtesy of the artist.

LOW END is Bemis Center's music venue and an integral part of the Sound Art + Experimental Music Program. The unique artist-designed space features free live shows by local, national, and international sound artists, composers, and experimental musicians. These performances aim to not only build greater appreciation and new audiences but also to liberate the artists to take risks and present truly avant-garde work.

GET MORE ART IN YOUR INBOX

Bemis Center for
Contemporary Arts
724 S. 12th Street
Omaha, NE 68102

402.341.7130
info@bemiscenter.org