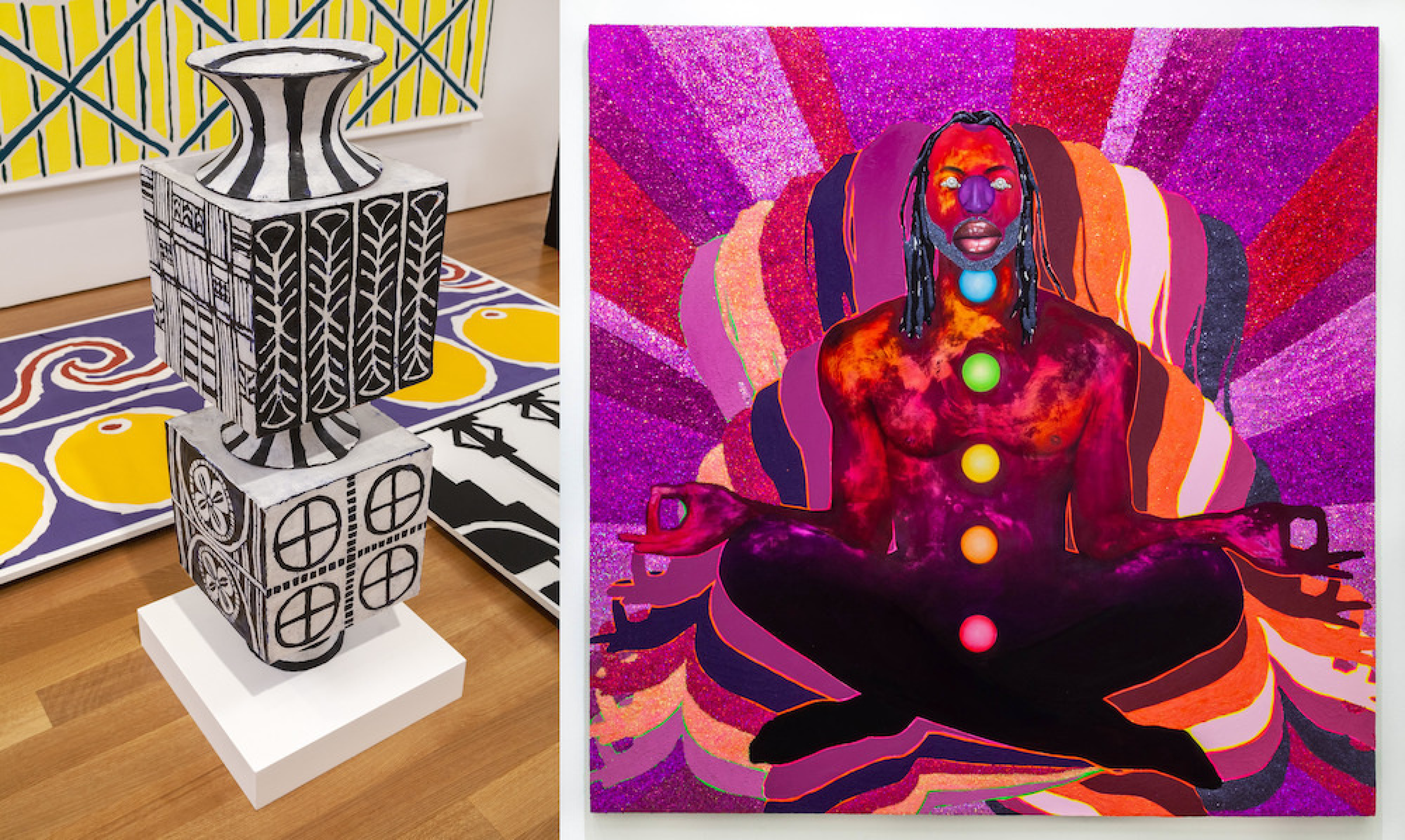 Opening Reception
Date
Thu, Dec 8, 2022
Time
6:00–8:00 PM CT
Location
Bemis Center
724 S. 12th Street
Omaha, NE 68102
Tickets
RSVP
Join us for the opening of two Exhibitions!
Elisabeth Kley: Minutes of Sand
+
Opulence: Performative Wealth and the Failed American Dream
December 8–April 16, 2022

Minutes of Sand, Elisabeth Kley's first solo museum show organized by the Fabric Workshop and Museum (FWM), features an entirely new body of work. Invited to print yardage utilizing FWM's world-renowned screenprinting facilities, Kley interweaved her ceramic and painting practices with three new yardage designs and a new suite of ceramic sculpture for the exhibition.


Elisabeth Kley's work sits at the distinctive confluence of pattern, decoration, and contemporary art. Known for her black-and-white patterns featured in ceramics, drawings, paintings, and site-specific installations, the artist draws inspiration from motifs featured in ornamentation, architecture, interior decoration, and a myriad of global art traditions. Merging the ancient and modern, Kley translates these fragments into an interdisciplinary practice conveying ideas of opulence and mystery.


"Elisabeth Kley looks for inspiration from global art and architecture histories," states curator Karen Patterson. "Islamic tile work from Central Asia, Spain, and North Africa can be seen in her geometric and floral patterns. Her bold, abstract lines are inspired by Roman frescoes and mosaics, Egyptian hieroglyphics, or Coptic, Indian and Wiener Werkstätte textile designs. And yet she conveys these motifs with a contemporary edge, one that feels both handmade and in motion."


The new yardage designs developed in collaboration with FWM for Minutes of Sand present a distinct but complementary trio unified by their vibrant colors and graphic patterns. Each was printed on-site during Kley's screenprinting residency, part of an initiative by Patterson to reignite residencies similar to those foundational to FWM in the 1970s. The exhibition also presents a new series of ceramic works developed in the artist's Brooklyn studio. Standing in contrast to the exuberant colors in the yardage, these new ceramics are painted in Kley's signature black-and-white style.


Elisabeth Kley: Minutes of Sand is organized by the Fabric Workshop and Museum, Philadelphia.
Opulence: Performative Wealth and the Failed American Dream

Curated by Jared Packard

This group exhibition assembles a range of creative practices–including painting, sculpture, video, fashion, and nail artistry–that embrace lavish, sumptuous aesthetics to examine how America's obsession with wealth and the ways it is displayed shapes class, race, and gender.


In a capitalist society where 'good taste' often signals class affiliations, status, and power; and consumerism peddles materialism as self-realization, marginalized communities are forced to contend with the false promise of the American Dream. By toying with notions of high and low culture, the works in this exhibition employ aesthetics of decadence and wealth to critique how, despite America's pledge to an equal access to prosperity, systemic barriers deny some communities opportunity and restrict their social mobility.

Artists include Larry Buller, Caitlin Cherry, Max Colby, Yvette Mayorga, Rashaad Newsome, Faleasha Savage, Devan Shimoyama and Imagine Uhlenbrock.
Detailed schedule of events forthcoming.
Elisabeth Kley: Minutes of Sand is organized by the Fabric Workshop and Museum, Philadelphia.
GET MORE ART IN YOUR INBOX

Bemis Center for
Contemporary Arts
724 S. 12th Street
Omaha, NE 68102

402.341.7130
info@bemiscenter.org