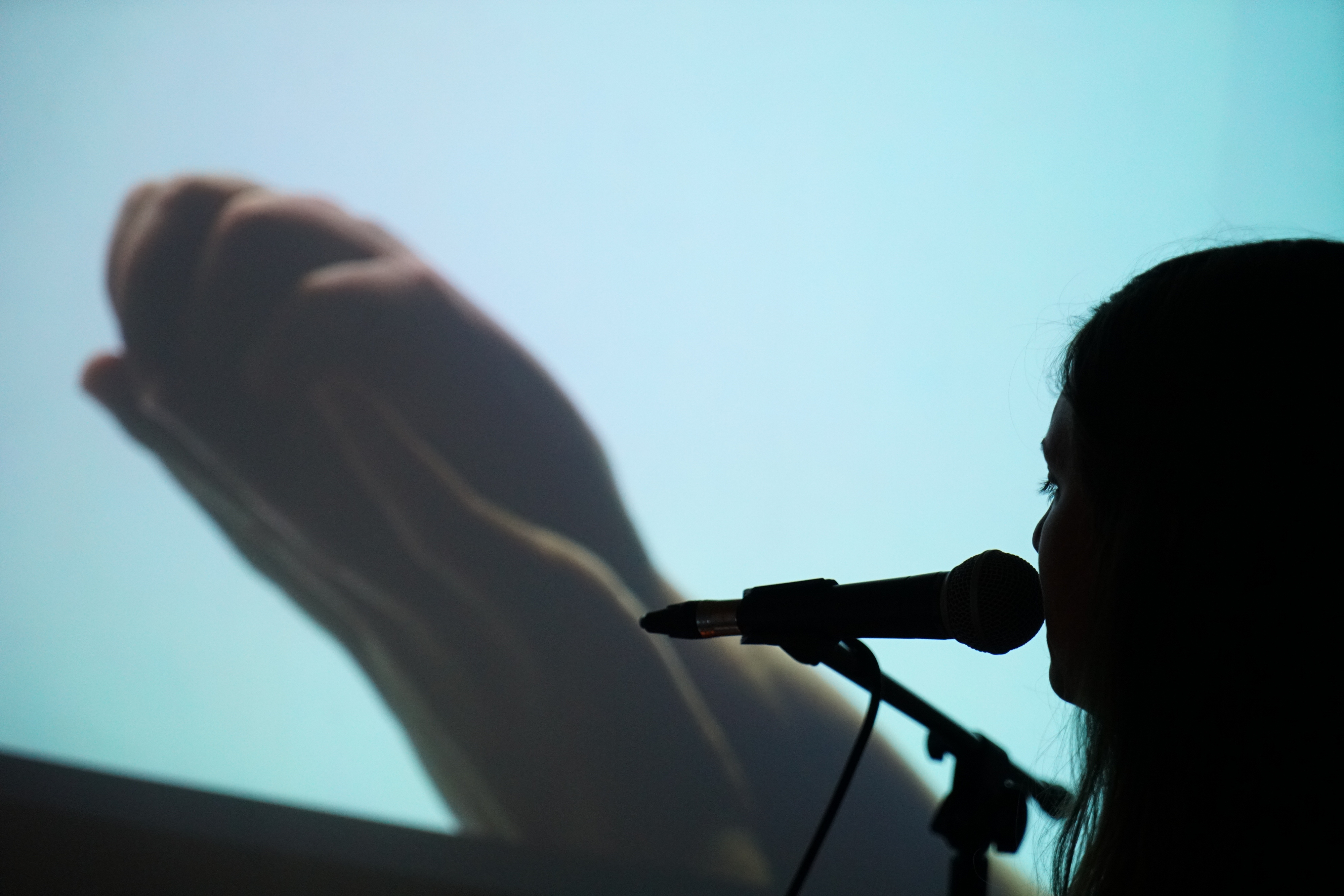 Live @ LOW END | Molly Joyce
Date
Thu, Feb 10, 2022
Time
8:00–9:00 PM CT
Location
Bemis Center for Contemporary Arts
724 S. 12th Street
Free Admission
RSVP
In-person reservations are required. This event will take place indoors with limited capacity. Review our COVID Safety Policy and requirements below.

The performance will also stream live at twitch.tv/bemiscenter and facebook.com/bemiscenter. Twitch account not required.
Molly Joyce, Bemis Center's Spring 2022 Sound Artist-in-Residence, was recently deemed one of the "most versatile, prolific and intriguing composers working under the vast new-music dome" by The Washington Post. Her music has additionally been described as "serene power" (New York Times), written to "superb effect" (The Wire), and "unwavering" and "enveloping" (Vulture). Her work is concerned with disability as a creative source. She has an impaired left hand from a previous car accident, and the primary vehicle in her pursuit is her electric vintage toy organ, an instrument she bought on eBay which engages her disability on a compositional and performative level.
Molly's creative projects have been presented and commissioned by Carnegie Hall, TEDxMidAtlantic, Hirshhorn Museum and Sculpture Garden, Bang on a Can Marathon, Danspace Project, Americans for the Arts, National Sawdust, Gaudeamus Muziekweek, National Gallery of Art, Classical:NEXT, and in Pitchfork, Red Bull Radio, and WNYC's New Sounds. Her compositional works have been commissioned and performed by ensembles including the Vermont, New World, New York Youth, Pittsburgh, Albany, and Milwaukee Symphony Orchestras.
Molly is a graduate of Juilliard, Royal Conservatory in The Hague, Yale, alumnus of the YoungArts Foundation. She holds an Advanced Certificate in Disability Studies from City University of New York, and currently serves on the composition faculty of New York University Steinhardt and Wagner College. mollyjoyce.com.
Image: Molly Joyce; Photo by Shervin Lainez; Courtesy of the artist.

COVID Safety Policy
To ensure Bemis Center is providing a safe environment for everyone, the following policies are in place for this event:
Proof of COVID-19 vaccination or negative COVID-19 test
Proof of COVID-19 vaccination or proof of a negative COVID-19 test is required for all visitors 12 and over. Visitors who are unable to be or who are not fully vaccinated must show proof of a negative COVID-19 test.
Face Coverings Indoors
Face coverings are encouraged for attendees 12 and over when not eating or drinking indoors. A face covering is required for all visitors, ages 2–11 when indoors.
Read more about proof of vaccination or negative test requirements and our Visitor Code of Conduct at bemiscenter.org/visit.
LOW END is Bemis Center's music venue and an integral part of the Sound Art + Experimental Music Program. The unique artist-designed space features free live shows by local, national, and international sound artists, composers, and experimental musicians. These performances aim to not only build greater appreciation and new audiences but also to liberate the artists to take risks and present truly avant-garde work.

GET MORE ART IN YOUR INBOX

Bemis Center for
Contemporary Arts
724 S. 12th Street
Omaha, NE 68102

402.341.7130
info@bemiscenter.org