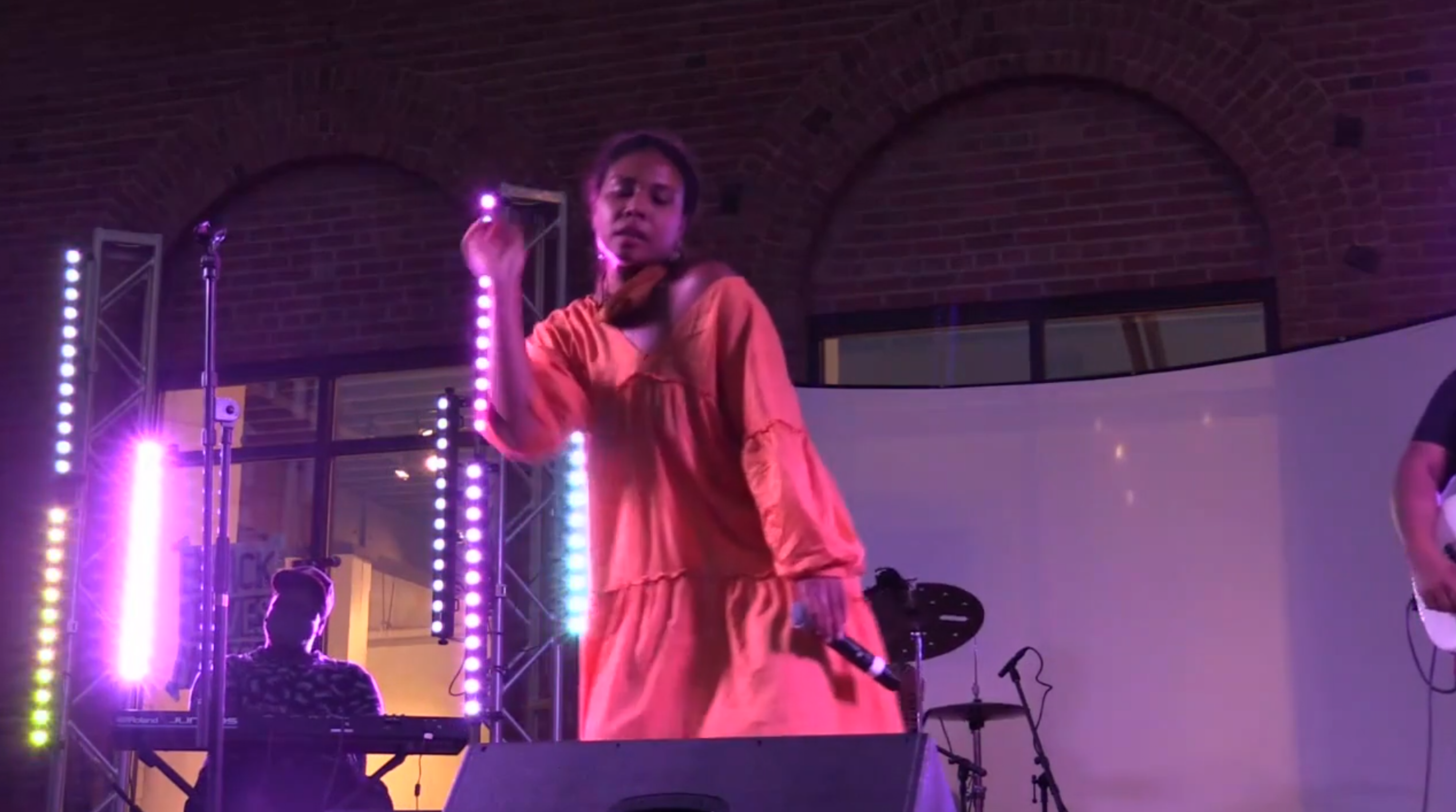 LOW END on the Bricks
Date
Thu, Aug 27, 2020
Time
5:00–9:00 PM CT
A socially-distanced outdoor concert featuring Omaha-based experimental musicians Dereck Higgins, Mesonjixx, and Teetah.

Bemis Center for Contemporary Arts presents LOW END on the Bricks, a free outdoor concert featuring Omaha-based experimental musicians Dereck Higgins, Mesonjixx, and Teetah! The socially-distanced block party experience includes event procedures and a visitor code of conduct that will ensure the safety of guests, artists, and staff. Admission is free but space is limited and registration is required. Thanks to our friends at The Andrew W. Mellon Foundation and at the Owen Foundation for making this event possible.
ABOUT THE ARTISTS

Omaha-based artist Dereck Higgins is a self-taught multi-instrumentalist, primarily known as a bass player. His experience ranges from playing classic rock to reggae to punk to jazz to electronic to improvisation and more. For his performance, he will play a variety of his electronic compositions with live accompaniment as well as improvise several ambient pieces created on the spot. Dedicated to the moment of music-making, Higgins' intention is to allow the music to speak. He has been inducted into the Nebraska Music Hall of Fame and is a three-time OEAA winner, with multiple nominations. Some bands past and present include Digital Sex, Son Ambulance, RAF, 3gypt, Skuddur, Hotlines, InDreama, Chemicals, Norman & The Rockwells, and Icky Blossoms.

Mesonjixx is an artist who currently resides in Omaha. Her father is Black American born and raised in the Alabama Ozarks and her mother is a South Pasifika Islander from Honolulu, Hawaii. Mesonjixx is the middle child of five. While living in Chicago (2009–2014) she honed her songwriting and musical style. She's since returned to Nebraska to find balance in her interconnected nature of her identities as a woman, as one who belongs to two diasporas of two hemispheres, and as a young black midwesterner who finds the plains of America her home. Mesonjixx creates music to find her unique center. Soon after her performance debut in 2015, Mesonjixx has not only become a fixture of the Nebraska music scene but has risen to the top of artists in the Midwest. Both as a solo artist and as a leader of a trio and quartet, which has drawn the most talented musicians of Nebraska. Her current trio, with keyboardist Nate Asad and percussionist John Evans, was selected to open for Kamasi Washington's recent performance in Omaha and was a returning festival favorite at this year's True/False Independent Film Festival in Columbia, Missouri. She describes their music as Afro-futuristic Experimental Subculture Soul.

Teetah is Thomas Flaherty. Teetah is driven by the love of synthesizers, drum machines, and sequencers and inspired by video game soundtracks, 80/90s Chicago house, bike rides, and countless other experiences. Performing without the assistance of a laptop, no two sets are alike. This uncertainty and improvisation make each of Teetah's performances unprecedented.

GET MORE ART IN YOUR INBOX

Bemis Center for
Contemporary Arts
724 S. 12th Street
Omaha, NE 68102

402.341.7130
info@bemiscenter.org