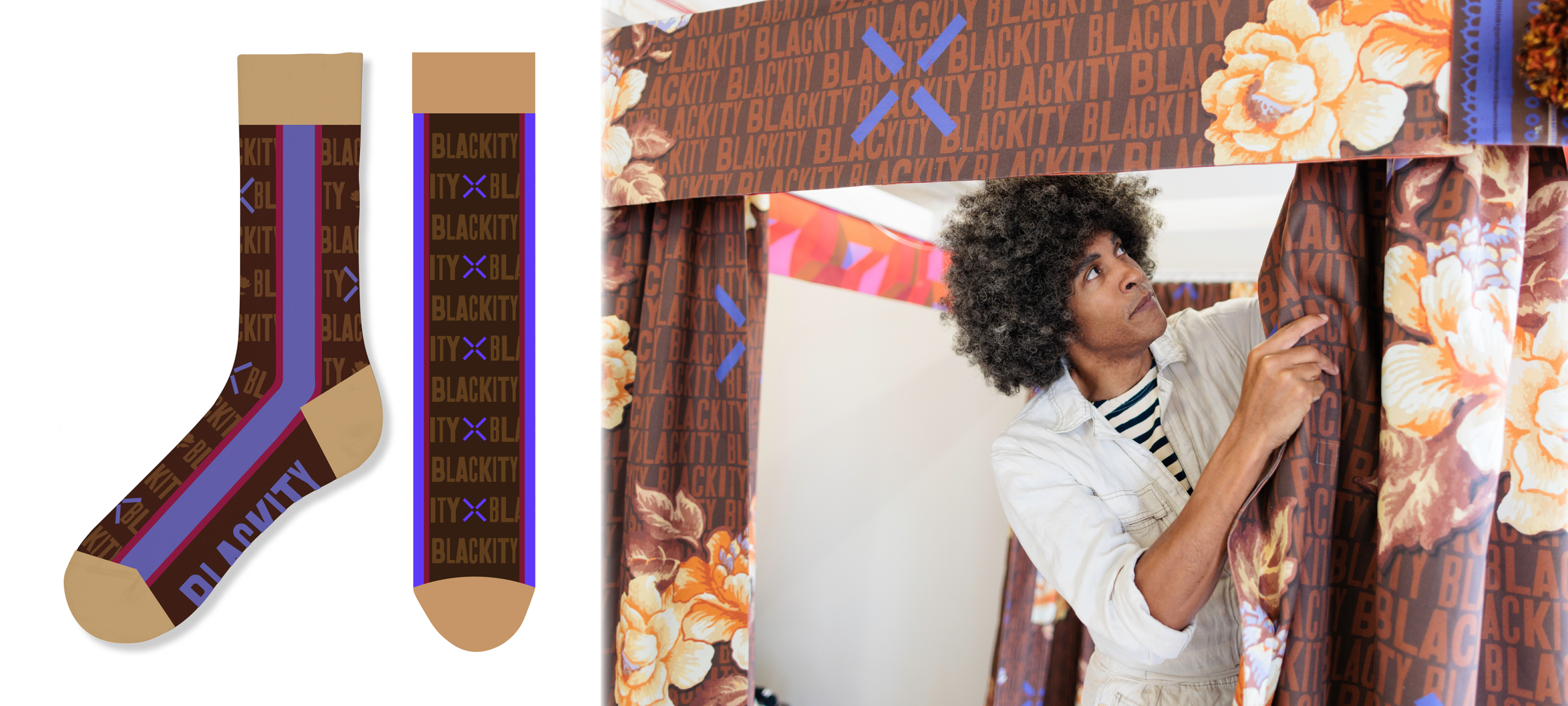 CE NE SONT PAS DES CHAUSSETTES (These are not socks), 2023 Limited Edition Collaboration with Ron Norsworthy
Location
Bemis Center for Contemporary Arts
BECOME A MEMBER TODAY!
JOIN
This year, Bemis Center and 2022 Artist-in-Residence Ron Norsworthy present a special limited-edition collaboration, available exclusively to members and sponsors at the $150 Axial Level and above: CE NE SONT PAS DES CHAUSSETTES (These are not socks), 2023. This functional art object is inspired by Norsworthy's bedroom installation created during his residency at Bemis Center in the Fall of 2022. The installation will also be included in Bemis Center's upcoming exhibition, Neo-Custodians: Woven Narratives of Heritage, Cultural Memory, and Belonging, curated by Nneoma Ilogu, 2022-2023 Curator-in-Residence. CE NE SONT PAS DES CHAUSSETTES is part of Norsworthy's ongoing investigation into how art can be integrated into our everyday lives and dialogue. The design fuses Norsworthy's "Blackity" textile pattern with the Bemis "X" on a flower motif found on an ottoman in Norsworthy's studio at Bemis.
CE NE SONT PAS DES CHAUSSETTES is sure to be the fashion statement of the year! Ron's signature design combined with Bemis's logo is the most fashionable way to show your support for Bemis year-round. How will YOU use your "not socks"?
CE NE SONT PAS DES CHAUSSETTES are one size fits most. All proceeds raise critical funds to safeguard Bemis Center's free, year-round programs.
About the Artist
Ron Norsworthy's multidisciplinary work employs notions of spaces and decoration of space as narratives about his lived experience as a queer person of color as well as that of his community/communities. A foundational belief that the rooms, spaces, and environments that we inhabit and interact with speak volumes about not only who we are and our identities, but also our dreams, aspirations, and struggles, informs his work. Through the creation of decorative objects and installations, his work carries the viewer with him through a non-linear, layered story of his life: where he has been, where he is, and where he is going or might imagine going.
Since achieving acclaim in the 90's for his installations and sets for iconic music videos and televised performances, Ron Norsworthy has leveraged the power of space-making as a compelling means of sharing narratives. His environments have visualized the soundtrack of a generation and the beloved music videos that memorialize them have collectively received views in the hundreds of millions on YouTube.
Ron Norsworthy was born in South Bend, Indiana, raised in Iowa and Illinois, and received his bachelor's degree, cum laud, in architecture from Princeton University. In addition to his solo practice, Norsworthy is part of DARNstudio, an art collaboration with his husband and fellow artist, David Anthone. He splits his time between a studio in Neward, NJ and his home and studio in Roxbury, CT.
GET MORE ART IN YOUR INBOX

Bemis Center for
Contemporary Arts
724 S. 12th Street
Omaha, NE 68102

402.341.7130
info@bemiscenter.org