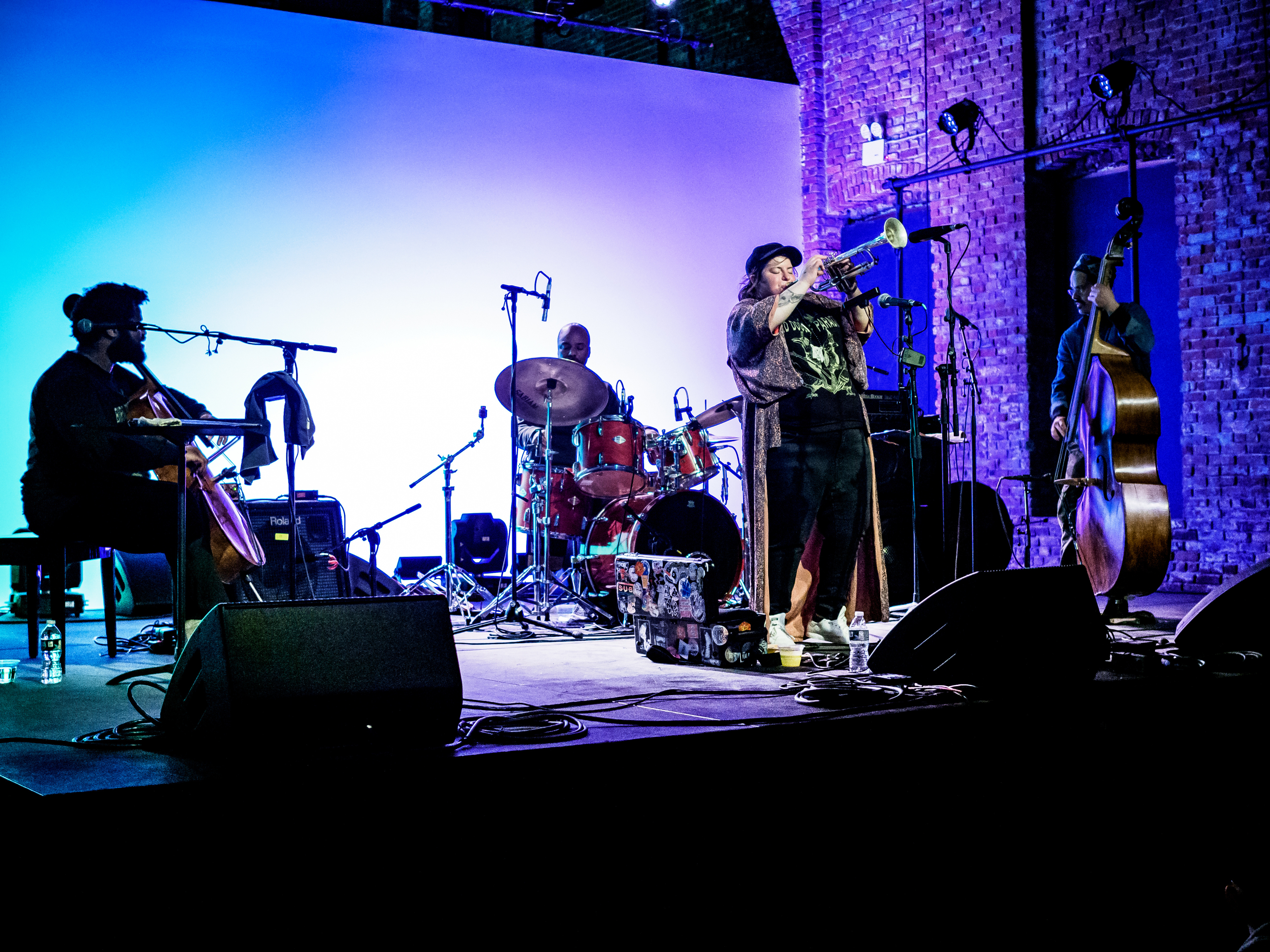 Live @ LOW END | jaimie branch: FLY OR DIE
Date
Fri, Apr 29, 2022
Time
8:00–9:00 PM CT
Location
Bemis Center for Contemporary Arts
724 S. 12th Street
Free Admission
RSVP
This event will take place indoors with limited capacity. Proof of COVID-19 vaccination or negative COVID-19 test is required for in-person attendance. Face coverings are recommended, not required. Read more about our COVID Safety Policy at bemiscenter.org/visit.

The performance will also stream live at twitch.tv/bemiscenter and facebook.com/bemiscenter. Twitch account not required.

jaimie branch returns with her band FLY or DIE to perform jazz and improvised music.

In 2016, the Brooklyn-based improviser, trumpeter, composer, and visual artist jaimie branch founded the quartet FLY or DIE. The longest and current lineup of FLY or DIE consists of Chad Tayler, Jason Ajemian, and Lester St. Louis. FLY or DIE has released two full-length albums along with a double LP live release on the International Anthem label. The quartet has been met with critical acclaim by The New York Times, The Wire, NPR, Sterogum, The Guardian, etc. and has performed live all over North America, Europe, and The United Kingdom at events and venues such as The Chicago Jazz Festival, Berlin Jazz Festival, Vancouver International Jazz Festival, BOZAR Center for Fine Arts, The Kennedy Center, Bimhuis, Lollapalooza, and more.


Image: FLY OR DIE; Photo: Peter Gannushkin; Courtesy of the artists.
LOW END is Bemis Center's music venue and an integral part of the Sound Art + Experimental Music Program. The unique artist-designed space features free live shows by local, national, and international sound artists, composers, and experimental musicians. These performances aim to not only build greater appreciation and new audiences but also to liberate the artists to take risks and present truly avant-garde work.

GET MORE ART IN YOUR INBOX

Bemis Center for
Contemporary Arts
724 S. 12th Street
Omaha, NE 68102

402.341.7130
info@bemiscenter.org