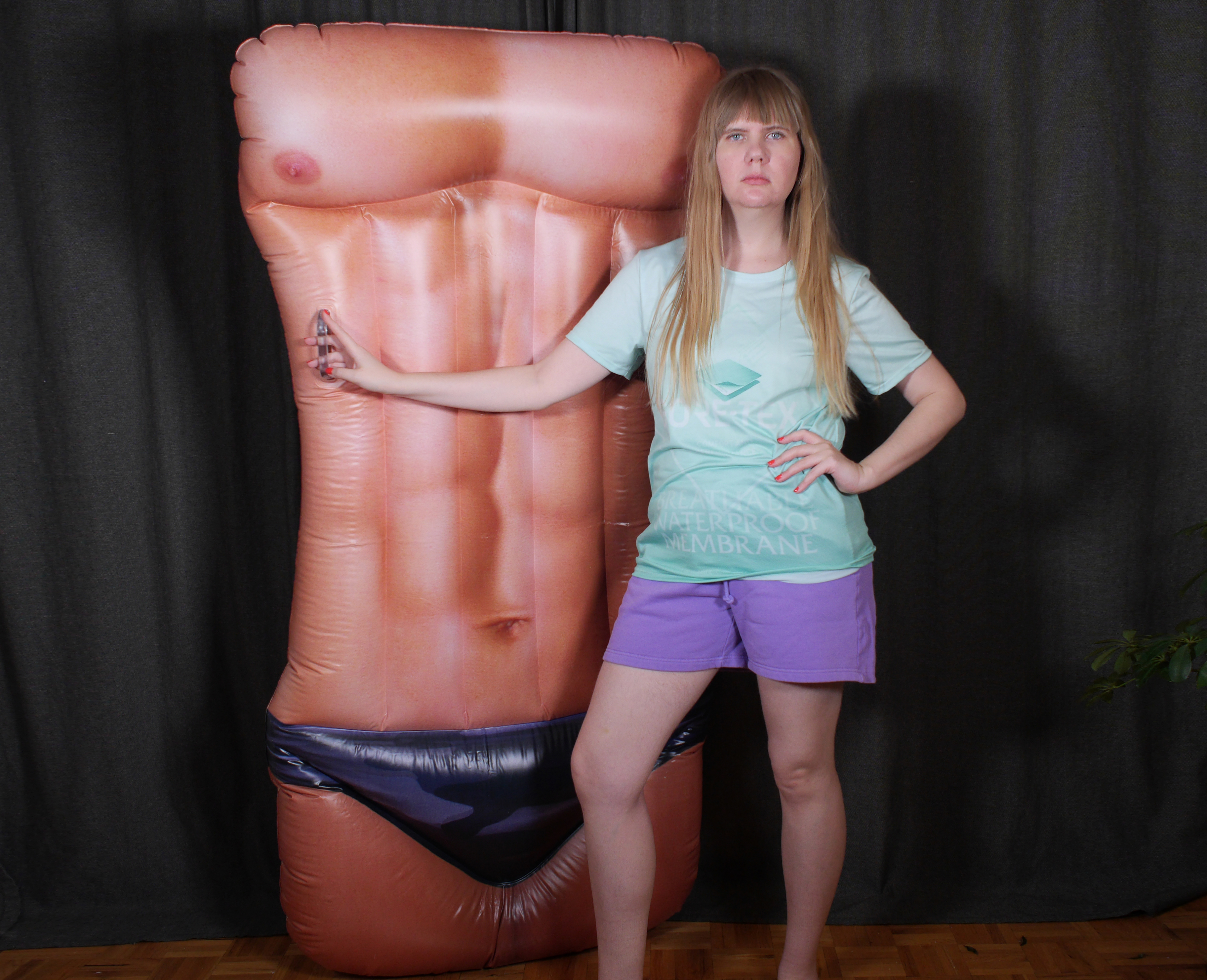 When I Am Through With You There Won't be Anything Left
Date
Sat, Mar 5, 2022
Time
4:00–5:30 PM CT
Location
Bemis Center for Contemporary Arts
724 S. 12th Street
FREE
RSVP
Performance by Bridget Moser followed by a conversation with curator Sylvie Fortin

Proof of COVID-19 vaccination or negative COVID-19 test + face coverings are required. Read more about our COVID Safety Policy at bemiscenter.org/visit.

Join us for the premiere of Bridget Moser's When I Am Through With You There Won't Be Anything Left, her first live performance since 2019.

Developed for I don't know you like that: The Bodywork of Hospitality, Moser's 50-minute performance extends and complements the video installation currently on view in the exhibition, transforming it into the set for an entirely different adventure. Borrowing from prop comedy, experimental theater, contemporary dance, and performance art, Moser's piece unfolds as brief scenes shifting abruptly and unexpectedly between self-deprecation, humor, and deeper emotions … with a healthy dose of awkward and cringeworthy moments. References and materials from consumer culture, trending online content, popular music, and film play supporting roles in her exploration of isolation as the consequence of linking the body with individuality, the tenuousness of self-identity, and the intensity of being alive.

Bridget Moser is a Toronto-based performance and video artist whose work has been featured in venues across Canada, including the Art Gallery of Ontario, Toronto; Musée d'art contemporain de Montréal; Mercer Union, Toronto; Vancouver Art Gallery; and The Western Front, Vancouver. Her recent solo exhibitions include My Crops Are Dying But My Body Persists at Remai Modern, Saskatoon, Canada (2020) and You Opened That Can Now Let's Eat the Whole Thing at SPACES Cleveland (2019). She has been shortlisted for the Sobey Art Award, Canada's preeminent contemporary art prize.

Image: Bridget Moser, When I Am Through With You There Won't Be Anything Left, 2022, performance research image. Photo: Paul Tjepkema.

GET MORE ART IN YOUR INBOX

Bemis Center for
Contemporary Arts
724 S. 12th Street
Omaha, NE 68102

402.341.7130
info@bemiscenter.org