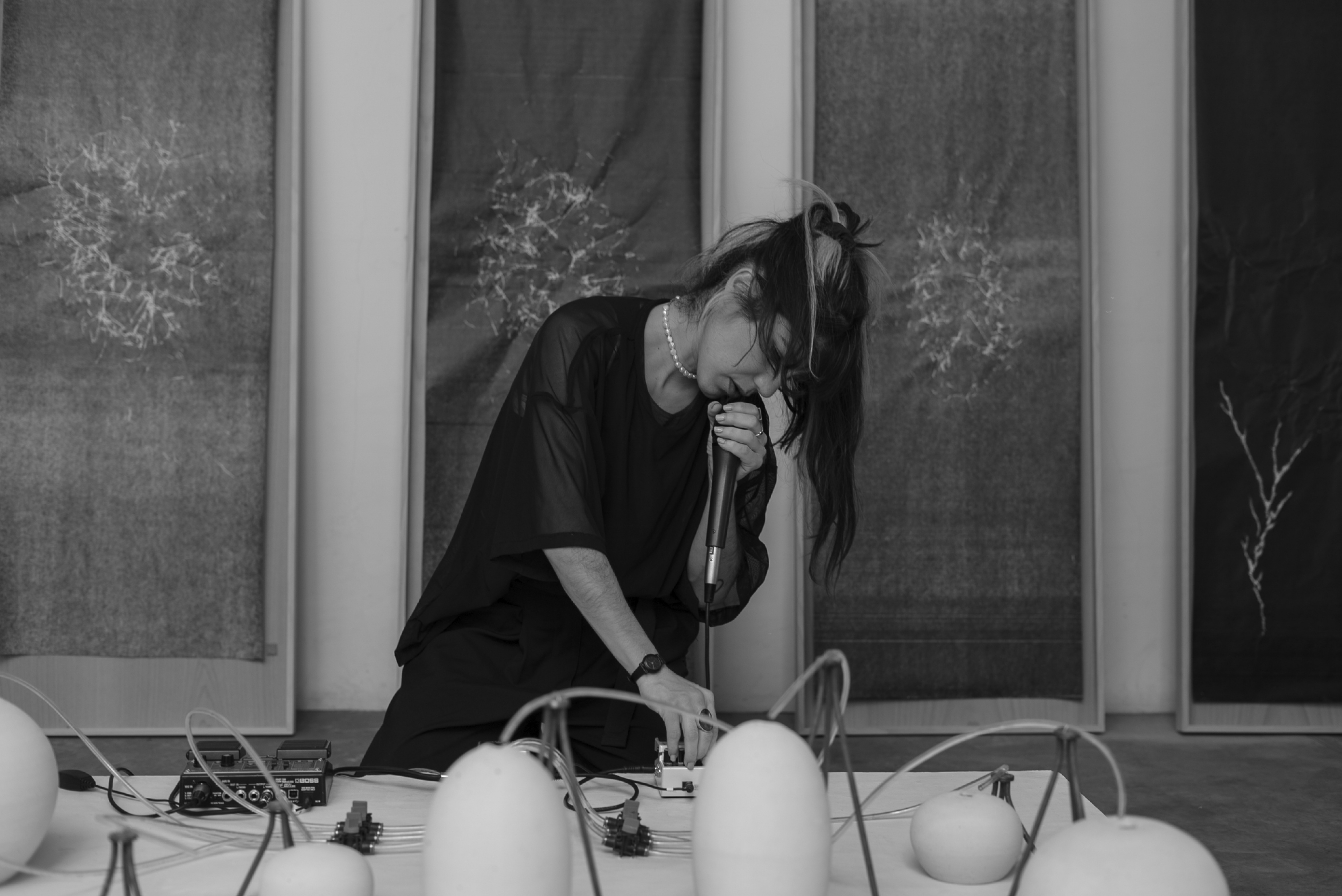 Live @ LOW END | Ana Paula Santana
Date
Thu, Aug 4, 2022
Time
8:00–9:00 PM CT
Location
Bemis Center for Contemporary Arts
724 S. 12th Street
Free Admission
RSVP
FREE admission.

Proof of COVID-19 vaccination or negative COVID-19 test is required for in person attendance. Read more about our COVID Safety Policy at bemiscenter.org/visit.

The performance will also stream live at twitch.tv/bemiscenter and facebook.com/bemiscenter. Twitch account not required.

Ana Paula Santana is Bemis Center's Summer 2022 Sound Art + Experimental Music Artist-in-Residence. Her practice imagines and analyzes sound and other materials through anthropological phenomena. Prompted by using error, repetition, disruption and accumulation as creative tools, she pays close attention to how sound affects us in physical and psychological ways. Based in Guadalajara, she works in the fields of sound art, experimental music, interactive art, graphics, ceramics, video, and installation. She has been beneficiary of the FONCA Young Creators grant (2016, 2018) and recently obtained the Creators of Peace recognition from the Mexican government for Resilience project. Her work has been exhibited at the Zapopan Museum of Art, Oaxaca Museum of Contemporary Art, Ex Teresa Arte Actual, Museo del Chopo, among others; internationally she has exhibited her work in Spain, Switzerland, France, Italy, and Germany. Anapaulasantana.net

Image: Ana Paula Santana; Photo: Miguel Cervantes; Courtesy of the artist.

LOW END performances and Bemis Center's Sound Art + Experimental Music Program are made possible by The Andrew W. Mellon Foundation. LOW END performances are also supported, in part, by Trudy and Larry Lundquist. Additional support provided by New Music USA's New Music Organizational Development Fund.
LOW END is Bemis Center's music venue and an integral part of the Sound Art + Experimental Music Program. The unique artist-designed space features free live shows by local, national, and international sound artists, composers, and experimental musicians. These performances aim to not only build greater appreciation and new audiences but also to liberate the artists to take risks and present truly avant-garde work.

GET MORE ART IN YOUR INBOX

Bemis Center for
Contemporary Arts
724 S. 12th Street
Omaha, NE 68102

402.341.7130
info@bemiscenter.org