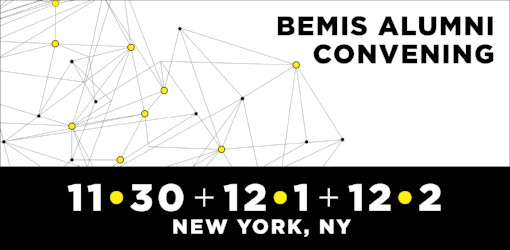 More than 60 past artists-in-residence, exhibiting artists, and Bemis supporters joined us during our inaugural Bemis Alumni Convening in New York on November 30–December 2! The three-day celebration included insightful institutional tours, inspiring studio visits, exchanging ideas, viewing amazing art, and lively conversations.
FRIDAY, NOVEMBER 30
6–9 PM | Bemis Alumni Convening Kickoff
Pioneer Works | Tour + Cocktail Reception
159 Pioneer St, Brooklyn, NY
 
SATURDAY, DECEMBER 1
10–10:45 AM | Studio Visit
Amanda Valdez, Bemis 2014 Artist-in-Residence and 2015 Exhibiting Artist
255 Calyer St, Brooklyn, NY

1–2 PM | Klompching Gallery | COMMORANCY
Gallery Talk with Directors Debra Klomp Ching and Darren Ching + Krista Svalbonas, Bemis 2015 Artist-in-Residence
89 Water St, Brooklyn, NY

3–4 PM | Studio Visit
Joan Waltemath, Bemis 2008 and 2017 Artist-in-Residence
131 Bowery, New York, NY

4:30–6 PM | Denny Dimin Gallery | The Light Becomes You
Paula Wilson, Bemis 2017 Exhibiting Artist
261 Broome St, New York, NY

6 PM | Happy Hour | The Delancey (rooftop bar)
 
SUNDAY, DECEMBER 2
11 AM–1 PM | New Museum
Visit with Emily Mello, Associate Director of Education
235 Bowery, New York, NY
Future convenings and opportunities to engage to be announced soon! Past artists-in-residence and exhibiting artists can stay connected and learn about new resources available to alumni and upcoming alumni events by joining our Facebook group – Bemis Center for Contemporary Arts Alumni.