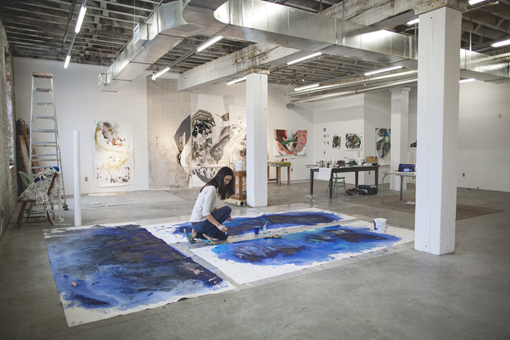 Because Exceptional Talent Deserves to be Supported...
Few programs exist either on the national or international level where the sole mission is to support the creativity of artists. From the beginning, the art-making process has been the highest priority at the Bemis Center for Contemporary Arts, where both the atmosphere and environment offer ideal situations for creative growth and experimentation. Artists from around the world come to the Bemis Center to work in this supportive community and confront new challenges.
The Bemis Center provides Artists-in-Residence with the gift of time, space and support.
TIME 3 months of uninterrupted, self-directed work time.
SPACE The Bemis Center is housed in two urban warehouses totaling 110,000 square feet. Each artist is provided with a generously sized live/work studio with a private kitchen and bathroom and 24 hour access to facilities including a wood shop, installation spaces, and 10,000 square foot sculpture facility.
SUPPORT $750 monthly stipend.
We are currently undertaking a review of the residency program and the application process to ensure that it reflects current contemporary art practices so that we can better supports artists. The application forms for the February 28, 2014 deadline will be live on January 1, 2014.
JANUARY 2015 - JUNE 2015
Application Deadline: February 28, 2014
JULY 2015 - DECEMBER 2015
Application Deadline: September 30, 2014
[My residency at the Bemis was] eye opening, life changing... epic.
Dawn Gettler, Printmaking/Installation, Chicago, IL
Former Resident September - November 2009
Read more »
Artist-in-Residence sponsors:
Betiana and Todd Simon, Carol Gendler | Marathon Realty, Clark Creative Group, Danielle and Jeff Gordman, Echo Systems, Gifford Foundation, Nebraska Arts Council, Nebraska Cultural Endowment, National Endowment for the Arts, Laura and Greg Schnackel, Paul and Annette Smith, Upstream Brewing Company, Warren Distribution, Weitz Family Foundation, William and Ruth Scott Family Foundation
The Bemis Center is a proud member of the
Alliance of Artists Communities.