Studios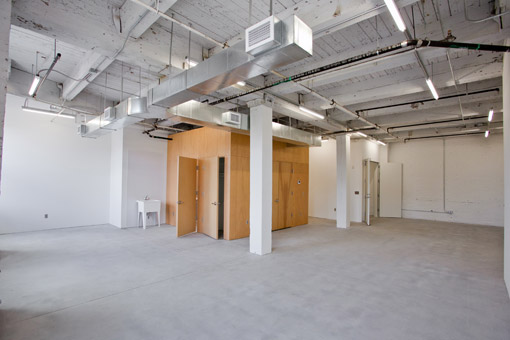 The Bemis Center has twelve live/work studios on two floors in which the artists-in-residence reside. Spaces range from 820 – 2,400 square feet. Each studio has its own kitchen and bathroom and has been equipped with things you will need while here (linens, bedding, dishes, basic set of tools, etc.) Each floor has complementary laundry facilities. Utilities are paid by the Bemis Center and each studio is connected to the internet. Contact Holly Kranker, Residency Program Manager, for more information at 402.341.7130 x 12 or hollyk@bemiscenter.org.
---
Installation Room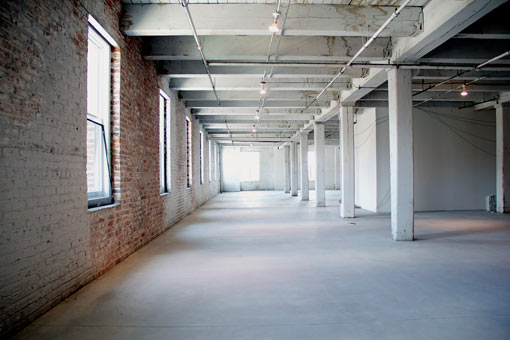 The Bemis Center has approximately 6,500 square feet of project space on the third floor. These spaces are available to all resident artists. As such, artists need to coordinate shared usage with the Residency Program Manager and the other artists-in-residence. The installation space is not open to the public unless coordinated through the administrative offices.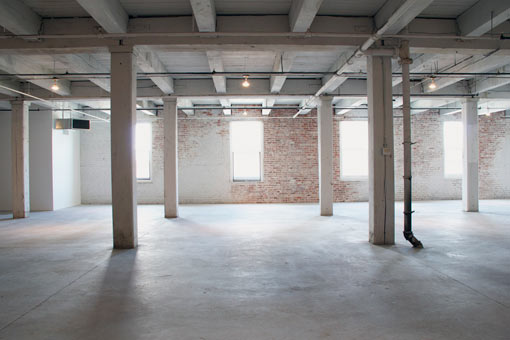 ---
Okada Sculpture & Ceramics Facility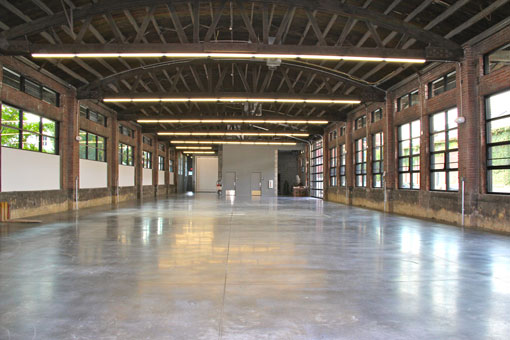 The Okada Facility is a large industrial space used for fabrication. The building is temperature controlled for all season fabrication of large scale sculpture in all mediums. This communal space is equipped with a large bay door and a number of large windows that provide for well-lit and well ventilated work areas.
Please contact the Residency Program Manager before arriving in regards to special needs.
Okada Sculpture Equipment Inventory:
Plasma Cutter
Oxy/Acetylene tanks
Millermatic mig welder
Welding table
Angle grinder
Double wheel bench grinder
Metal chop saw
8' steel table
Drill press
Gauges and hoses
Vices and C Clamps
Cutting torches
Bailey cone 10 electric kiln, inside dimensions: 31"W x 42"L x 27"D
Large Slab Roller
Large bay door
Outdoor work area
Community Garden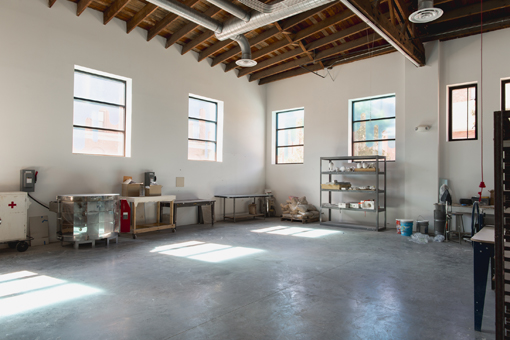 ---
Clare Haas Howard Research Library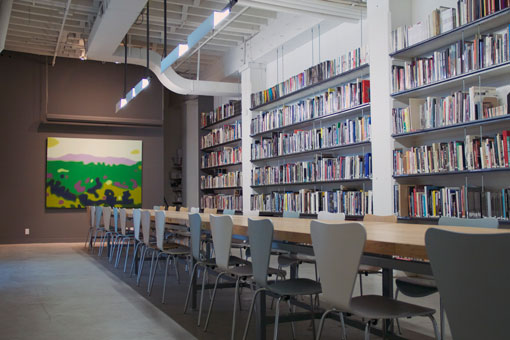 The Bemis Center library is located on the main floor of the Bemis Center, near the administrative offices. The library contains over 2,500 art-related books, organized by artist and medium. These also include numerous volumes on art history, design and museum catalogues. The library is open to the public during gallery hours (11:00 a.m. – 5:00 p.m., Tuesday – Saturday) as a research facility. Only current artists-in-residence are permitted to check out books.
Searchable online at http://www.librarything.com/catalog/BemisCenter
---
Wood Shop
The Bemis Center wood shop occupies roughly 900 square feet within the facility and is available for use to current residents. The following is a list of available equipment:
8" Industrial delta/Milwaukee joiner
12 1/2" Dewalt thickness planer
14" Delta band saw
10" 2.5HP craftsman radial arm saw
12" Dewalt compound miter saw
Delta table saw
2- 25 gal. portable air compressors
1-Craftsman brad nailer
2- 7 1/4" circular saws
Ryobi router (1 3/4 HP)
Dewalt palm sander
Dewalt power drill
Dewalt power hammer drill
2- Jig saws