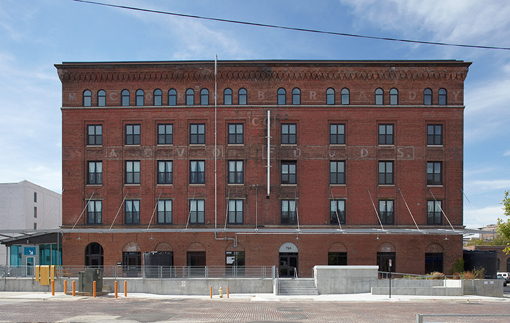 The Residency Program at the Bemis Center was started by artists for artists and is a program that truly trusts artists and seeks to support the creative process. The Residency Program provides support in the form of time, space and monthly stipends to 36 artists per year. Three month residencies allow artists time to reflect, research and take risks. Our famously large live/work studios and installation spaces allow artists to do the work they cannot do elsewhere. Access to on-site facilities and a monthly stipend allow each artist to concentrate fully on their creative process.
---
What expectations does the Bemis Center have of the Artists-in-Residence?
Bemis Center Fellows are invited to present a 20-minute presentation or performance of their current work.
The residency program is designed to be flexible to reflect the unique processes and preferences of individual artists. Opportunities for artists interested in additional public engagement, open studios and lectures are available, but these interactions are not expected.
What if I cannot stay for the full three months?
We like to schedule residencies between two and four months. We seek to accommodate the schedule of the artists selected by our jury to the best of our ability. Artists are asked to be transparent about the time they can commit, as stipends are pro-rated and the demand for studios is high.
How are artists selected for the Residency Program?
We hold two application deadlines each year. A three-person jury composed of artists, alumni, curators and/or art educators selects 18 artists from the applicant pool. Selections are based solely on the work submitted. Jurors do not review resumes, education, location or names of the artists.
Acceptance is competitive, however, because new jurors comprise each jury, every application cycle presents a fresh opportunity.
Does the Bemis Center accept applications from collaborative teams?
Yes, the Bemis Center does accept applications from collaborative teams. Collaborative teams applying should submit work that represents the collaboration, not individual work.
Are students allowed to participate in the residency program?
The residency program is limited to professional artists who are not currently enrolled in an academic program.
May I bring my partner/spouse/family/pet with me to the Bemis Center during my residency?
Sorry, while artists may have visitors, the Bemis Center does not allow children, partners, spouses or guests to live on-site with the artist. Pets of any kind are not allowed.
Does the Bemis Center offer grants for travel to and from the Bemis Center?
No, the Bemis Center does not cover expenses for travel or shipping to and from the Bemis Center. However, all Bemis Center fellows are given a monthly stipend of $750 to spend however the artist chooses.
What are the live/work spaces like?
The live/work studios vary in size from 800 to 2,100 square feet. The lofts are large and open with high ceilings and large windows. Each studio has a bed, private bathroom and small kitchen stocked with basic utensils. There are on-site laundry facilities, and the Bemis Center provides bedding and towels. Artists are asked to supply their own personal items and studio cleaning.
What is the community of Omaha like?
Omaha is a friendly Midwestern community that loves artists. The Bemis Center is located downtown with easy walking access to restaurants, bars and coffee shops. Hardware and supply stores are difficult to access without a car, however, arrangements can be made for errands with the Bemis Center staff.
For more information, contact Holly Kranker, Interim Residency Program Manager, at 402.341.7130 x 12 or hollyk@bemiscenter.org.