Become a vital part of the Bemis Center family through an annual membership. Your investment will support all that we do, from our internationally-renowned Residency Program and exhibitions to our public educational programs and daily operations. Thank you for your generosity!
Somewhere Someone Book Giveaway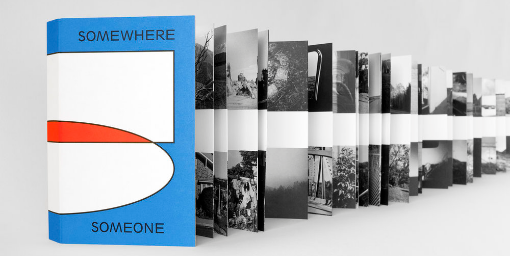 Somewhere Someone, a limited edition book featuring photographs by Curran Hatleberg, 2018 Bemis Artist-in-Residence and Whitney Biennial 2019 artist, could be yours! Current Bemis members will be entered into a drawing to win one copy. Members who attend Open House / Open Studios will have a chance to win a second book! 
Individual $49 (Artists and Students $29)*
Subscription to the Bemis Center e-newsletter and Time + Space journal
An invitation for one to the Artist and Member Preview Reception for the Benefit Art Auction Exhibition
Private Tours of Bemis Center by appointment, with access to the art research library
Recognition in Bemis Center's annual Year in Review in Time + Space
Invitations to exhibition opening receptions, special events, and public engagement programs including gallery talks, Open House / Open Studios, panel discussions, and performances
Join as an Individual, Artist, or Student Member
$39/$19 tax-deductible
---
Family $99*
Benefits of Individual, plus:
An invitation for two to the Artist and Member Preview Reception for the Benefit Art Auction Exhibition
$79 tax-deductible
---
Sustaining $499*
Benefits of Family, plus:
Two tickets to the Benefit Art Auction (Concert not included)
$409 tax-deductible
---
Contributing $999*
Benefits of Sustaining, plus:
Invitations to private events, offering behind-the-scenes access to Bemis Center exhibitions, artists, and curators
$829 tax-deductible
---
NEW! Patron-in-Residence $2,999*
Benefits of Contributing, plus:
Exclusive opportunities to engage Bemis artists-in-residence, including private studio tours throughout the year
In-depth information about each artist-in-residence before, during, and after their residency
Invitations to gatherings and events in major U.S. cities with past Bemis Center residency and exhibition artists, as part of Bemis Center's new Alumni Program
Additional recognition in promotional materials for each public Open House / Open Studios 
Join as a Patron-in-Residence Member
$2,764 tax-deductible
---
*For a limited time, Bemis membership will be discounted by $1, with the option to enter into the Somewhere Someone Book Giveaway for $1 (payable by cash or check only, due to the Nebraska Small Lottery and Raffle Act). Join online and Development Director Ellie Novak will contact you with more information.
Image: Somewhere Someone By Cynthia Daignault and Curran Hatleberg. Poem by John Ashbery. Hassla Books. NY, NY. 2017. Hardcover. 80 pages. Accordion Fold. Book design by Vance Wellenstein. First Edition. Numbered edition of 500.