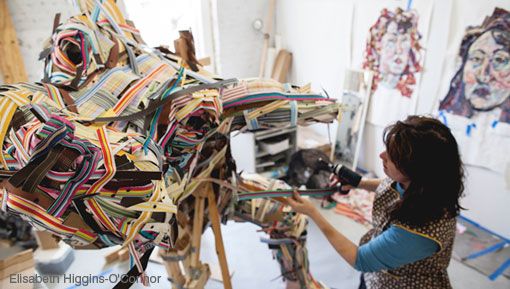 The Bemis Center for Contemporary Arts is excited to announce that 20 exceptional artists have been accepted into its international Artist-in-Residence program. The program is extremely competitive, with the jury examining a record 723 applicants before arriving at the final 20. The artists, in alphabetical order, are:
Jarrod Beck | Brooklyn NY | Installation
Mike Calway-Fagen | San Diego, CA | Installation, Sculpture
Kevin Cooley | Brooklyn, NY | Installation, Photography, Video
Gonzalo Fuenmayor | Miami, FL | Drawing
Mauro Giaconi | Mexico City, Mexico | Installation, Sculpture
Anna Gray and Ryan Wilson Paulsen | Portland, OR | Installation, Mixed Media
Anna Kristensen | Sydney, Australia | Painting
Nathan Lareau | Cedar Springs, MI | Sculpture, New Media
Phillip Lewis | Chattanooga, TN | Installation Sculpture
George McMahon | Brooklyn, NY | Installation, Sculpture
Ms & Mr (Stephanie and Richard Nova Milne) | Katoomba, Australia | New Media
Alison O'Daniel | Los Angeles, CA | Video, Sculpture
Pierre Obando | Sunnyside, NY | Painting
Raychael Stine | Chicago, IL | Painting
Shelton Walker | Glasglow, Scotland | Installation, Sculpture
Shane Ward | Butler, KY | Installation, Sculpture
Matthew Wilson | New York, NY | Installation, Sculpture
John Zappas | Atascadero, CA | Installation, Sculpture
An independent jury consisting of three former Bemis Center artists-in-residence made the selections. The jurors during this round were Leslie Shows (San Francisco, CA), Eric Zimmerman (Tivoli, NY), and Ying Zhu (Omaha, NE).
The Bemis Center provides Artists-in-Residence with the gift of time, space and support. Generously sized live/work studios, three months of uninterrupted work time and a $750 monthly stipend combine to create an ideal environment for creative growth and experimentation.
For over 30 years, the Bemis Center has been fostering exceptional talent. Recent improvements, including the total renovation of the 10,000 sq. ft. Okada Sculpture Facility, have allowed the Bemis Center to expand its residency and emerge as a leader in the growing field of artist communities.
Artists who were not selected during this round of applications are always welcome to reapply. The Bemis Center is currently accepting residency applications for the second half of 2013. Visit bemiscenter.org/residency by September 30, 2012 to apply.