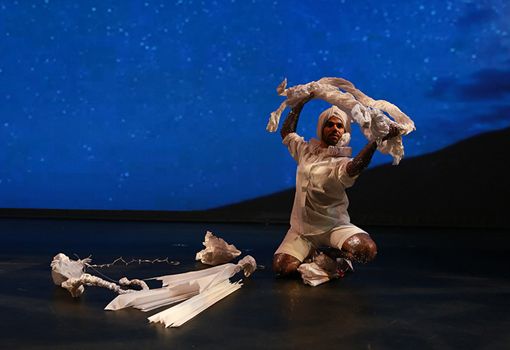 January 13–April 8, 2016
Kuldeep Singh is an inter-disciplinary artist working in visual art and Indian classical dance of Odissi. He creates narratives and scenes that transcend media, culture and timelines. Through drawings and arrangements in movement he sets equations between Odissi and its percussion system into static visual expression. His works attempt to stretch layers beyond their original medium and thus act as romantic laboratories that extend trajectories investigating kinship to installation, performance and moving image.

As a research-based artist, his practice is informed by postcolonial literature and is rooted in Indian aesthetics of first millennium AD. Through his intensive training in Odissi, a compound system of codified movement, gestures and percussive mnemonics, he extracts components in acting, sound and spatial design creating startling temporal manifestations. By favouring methods of collage, jump cuts and juxtaposition, he creates a language that is highly personal and poly-faceted which seeks a parallel to the architectonics of South Indian Hindu temples, where overlap of functions is the accepted norm.