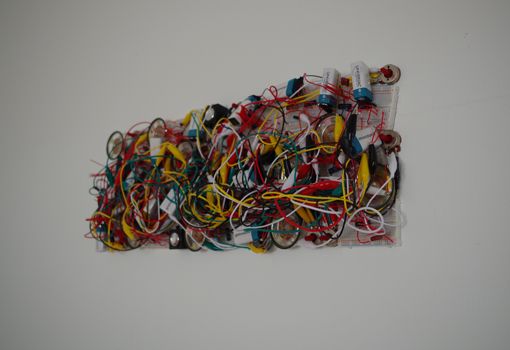 January 13–April 8, 2016
Erik Deluca is a composer, sound artist, and sound studies scholar who is currently a Ph.D. candidate at the University of Virginia. His work explores the illusion of environmental music, the mediation of technology as it relates to sound in culture, listening methods used in science, and artistic approaches to fieldwork. Erik has researched the soundscape through the scope of acoustic ecology as a permit-holding "social science researcher" and invited Artist-in-Residence in many national parks in North America and Alaska. He has lectured, performed, and exhibited at an eclectic mixture of international venues, including MASS MoCA, Society for Ethnomusicology, Bang on a Can, Art Basel, Issue Project Room, June in Buffalo, KM Music Conservatory in Chennai, and the International Computer Music Conference. 
His music has been performed by a variety of ensembles and soloist, including Ensemble Signal, members of eighth blackbird, Splinter Reeds, Talujan, Dither, and the Fairbanks Summer Arts Festival Orchestra. In addition to music and analytical writing published by the SEAMUS label and Perspectives of New Music, in 2009, Erik released the album [in] on Everglade Records—with forewords by Alvin Lucier and David Dunn. Erik currently writes and performs songs in the improvised-based, psychedelic-shoegaze band DEN, as well as collaborates with choreographer Abigail Levine. Erik has lectured in the music department at the University of Virginia and was appointed lecturer of music for the spring 2015 Semester at Sea circumnavigation.