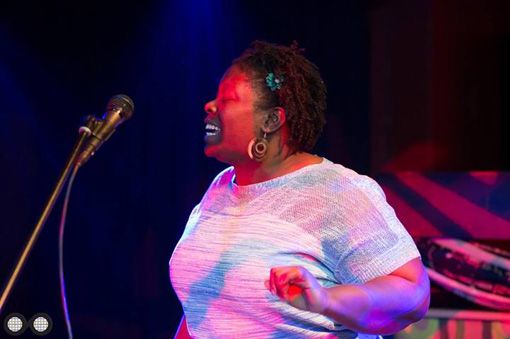 April 27–May 6, 2016
Denise Chapman graduated from Creighton University with a BA in theatre. She went on to receive her MFA from the Theatre Conservatory at the Chicago College of Performing Arts at Roosevelt University. After graduation she performed with Qwest Educational Programs touring elementary and middle schools in the greater Chicago land area. She returned to Omaha in 2006 and worked with Blue Barn's Witching hour for three years as Co-Artistic director/ensemble member and at the Omaha Community Playhouse as the director of education and outreach. She is an active member of the North Omaha community working with organizations such as the North Omaha summer arts (NOSA) and is a founding member of the Black Artist Roundtable.
She is a strong believer that art changes our lives for the better, it gives a voice to those who feel like they are not being heard, and expresses a vision of hope to all those who are touched by it. She is an alumni of the fellowship program at the Union for Contemporary Art and was an Artist in Residence at the Carver Bank project, a collaboration between Bemis and Theaster Gates.
Currently she is the Associate Director of the Performing Arts Collective at The Union for Contemporary Art and an adjunct professor at Metro Community College. Past Directing Credits include The Crowd You're in, Neighborhood Tapestries, Voices from the Center- Great Plains Theatre Festival (GPTC), Withlove Felicia, Love is not Abuse – Malcom X Center, House of Blue Leaves, Who's Afraid of Virginia Wolf- the Circle Theatre, The Good Doctor at Creighton University, Sand Mountain and Brighton Beach Memoirs at Midland Lutheran University, Sweet, Tell Martha Not to Moan, Marvelous Country, Turpentine Jake- Readings for GPTC, The Nightshade Tapes, Hello Madness, If, and Hysterical Blindness 3 –Blue Barn's Witching hour. Acting credits include: Sophie- Flying West, Ester- Intimate Apparel Omaha Community Playhouse, Loretta- Breathe- GPTC, Ensemble- Down and out in Heaven and Hell – Blue Barn's Witching Hour, Just…-Hot House, Spook- Shoes – Victory Gardens Theatre Chicago, IL