New York, NY
January 14th - April 10th, 2015
Mixed Media/Sculpture/Performance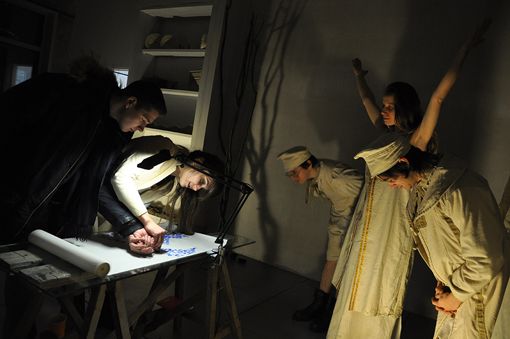 Liliya Lifánova's (American, born in Kyrgyzstan, 1983) paintings, sculptural installations and wearables for participatory videos and performances are positioned at the intersection of fine arts, experimental theater/performance, and film. Lifanova's work is the struggle for abstraction as the artist grapples with notions of identity within tradition, and the cultural memory of a political system destroying itself from within. Her work has been exhibited both nationally and internationally, most recently at Gridchinhall in Moscow, Russia and at the Parrish Art Museum, Southampton, NY. Lifanova received her Master of Fine Art degree from the School of the Art Institute of Chicago and has been awarded the Fulbright Fellowship for Installation Art. The artist lives and works in New York.