San Francisco, CA
June 2nd - August 26th, 2015
Sculpture/Installation/Video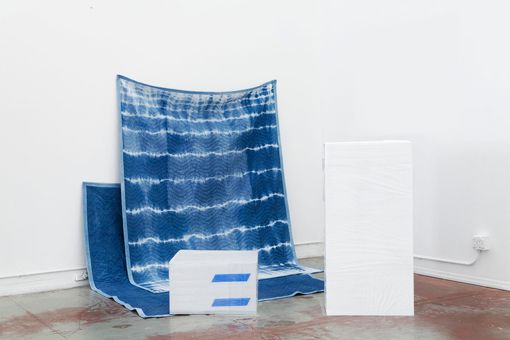 I create sculptures, installations, and videos that offer an opportunity for utilitarian objects and materials to step outside of their usual function and oscillate between their prescribed use and their new role as art. This stems from an ongoing exploration into the relationship between an item's value and the environment in which it is presented. I am curious to see how preconceived notions shift when a context is presented as the object. Display contexts and in particular galleries and museological spaces provide endless inspiration.
Materials and items associated with seamless presentation of the object of attention––such as extension cords, moving blankets, nails, paper, and pedestals––become the focal point and come into the work as both materials and subject matter. Sometimes the material itself is used to render another form, as in the case with Untitled (extension cords -blue) (2013), where I used 26 50-foot extension cords, an item often hidden, to create a giant macramé wall hanging. Alternatively, in Untitled (nails) (2010), I rendered nails using porcelain, a precious craft material, to give the nails a chance to be what they uphold.
Useful materials and items that support objects of focus can so often hide in plain sight because of their banality or periphery thus contributing to the invisible framework of context. It is this relative invisibility or in the editing of information that is received by the eye and sent to the brain that drives my investigations into these materials. How is it that while we physically see a wide range of 'things' in our environment we then instantly omit much of that range, involuntarily creating a hierarchy of value by what we focus on? As I explore how context becomes a framework for seeing, I bring to the forefront mechanisms, materials and objects that often recede, subverting the inherent nature of perception.