Avon, MA
September 3rd - November 21st, 2014
Installation/Sculpture/Fiber Arts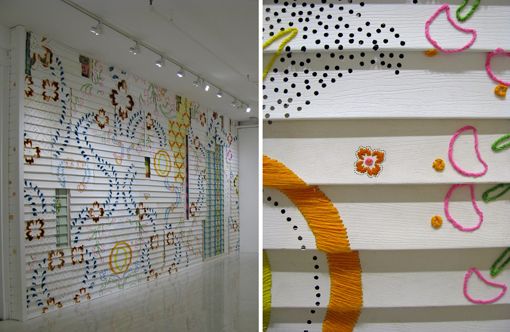 Samantha Fields creates afghan/tapestry hybrids, which she sees as forms of social realism similar to Gustave Courbet's Stone Breakers, an epic celebration of the everyday, the worker, the "vulgar" and the seemingly mundane. She uses afghans salvaged from thrift stores and homes, un-crocheting them and using the yarn as warps for weaving. Fields is interested in the places where romanticism, social realism, corporeality and myth converge in both art as well as life. She also examines historic/current discourse surrounding the use of crochet, tapestry and ornamentation and their roles in structures of class, gender and the hierarchical categories of taste and morality. The artist earned her BFA from the Massachusetts College of Art and Design in Boston and an MFA from the School of the Museum of Fine Arts, also in Boston. Fields has shown her work at venues such as the Jewett Gallery Wellesley College (Wellesley MA), the Pittsburgh Center for the Arts (Pittsburgh, PA) and the Urban Institute for Contemporary Art (Grand Rapids, MI).  She has received awards and grants from the Puffin Foundation and the International Fiber Collaborative, among others, and her work has been covered in numerous publications, including the Boston Globe, Art New England and the Sun Chronicle.