Philadelphia, PA
January - March, 2012
Textile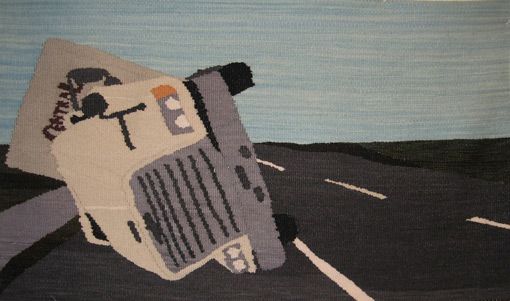 Erin M. Riley weaves contemporary imagery, found with Google Image Search and Facebook, into tapestries using hand dyed wool. The physicality of these textile images lends the work punch, the traditional construction starkly contrasted by the chaotic lives of its young adult subjects. Darkly comic, her work examines the allure of exposure and the price of constant self-documentation.
Erin Riley received her MFA from the Tyler School of Art in Philadelphia, PA and her BFA from the Massachusetts College of Art in Boston. Her tapestries have been exhibited nationally and internationally in San Francisco, CA, Milwaukee, WI, Chicago, IL, Philadelphia, PA, and Australia. She has participated in residencies at the MacDowell Colony in Peterborough, NH, the McColl Center for Visual Art, in Charolette, NC, and the Vermont Studio Center, in Johnson, VT with a full VSC fellowship. Her work has been featured in FiberArts, New American Painting, and Foam Magazine. The artist lives and works in Philadelphia, PA.