Madison, WI
October - December 2011
Drawing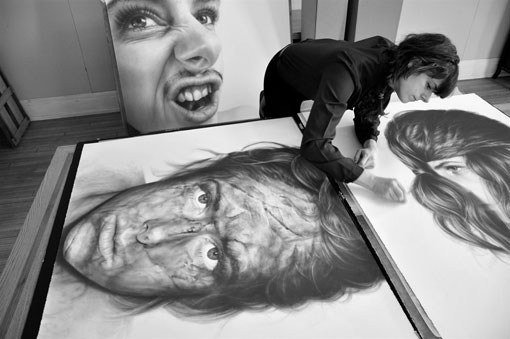 Melissa Cooke's powdered graphite drawings depict situations where inhibitions have been let go, enabling exploration of sexuality, gender and relationships. Her work explore themes of beauty, fantasy, violence and identity, with the artist casting herself as subject in a myriad of thematic scenarios.
Melissa received an MFA from the University of Wisconsin-Madison. Cooke is represented by Koplin Del Rio in Los Angeles, CA and Jenkins Johnson Gallery in New York, NY. Her work has been exhibited nationally at the Madison Museum of Contemporary Art, the Museum of Wisconsin Art, the Miami Art Fair, The LA Art Show and PULSE Contemporary Art Fair. Cooke's drawings are in collections such as the Arkansas Art Center, the Howard Tullman Collection, the Wisconsin Union Permanent Art Collection and the Boston Public Library Print Collection. The artist lives and works in Madison, WI.