Atlanta, GA
May 1 - July 31, 2010
Sculpture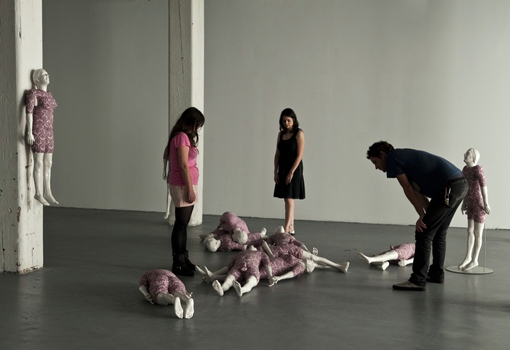 Christina West works with the realistically rendered human figure, sculpted at a 3/4 life-size scale. Her figures are often grouped together in an installation format that sets up narrative expectations.
West maintains her studio in Atlanta, GA where she is an assistant professor of ceramics at Georgia State University. She received her MFA from the New York State College of Ceramics at Alfred University and her BFA from Siena Heights University in Adrian, MI. Christina was an artist-in-residence at the Archie Bray Foundation for Ceramic Arts from 2006-07, where she was awarded the Lilian Fellowship. Additionally, Her work has been supported by a grants and fellowships from the New York Foundation for the Arts, the George Sugarman Foundation, the Mary L. Nohl Artist Fund and the Southeastern College Art Conference.