Brookline, MA
May 1 - August 30, 2008
Sculpture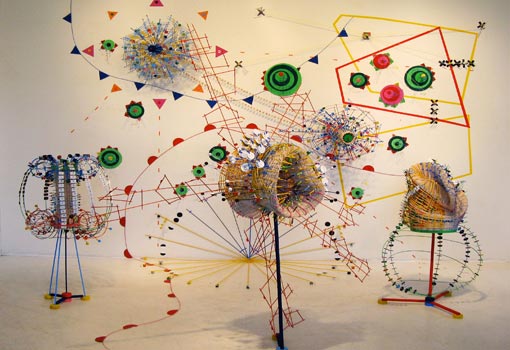 Nathalie Miebach focuses on the intersection of art and science and the visual articulation of scientific observations or theories. Using the methodologies and processes of both disciplines, she translates scientific data related to physics, astronomy or natural phenomena into three-dimensional structures. Exploring the role that visual aesthetics play in the translation of science information is central to her work. By utilizing artistic processes and everyday materials, Miebach questions and expands the boundaries through which scientific data have been traditionally visually translated. At the same time, she questions expectations regarding the visual vocabulary reserved for the domain of 'science' or 'art.' The artist earned both an MS and MFA from the Massachusetts College of Arts in Boston, MA and her BA from Oberlin College, Oberlin, OH. 
She has received a LEF Foundation Grant and a Visual Arts Fellowship award from the International Sculpture Center. Miebach has exhibited at numerous venues including the DeCordova Sculpture Museum (Lincoln, MA), the
 Provincetown Art Association Museum (Provincetown, MA) and
 South End Open Studios (Boston, MA), and
 her work has been reviewed by the Boston Globe, Art New England, and Sculpture Magazine, among others.
http://www.nathaliemiebach.com/