New York, NY
July 1 - July 31, 2008
Painting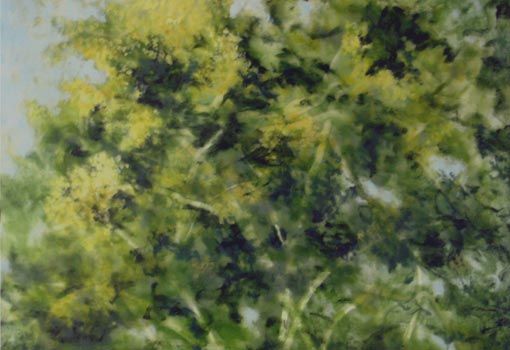 Incorporating organic materials such as ash (her late mother, the World Trade Center, a burnt forest), Maggie Tobin paints imaginary landscapes on translucent goatskin stretched over mirrors. The result is a subtle, luminous quality with a three-dimensional effect, one that causes the picture plane to recede even as it remains flat.
Born and raised in Omaha, NE, the artist makes her home in New York. Tobin received her BFA from the University of Colorado at Boulder and continued her studies at the Scuola di Lorenzo de' Medici in Florence, Italy, where she was awarded a diploma in painting and drawing. She earned her MFA at Queens College, CUNY, NY.
Tobin has exhibited her work in solo and group shows internationally and was a 1990 Bemis Center artist-in-residence.