New York, NY
June 1 - August 31, 2008
Installation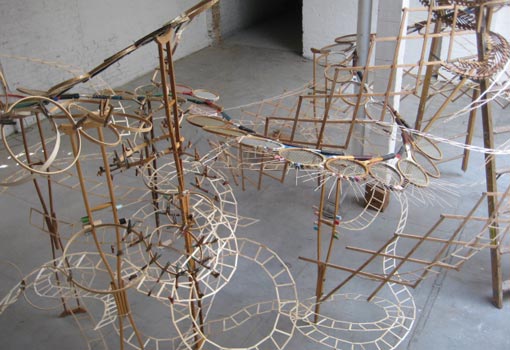 Janelle Iglesias describes her work as 'deep play,' an excuse to be intimately involved in an everyday quest for the poetry and possibilities in all things. She creates contradictions that range from the serious to the ridiculous and from the common to the magical.
The New York City artist, who has lived and studied up and down the eastern seaboard, often hints of the nautical in works where lampshades look like a collection of seashells strewn on a beach and a forest of cash register receipt paper suggest the extraordinarily long tusks of the narwhal. Her recent body of work centers around "Bottle Beach," one of the first land fills of New York City.
Iglesias, who also collaborates with her sister in an effort they call Las Hermanas Iglesias, earned a BA in cultural anthropology from Emory University in Atlanta Georgia before pursuing her MFA in sculpture at Virginia Commonwealth in Richmond, Virginia.
http://www.lashermanasiglesias.com/