Philadelphia, PA
November 1 - January 30, 2008
Drawing / Sculpture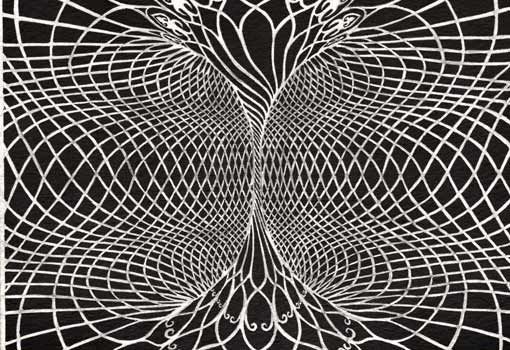 Inspired by geometry, iconography and pop culture, Hunter Stabler creates complex compositions. The artist draws each piece by hand with a compass and then cuts it from brown paper with an Exacto knife. The resulting symmetrical paper cutouts form twisting, tangled lines that sometimes form skulls, snakes, pot leaves and eagles. Reminiscent of hippie tattoos or images from the Goth subculture, Stabler's work manages to depict the dark and the light, combining serious subject matter with his wry sense of humor. Stabler received his BFA from the Maryland Institute College of Art in 2003 and his MFA from the University of Pennsylvania.
Listen to a podcast interview with Hunter Stabler.