Duluth, MN
June 1- August 31, 2008
Sculpture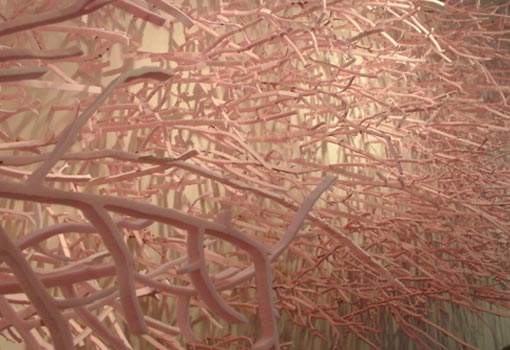 The whimsy of the mechanical meets the mechanics of whimsy in the work of David Bowen. All manner of gizmos and gadgets use light-sensitive cells, dancing do-dads, wind-powered pencils and other wacky wizardry in animating ghosts in the machine to interact with their surrounding environments.
Bowen's work breathes life into the inanimate and confers sentient status on the otherwise spiritless. His ingeniously engineered kinetic and robotic contraptions become eerie automatons that act as interactive drawing devices. Some add materials to a surface while others remove it. Drones know no better than to obediently follow a light source as they leave behind an ineffable imprint of the seemingly random. A leaf sways in the wind and an image, one that is destined to long outlive its maker, is transferred onto paper.
Bowen earned an MFA from the University of Minnesota, where he works as an assistant professor at its Duluth campus. His BFA came from the Herron School of Art in Indianapolis, IN.