Brooklyn, NY
June 1 - August 31, 2008
Sculpture / Installation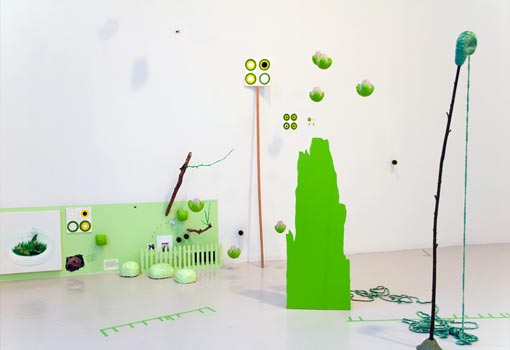 The German-born installation artist and sculptor (featured in the May, 2008 issue of Sculpture Magazine), creates dream worlds in spaces where the familiar and the fantastic are anchored to the real and the temporal to suggest pathways to be traveled and narratives to be imagined. Assemblages of varied scale and made of a complex conglomeration of materials, forms and palettes - so often vibrant and candy-colored - have been combined, knit, cut, glued, sewn, found, soldered, carved, or molded to evoke fairy tale worlds where whimsy and playfulness invites new levels of discovery into the realm of environments, hierarchies and interactions as objects compete for your attention. Loefke lives and works in both Brooklyn, New York and Leipzig, Germany and her work has been shown in both countries as well as in Canada. After study in her native Germany, Loefke was awarded a fine arts scholarship at Kent State University before going on to complete her MFA work at Ohio State University.