Los Angeles, CA
June 1 - August 31, 2008
Sculpture / Installation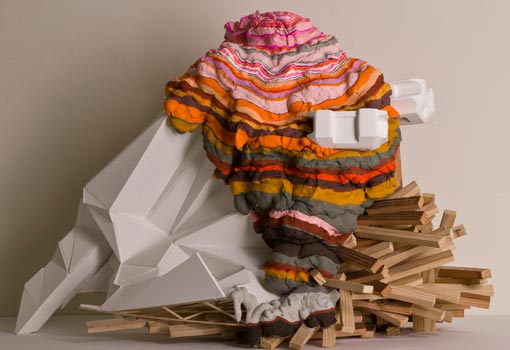 Sculptor, installation artist and painter Aili Schmeltz is a product of the vinyl-clad, shag-carpeted, wood-paneled, polyester-plastered and Styrofoam-packaged tract home suburbia of the 1970's.
What better materials could there be for works that address the triumph of the artificial, the antiseptic and the arcane as the anthropological totems of our times? Schmeltz's sculptures, installations and paintings are often playful but always colorfully ironic. The common and the comfortable give way to the hideous and humorous when seen from the vantage point of a 'stranger in a strange land,' a notion that is itself, she recognizes, a contradiction. Can any of us truly become nothing but an observer? Can we really expect to sever ourselves from our surroundings to become something 'outside' of our environment?
The Los Angeles-based artist has shown her work extensively across the United States. She earned an MFA in sculpture from the University of Arizona after a BFA in printmaking and painting at the Kansas City Art Institute.