New York, NY
November 1 - January 30, 2008
Installation / Sculpture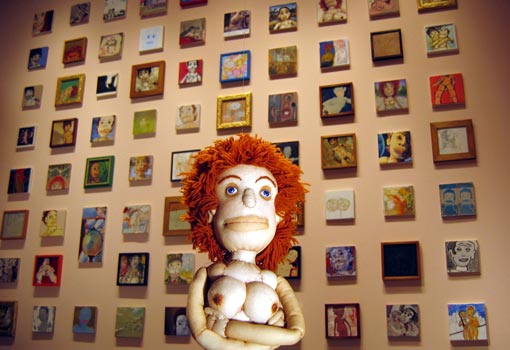 Through dolls that are often humorous, riveting and grotesque, Adam Parker Smith constructs illustrations of dreams and imagined scenarios. By combining real events with his own experiences and daydreams. Whether getting arrested for indecent exposure or visiting the Redwood Forest, Smiths dolls also let viewers project their own emotions, conceptions and insecurities onto their inanimate bodies. Says the artist, The dolls are people I know, people who I think and dream about, people who I can only control in my mind. The dolls do what I want; they can act out my wildest dreams. The dolls imitate my life. They are the insecurities, the crushes, the triumphs.
Smith received his MFA in Painting from the 
Tyler School of Art, Temple University in Philadelphia and a BA from the University of California at Santa Cruz, in California. He has shown his work in numerous venues including at the Philadelphia Museum of Art, the Art Academy of Cincinnati and Priska C. Juschka Fine Art in New York.
Listen to a podcast interview with Adam Parker Smith.
http://adamparkersmith.com/home.html