New York, NY
June 1 - August 31, 2008
Photography / Video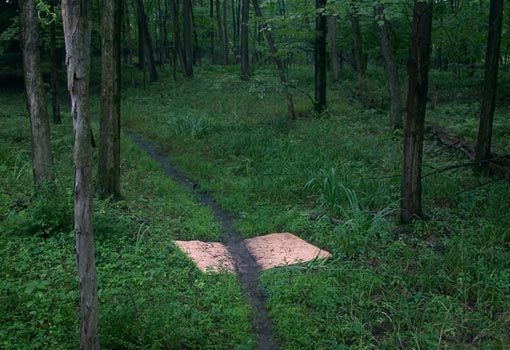 Whether naturally occurring or staged, Adam Frelin's videos and photography use compelling narrative imagery to speak to the intersection of the man-made and the natural. His fictional constructs, often involving sculptural pieces that may become nothing more than props to fuel a larger story, have poetic qualities that expose the stark realities of a mundane, yet oddly incendiary environment.
A faux boulder defies gravity and floats in a pond. Syncopated lights, the eerie azure aura of television screens, flicker in unison from deserted office buildings at night. A group of Japanese violinists in a river raft shoot through rapids as they struggle in vain to hold a single note, a never-ending b flat. Frelin's works become arresting mementos of momentary collisions between the artificial and the natural.
The artist, who lives in Troy, NY, earned a BFA from Indiana University of Pennsylvania in Indiana, PA and a MFA from the University of California. His works have been viewed widely throughout the United States, Asia and Europe.