Chicago, IL
October 1 - December 30, 2007
Painting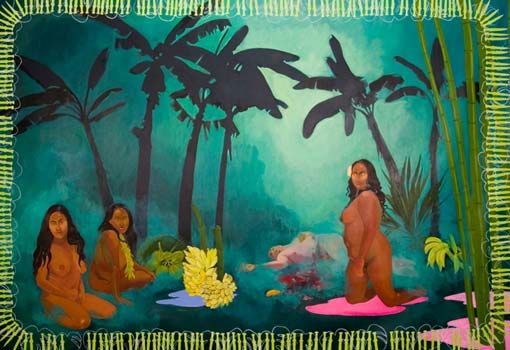 Informed by classical figure painting, Tomiko Pilson created work rooted in the grand narrative tradition. And as a woman of mixed racial and ethnic heritage, she also draws from her many experiences as an "other," providing for a synthesis of the two. She uses the narrative structure to take viewers to imagined places, such as lush jungles of distant lands, which explore "dangerous territory." As a result, her paintings function like gigantic postcards from alluring, fantastical places.
Pilson received her BFA from the School of the Art Institute of Chicago. She has taken part in numerous solo and group exhibitions at venues such as The Contemporary Museum (Honolulu), Western Exhibitions (Chicago) and Artist Commune (Kowloon, Hong Kong). Pilson's work has been reviewed in publications such as The New York Times, F News Magazine and Art in Review.
Listen to a podcast interview with Tomiko Pilson.