Austin, TX
January 2 - March 29, 2007
Installation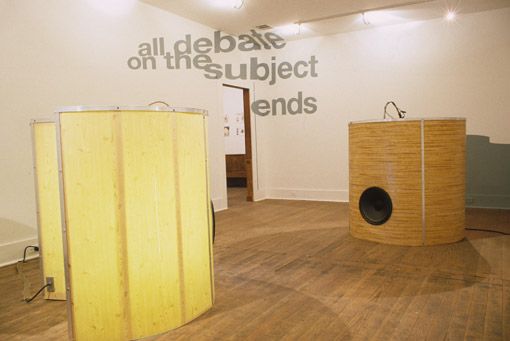 Peat Duggin's recent work focuses on the creation and development of Hickory Ridge, a fictitious community that explores the personal, social, spiritual and political identity of 21st-century America. The artist modeled Hickory Ridge after booming, sprawling cities of the west such as Los Angeles, Las Vegas, Dallas, Denver, Phoenix and Tucson. He incorporates the culture, politics, economics and geography of these places into his town, working from the hypothesis that the West, built fast and furiously, remains relatively unburdened by history and tradition, which allows for a new modern mass culture to develop. The artist explains, "Because of the social and communal themes in my work, it is important to me to create art that speaks beyond the traditional boundaries of the art world.
Duggins has recently been searching for resonate images, or images that jive with a larger sub-set of the population." Duggins earned his BFA in Film and Video from the Rhode Island School of Design and also studied Science and Humanities at Brown University. He has shown his work in numerous solo and group exhibitions, and he received the Flicker Filmmaker Grant in 2001.