Santa Ana, El Salvador
December 1, 2006 - February 26, 2007
Painting/Drawing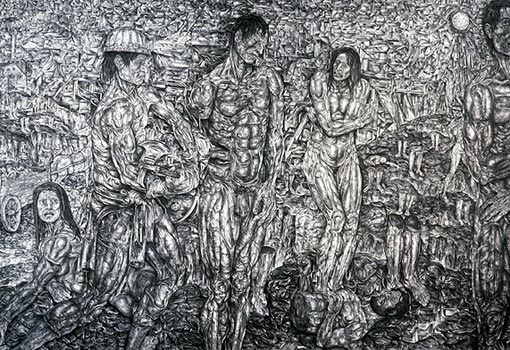 Born in Santa Ana, El Salvador, Oscar Camilo de las Flores graduated from the Skowhegan School of Painting and Sculpture, where he studied in the Fresco workshop under Renato Giangualano and Daniel Boszhkov. He additionally completed Art Education at the Ontario College of Art and Design with a Major in Printmaking, and he has taken further specialization courses at C. W. Jeffery's Collegiate as well as at the Universidad de Guadalajara Art.
De Las Flores has been a Guest Artist at the Kingait Innuit Co-op in Cape Dorset, Nunavut, Canada as well as an Artist-in-Residence at programs such as the McDowell Colony for the Arts, the Vermont Studio Center, the Altos de Chavon School of Art and Design Artist in Residency Program (Dominican Republic), Yaddo and New York's Blue Mountain Center, among several others. The artist has shown his work internationally at venues such as the 2006 Egyptian International Print Triennial (Cairo and Alexandria, Egypt), the Scope International Art Fair (London, UK), ROOM Gallery (Rotterdam, The Netherlands) and the International Taipei Print and Drawing Biennial (Taipei Museum, Taiwan), among many others.