Westford, MA
January 2 - March 29, 2007
Sculpture/Installation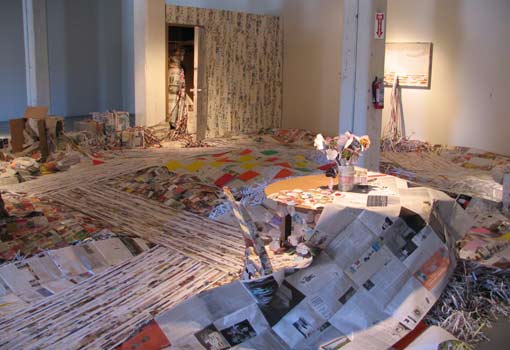 As a sculptor and installation artist from New England, Nadya Volicer's work is very much a reflection of that place, and themes of home, memory, movement and architecture run throughout her work. She uses primarily recycled wood from suburban trash piles, renovation dumpsters and basements of friends and neighbors. The fragments she assembles represent many past functions, which are often implied by rusty hinges, screw holes or the colors revealed beneath flaking paint layers.
Most recently, Volicer's interest in recycling has also led her to incorporate other salvaged materials into her work, such as used paper and cardboard. She explains, "I am attracted to these rich patinas, and to the notion that the discarded can be reused. I am interested both visually and conceptually in piecing together many small parts to make up a whole. Whether through a multi-colored mosaic surface, or a cluster of lacey paper cutouts, I am working towards a visual vibrancy that imparts upon the viewer a feeling of energy; chaos and harmony."