Winninpeg, Canada
April 2 - June 28, 2007
Sculpture/Installation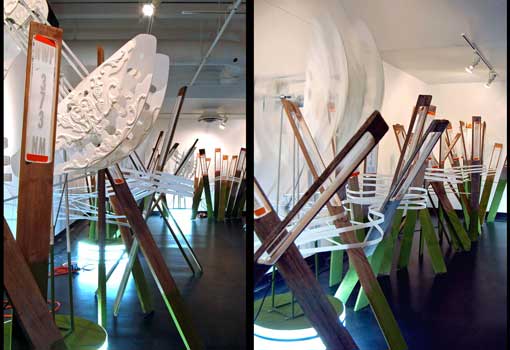 Lynn Richardson creates her latest work through an exploration of contemporary imagery and architectural representation. Whereas subject matter in her earlier pieces was straight-forward and bold, her more recent sculptures are elliptical, and the expression of the subject is quieter.
The artist received her BFA from the University of Manitoba, Canada and an MFA from the University of Texas at Austin. She has received several prestigious awards, including the Joan Mitchell Foundation MFA Grant, the Lila Acheson Wallace Reader's Digest Scholarship and a Canada Council for the Arts Grant.
Richardson's sculptures have been exhibited internationally in venues such as the Michael Gibson Gallery (London), CSAW Gallery (Houston), the Art Chicago Project Space (Chicago) and the Cue Art Foundation (New York). Additionally, her work has been reviewed in numerous publications, including Artinfo, Fuse, Vue Weekly, The Austin Chronicle, Artnet News, The Globe & Mail and Border Crossings.