Nashville, TN
August 29 - September 29, 2007
Drawing/Music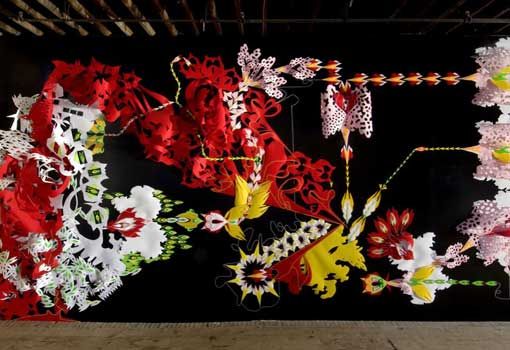 Liz Miller's large-scale, abstract, mixed media drawings and installations explore the ways in which disparate systems interact in contemporary life. Fodder for her work includes systems that are technological, biological, and geological in nature. Miller employs non-traditional materials such as felt, foam, and adhesive vinyl while attempting to choreograph and order the chaos that surrounds us in contemporary life.
The artist received her MFA in Drawing and Painting from the University of Minnesota, Minneapolis, MN and a BFA in painting from the Rhode Island School of Design, Providence, RI. She has exhibited in solo and group shows at venues such as the Soap Factory (Minneapolis), Fort Collins Museum of Contemporary Art (Fort Collins, CO), Bloomington Art Center (Bloomington, MN), Soo Visual Arts Center (Minneapolis, MN), and the FieldGate Gallery (London, UK). She is currently Assistant Professor, Drawing/Foundations at the Minnesota State University-Mankato.
Listen to apodcast interview with Liz Miller.