Brooklyn, NY
April 2 - June 28, 2007
Painting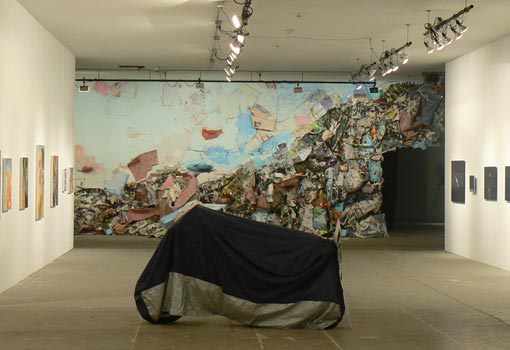 Jennilie Brewster paints deserts, volcanoes, oceans and more updated versions of the sublime, from oil refineries to urban dumps. She pulls images and ideas from art history, The New York Times, her National Park postcard collection and film. Hers is a "constructed" nature: she works on paper, cutting, pasting and pinning as she progresses. This real-time studio practice is set against depicted natural cycles of time - daylight, seasons and geological shifts. Says the artist: "Most of my landscapes are big and uninhabited. I feel that they are not completed until the viewer steps into the frame like a passerby at a scenic overlook. Like these vistas and the art forms they've inspired, from 19th-century panoramas to IMAX pictures, my paintings offer an up-close experience of nature's drama and awe."
Brewster received her BFA from the School of Visual Arts (New York) and her MFA from Bard College (Annandale-on-Hudson, NY). She has exhibited internationally at venues such as the Ward Center for the Arts, (Baltimore, MD), the Sheppard Fine Arts Gallery (Reno, NV) the Unimedia Modern Gallery (Genova, Italy), Disjecta (Portland, OR). Brewster's work has been reviewed in numerous publications, including Il Giornale Dell'Arte (Torino, Italy), The Daily Vanguard (Portland, OR) and Zing Magazine (New York). The artist is also the 2006 recipient of the Elaine de Kooning Memorial Fellowship.
http://www.jenniliebrewster.com/