Stockholm, Sweden
April 2 - June 28, 2007
Video/Installation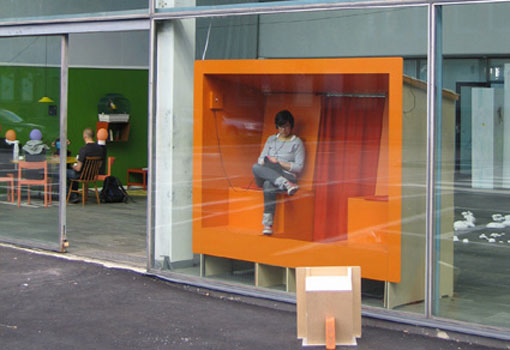 Janna Holmstedt works with image, text, video and installation, usually in relation to a specific site and/or situation. She employs storytelling as a tool for critical engagement and as a way to deal with and make sense of the constant flow of information in everyday life. In her work, she seeks to situate a subject within a context that is not framed as an absolute truth or stable reality, but rather as a system that unfolds through a specific network where meanings are constructed. In her video- and sound installations involving voice-overs, Holmstedt focuses on the tension between an existentially defined "inner" space and that which we typically perceive as an "outer" space of politics and everyday life. She finds the borderland where these two fields meet, collide and interact - that is, where our sense of individuality and reality is represented - as the most interesting to investigate.
The artist earned her MFA from the Umea Academy of Fine Arts, and her recent awards include the IASPIS International Exchange (2006), a Swedish Visual Arts Fund Project Grant (2005), NIFCA Nordic Air Residency in Tallinn, Estonia (2005) and a grant from the JC Kempes Foundation (2003/2004). Together with Po Hagstrom, Holmstedt is part of artist duo Trial and Error, working with projects related to national identity and the use of public space. Holmstedt also co-founded SQUID, which facilitates a space for the parallel knowledge that emerges from an investigative, creative process.
http://www.jannaholmstedt.com/